Staff-led pilot projects propel new discoveries at the Center for Sexuality and Health Disparities

Two years ago, the U-M School of Nursing's Center for Sexuality and Health Disparities (CSHD) announced a new initiative giving staff members the chance to develop and lead yearlong pilot projects on a sexual health subject of their choosing. Supported by the Janet Gatherer Boyles Small Project Support Fund for Sexual and Reproductive Health, staff researchers receive up to $3,000 to conceptualize and implement their own research project with mentorship from a faculty member.
To date, five staff members have been awarded pilot grants to examine topics at the forefront of sexual and gender minority health research. The projects are in various stages — some have completed their studies, publishing their findings in peer-reviewed outlets and presenting at national conferences, while others are conducting data analysis or adapting their ideas to the challenges of the COVID-19 pandemic.
The program was not only designed to advance scientific discovery but also to benefit the staff members themselves by providing a unique opportunity to jumpstart their research careers. The collaborative projects have also invigorated the center's faculty leadership.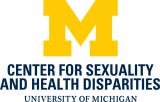 "I think it's a different way of thinking about professional development. And for me, mentoring and professional development are vital to growing the next generation of diverse scientists," said Professor Rob Stephenson, Ph.D., CSHD director and a mentor on one of the pilot projects. "In academia, we fall into a binary where faculty write the research and staff support them. Why can't we disrupt that? It's a win for our staff, because they get to develop valuable skills for graduate school. And it's a win for faculty, because we get to learn from these bright young minds with great ideas."
For the center, these projects offer freedom to explore topics that may be overlooked, with the hope that new exploration can lead to expanded research and the development of vital interventions.
"At its heart, we are an intervention-based center," Stephenson said. "With the amazing things we're learning through these projects, we want to start developing interventions that can improve the sexual health of vulnerable populations."
Viva: Matthew Rosso and Akshay Sharma
Led by Matthew Rosso, a CSHD project manager from 2017-20, in collaboration with Assistant Professor Akshay Sharma, M.B.B.S., M.P.H., Ph.D., Viva was one of the first projects at the center to receive funding. It was also the first to have its findings published, as Rosso's first first-author publication was featured in the Journal of Medical Internet Research Public Health and Surveillance.
The project evaluated willingness to receive HIV testing in dental care settings using a national sample of 421 individuals who responded to an online survey through ads on Facebook and Instagram.
By connecting with Sharma, an infectious disease epidemiologist who has done extensive work on evaluating new approaches to increase HIV testing among vulnerable populations, Rosso was able to flesh out his idea and build on existing literature by reaching a broader population.
"This is one of the first studies looking at these data from people all across the country, because previous studies had only been conducted in dental care settings in specific cities," Sharma explained. "Using an online platform made it easy for us to collect information from across the United States."
Participants ranged in age from 18 to 73, with more than 77% expressing willingness to receive an HIV test in a dental care setting. Those in younger age groups, those who believed their dental care provider was knowledgeable about HIV and those who felt comfortable discussing HIV with their dental care provider expressed stronger interest in utilizing such an option. Nearly 85% of respondents expressed a preference to receive an OraQuick rapid HIV test, administered through a less invasive oral swab that returns results in about 20 minutes.
Their data demonstrate a high rate of acceptance of HIV testing in this nontraditional setting, but as Sharma and Rosso explained, the next step in this research should shift the focus to dental care providers, evaluating their existing knowledge, training requirements, insurance implications and more.
"I think our study adds to the evidence base that patients are willing to receive HIV testing in this setting, so now it's important to find out how providers envision this fits into the scope of dentistry," Rosso said. "There are a lot of unanswered questions to guide the next direction of this research."
Rosso and Sharma also had the opportunity to present their work at the 2019 Annual Meeting of the American Public Health Association. Leading this project with Sharma's guidance, Rosso has built important skills in quantitative methods and data analysis, which will serve him well as he continues his career at the University of North Carolina-Chapel Hill Behavior and Technology Lab.
"This was about having the experience of leading my own project, while also thinking about my own skills gap by going through the entire research process and finding the places where I might need some help," said Rosso. "Having this opportunity to take an idea and run with it in a way that someone in my position doesn't normally have has been great."
MASCS: Kieran Todd and Sarah Peitzmeier
Project Manager Kieran Todd's Masculinity, Affirmation and Self-Conceptualization (MASCS) project explores connections between masculinity and the health behaviors of transmasculine individuals.
For Todd, who is transmasculine, the project is a way to explore a personally important subject and consider questions that have yet to be asked surrounding transgender health.
"You bring your whole self to these studies sometimes," Todd said. "Many of us at the center have identities that are underrepresented or underresearched, so this was a chance to consider a topic that I obviously understand while knowing that it's not just my experience that matters."
The study used social media to recruit 25 participants for one-time virtual interviews. The semi-structured interviews lasted anywhere from 60 to 90 minutes and explored each individual's journey across their gender transition. Questions addressed issues such as gender and relationships; coming out to family, friends and partners; exercise and eating behaviors; alcohol and tobacco use; toxic masculinity traits; and more.
Guided by Assistant Professor Sarah Peitzmeier, Ph.D., whose research focuses on violence and sexual health in marginalized populations, Todd wanted to approach the study in a way that would honor each participant's personal story.
"I felt like we found a great intersection of our research interests," Peitzmeier said. "I've always tried to be thoughtful about being a cisgender researcher in transgender health, and I felt Kieran could bring a lot to this project and do it in a very thoughtful and ethical way."
Participants represented a variety of geographic regions and age groups, incorporating various perspectives that prove particularly valuable in qualitative research.
"We didn't know what we were going to find, and we didn't set out to come up with a theory or a framework, so I think what's great about our data is that it came up organically," Todd said.
The researchers coded their data by examining transcripts to systematically evaluate different narratives and understand patterns across interviews. Initial analysis revealed that many participants engaged in negative health behaviors to affirm their masculinity. This was especially true if they did not have access to forms of medical affirmation such as hormone replacement therapy.
"Other studies have associated alcohol use or other negative health behaviors as a way to cope with the stress of stigma and discrimination as a trans person, but we haven't seen a model like ours showing that transmasculine people use these behaviors to actually affirm themselves," said Todd. "It's almost like an act of resilience."
"Things like alcohol or tobacco are often coded in our society as being masculine, so people would use those and other 'risky' behaviors to achieve the masculine aesthetic they aspired to, because that's something you can get immediately, unlike a hormone prescription," added Peitzmeier. "Understanding that dynamic underscores the importance of making healthy gender affirmation more accessible and will also help clinicians and researchers do a better job of addressing unhealthy alcohol or tobacco use in transmasculine populations."
Todd and Peitzmeier are continuing their data analysis and preparing to submit what they hope will be the first of three publications resulting from MASCS research. Todd hopes the project's findings can benefit the study participants and the broader transmasculine community.
"I've heard a lot of people in the community who say they take part in research, then never know what happens with it," Todd explained. "For me, it's about bringing this data back to the participants and sending the findings out to community health centers and places that serve transmasculine people so they all have access to this research."
Duality: Tanaka Chavanduka and Rob Stephenson
Project Manager Tanaka Chavanduka's study, Duality, is examining the sexual activities of young gay men across digital platforms, including social media and dating applications, to determine how these platforms influence their real-world sexual behaviors and health outcomes. The study recruited 250 queer men around the country to take part in a comprehensive online survey, with questions that addressed their sexual activity in virtual and physical spaces. By evaluating the digital content participants consume and generate, as well as the specific ways they interact with technology, Chavanduka aims to understand how online behaviors influence in-person practices including unsafe sex, transactional sex and sex work, as well as how an individual's online community and communication practices translate to sexuality in the real world.
"In sexual health research, we've tended to look at men existing in two different spheres in terms of in-person sexual behavior and online sexual behavior. Until now, those were being thought of as separate sex venues," said Stephenson, Chavanduka's faculty mentor. "Tanaka's study is important because for the first time, he's looking at the intersection of how a person exists in both spaces, how they oscillate between the two, and how the behavior in one may influence behavior in another."
The survey covered a variety of topics, ranging from decision-making processes to situational questions such as whether participants would be willing to engage in a specific activity with someone they met in a bar compared to someone they met online.
Chavanduka's screening methods allowed him to capture a sample size comprising 50% men of color and 50% white men, a rarity in online research, which often includes only white, highly educated participants. That unique sample size will allow the Duality project to provide a more accurate representation of sexual and gender identities.
"The survey took around 30 to 45 minutes for participants to fill out, so it had to be very extensive to hit on all the concepts we wanted to address," Chavanduka said. "We had a great response from participants across the country, and now we're conducting data analysis to wrap up our results."
As they continue their work, Chavanduka and Stephenson believe the findings from this research can be tailored to create meaningful interventions in both physical and digital spaces.
"There are so many public health implications for this," Stephenson said. "We can work with app developers to give tailored information that can shape users' sexual health decision making. And in counseling or during HIV testing, we never ask about the sex people are having online, so we could start creating modules for that as well."
For Chavanduka, the opportunity to lead this project and learn from Stephenson will benefit his research aspirations as he applies to Ph.D. programs.
"As someone who wants to be an independent researcher, having this kind of exposure early in my career and learning how to work through the difficult parts of the research process is a rare privilege," he said. "It's going to help me be a stronger scientist as I develop my research agenda and think about where I want to take my future."
Project Surround: Erin Rogers and Yasamin Kusunoki
Erin Rogers, a CSHD research project manager from 2016-20 who is now a first-year Ph.D. student in the Department of Epidemiology at Emory University, developed Project Surround to assess the sexual and reproductive health needs of women seeking medication-assisted treatment for opioid use disorder and their romantic partners.
Like other CSHD staff members, Rogers' research carries personal importance. She comes from a community that has been deeply affected by the opioid epidemic and also has addiction in her family.
"My community lost too many young people to this epidemic, and I've personally seen how difficult it is for people to access treatment services, let alone basic health care," she said.
To develop her idea, Rogers connected with Assistant Professor Yasamin Kusunoki, Ph.D., whose work often focuses on relationship dynamics and their influences on sexual and reproductive health.
The original goal of Project Surround was to work closely with drug treatment clinics in Michigan, but as Rogers readied her recruitment efforts, the COVID-19 pandemic hit. The project shifted strategies to reach participants online using social media advertisements, expanding its network to reach women across the country who were both in recovery and in a romantic relationship.
"I've seen the high rates of intimate partner violence for women in substance abuse treatment, along with the risk of unintended pregnancy," Kusunoki said. "It speaks to the importance of the relationship itself, understanding that a partner can be a barrier or facilitator to a woman's recovery."
The project enrolled nearly 200 people to take a quantitative survey, then Rogers conducted in-depth qualitative interviews with 15 women. Participants expressed a strong desire to receive sexual and reproductive health services such as contraception, pregnancy screening, and HIV and other STI testing during their drug treatment program. Those findings were reinforced during interviews, where participants expressed concerns about confidentiality. Rogers found that women were also more interested in receiving these services alongside their romantic partners in addition to couples counseling.
"One area we did not explore in our surveys but came up in our qualitative interviews repeatedly was this notion of stigma and being treated differently by medical providers because of their addiction," Rogers said. "Almost unanimously, women reported feeling like they did not receive adequate care because they were in recovery or they were accused of drug seeking when they had legitimate health concerns."
In making decisions about their health care, participants revealed that their drug treatment and recovery was the top priority.
"It just makes sense to incorporate some of these services into those programs they're already prioritizing," Rogers added. "There are a number of barriers that could be overcome if you were to provide that in a drug treatment facility."
In the coming months, Rogers and Kusunoki plan to submit their findings for publication, with hopes of developing a grant proposal to explore the data in greater detail. Rogers believes her work on Project Surround will inform her doctoral research related to substance use.
"This is setting me up for what it will look like to be an independent investigator," she said. "Being able to lead a project from inception to completion has been an incredibly rewarding experience."
Undetectable = Untransmittable: Stephen Sullivan and Erin Kahle
Project Manager Stephen Sullivan was inspired to initiate his research while shadowing staff at the University of Michigan HIV/AIDS Treatment Clinic and hearing the personal experiences of patients living with HIV and their perceptions of undetectable equals unstransmittable (U=U). Generally, U=U means that if an individual's viral load stays undetectable, they have no risk of transmitting HIV to their partner through sex.
"The social work team and clinicians were interested in understanding how people living with HIV view what it means to be undetectable, and so I decided to gauge their interest in doing a study with their patient population," Sullivan explained.
With guidance from Assistant Professor and CSHD Deputy Director Erin Kahle, Ph.D., and Assistant Professor Rivet Amico in the U-M School of Public Health, Sullivan aims to understand patients' perceptions of what it means to be undetectable, including the relation to HIV stigma; effects on disclosure of HIV status; and how U=U how impacts engagement with health care services, including HIV treatment.
As Sullivan explains, existing literature has mostly speculated on the implications of U=U for people living with HIV, and he hopes this project can use personal perspectives to provide valuable data.
"People living with HIV haven't had much input on how U=U actually impacts the way in which they see HIV," he said. "I think this is one way to allow them to add some clarity to the subject."
Sullivan had hoped to utilize the clinic's social work team and their existing rapport to recruit patients for a survey on U=U before COVID-19 forced him to modify his approach. He's now planning to reach patients through the clinic's online health portal and by mail. His goal is to reach a sample size of 300 participants with different demographic targets to be representative of the clinic's population.
Sullivan's mission is to create translatable research that can benefit patients, clinical staff and others working to understand experiences with HIV.
"I want to give this data back to the people at the clinic, especially the patients," he said. "I hope our key findings can inform clinical staff about messaging and education on undetectable equals untransmittable, and whether that can help shift beliefs around HIV."
As Kahle explains, Sullivan's project carries important implications, from improving individual health outcomes to expanding the scope of HIV research and steering policy development.
"This project has a lot of potential to give us information that will not only improve patient outcomes and engagement with care, but enhance our understanding of how people perceive their infection," Kahle said. "There's also direct policy implications that can guide how clinics work with patients, using this information to create better tools and build a better dialogue."
After making adjustments to account for a pandemic, Sullivan is preparing to launch the recruitment phase of his project. While he's utilized Kahle's expertise throughout the process, she knows this effort is mutually beneficial.
"This is a great opportunity for us at the center, because we're engaged in research we enjoy with staff we love working with," Kahle said. "It's a unique opportunity for me, because it's outside of my typical research. To be able to see this project develop and also be part of it is really exciting."
Make a gift to support the Center for Sexuality and Health Disparities.
Photo credit: Rob Stephenson.