Global Resources
Funding for Global Experiences 
In support of global education, there are a range of funding opportunities available that provide support for educational programs, internships, service projects and research in international settings. Students are encouraged to investigate as many funding options as possible. U-M School of Nursing's global nursing Canvas site includes news, deadlines and funding opportunities for School of Nursing students. Self-enroll for the Global Nursing Canvas site.
Looking for scholarship information? Learn more about global nursing scholarship opportunities.
Identities Abroad 
We encourage all nursing students to go abroad as part of The University of Michigan's commitment to the values of diversity, equity and inclusion. As you consider international travel, the following pages will help you explore some of the social identities in different contexts.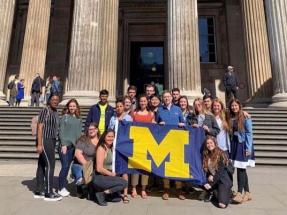 Michigan Nursing Students Abroad Blog
When Nursing students travel abroad, amazing things happen. Follow their life-changing experiences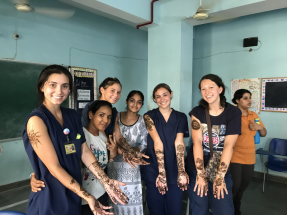 Join our Global Nursing Canvas Page
Access global health resources as well as a weekly newsletter regarding upcoming global health events, opportunities, and scholarship. 
Meet with an advisor
Set up an appointment (in person or Zoom) with an advisor – email beste@umich.edu or UMSN-GlobalOutreach@med.umich.edu.
U-M School of Nursing International Community Events
Our international and internationally minded students, faculty and staff at the U-M School of Nursing get together periodically to socialize, network, and share their experiences and expertise.
U-M Travel Guides and Checklists
Language Resources
Independent Language Learning Resources 
The LSA Language Resource Center has amazing resources for students that are interested in language learning. We encourage you to check out their website because it has many opportunities like:
Learn more about foreign language conversation opportunities. 
Language Immersion/Study Abroad 
M-Compass is a perfect guide to find interesting language focused study abroad programs. For those that only speak English there are some study abroad programs do not need a language requirement or are oriented to beginning language students
To navigate M-Compass:
Click options and press Advanced Search
Narrow your search on the specific location and term you want
click yes to foreign language required (or country preferred if you wish to find programs in English or for beginners)
Having trouble figuring out which option is right for you? Make an appointment with the Office of Global Affairs: UMSN-GlobalOutreach@med.umich.edu
Language and Area Studies Courses 
There are many language classes offered at U-M. A few examples are listed below:
Spanish 283- Spanish for the Profession FA 2019 3 - Dorantes, Maria De Lourdes
RCASL 100 Introduction to Deaf Culture FA 2019 3 Berwanger, Paula D
ASIAN 352- Gender, Sexuality, and Power in Premodern China
To find courses focused on a specific language or region explore the departments listed below:
Language Clubs
Clubs are one of the ways to continue practicing a language in a fun informal setting and to meet students from across the University. Maize Pages will help you find the right learning community:
Japanese Language Circle
American Sign Language Club
Arabic Club at The University of Michigan
Russian Club
German Club at the University of Michigan
Italianissimo
Swahili Club
Spanish Club at the University of Michigan
U-M student organizations 
U-M has a wealth of student organizations devoted to global health, many of which offer opportunities for volunteering and service learning abroad listed on the Maize Pages. Many nursing students have attended programs through UM Student Organizations below:
International career guidance
International Nursing Students NCLEX Information
Preparing for the NCLEX
Kaplan is a great resource for NCLEX Prep. There are Integrated/Focused Testing options with Remediation for students to take. University of Michigan School of Nursing (UMSN) nursing students are eligible to get a discounted rate through Kaplan. If you are a currently admitted student, and you would like the discounted rate for this resource please contact UMSN-GlobalOutreach@med.umich.edu
Some other self-study options are listed below:
Please feel free to reach out to us with your questions: UMSN-Global-Outreach@med.umich.edu
Global Health Information and Resources
More Questions?
Please contact the Office of Global Affairs for more information on global health and travel resources: UMSN-GlobalOutreach@med.umich.edu