U-M School of Nursing Post-baccalaureate DNP program
The University of Michigan School of Nursing strives to find a class of academically excellent, diverse people who show an interest in contributing to the ever-changing atmosphere of health care. The U-M School of Nursing doesn't require experience as a registered nurse (RN) to be considered for the DNP program. We suggest applying early and submitting all application materials at least one month before all published deadlines to allow adequate processing time. The NursingCAS application opens in September. Request more information.
FALL 2024 APPLICATIONS WILL OPEN IN NURSINGCAS ON SEPTEMBER 1, 2023
Fall 2024 Deadlines
Priority Deadline: January 1
Final Deadline: March 15, 2024
"Future students should know it's a really hard program, but it's worth it. The DNP program changed my expectation about what I want out of nursing and my career."
— Andrea Matsumoto, U-M School of Nursing post-baccalaureate DNP program graduate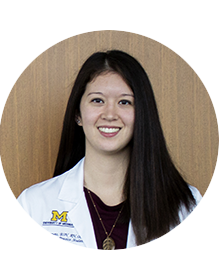 The non-refundable application fee is $80, payable through NursingCAS. For information on application fee waivers, visit the NursingCAS website.
Applicants to the Post-baccalaureate DNP program may only apply to one specialty. Students can select from the following specialty options.
It is the responsibility of the applicant to check their NursingCAS application account frequently to make sure documents have been received and processed by the deadline.
The School of Nursing is currently offering only an MSN pathway for our online programs. Those interested in a DNP have the opportunity to pursue a post-master's DNP upon successful completion of their MSN.
Detailed information about how to submit the application and required documents is also available while you are filling out the NursingCAS application.
NursingCAS sections:

Academic history
Send official post-secondary transcripts from all institutions where you earned a degree or completed any coursework directly to NursingCAS. This includes higher education institutions where you may have completed dual-enrollment credits while still in high school. Transcripts may take up to four-six weeks to process. For information about how to submit transcripts, see the "help with transcripts" section of the NursingCAS website.
Applicants that have transcripts from institutions that do not issue records in English, are required to provide a course by course transcript evaluation by either World Education Services, Inc. or Educational Credential Evaluators, Inc. Translations must be literal and complete versions of the original records. For additional information, refer to the NursingCAS FAQs section.
Transcripts sent to the U-M School of Nursing will not be accepted. If you have any questions during the process of submitting transcripts, please contact NursingCAS directly.
Current or previous University of Michigan students are required to request transcripts to be sent to NursingCAS through the Office of the Registrar.
Academic history helpful hints:
Late receipt of transcripts is the primary reason why applications are considered incomplete.
We require an official transcript from all academic institutions, even if credit for these courses are on your BSN transcript.
Program materials section
Personal statement
Provide an answer to the following question:

What are your professional and educational goals as they relate to the graduate program to which you are applying?

(700 words maximum). The answer should state your reason for pursuing the program. It is most effective when you have researched the program and can communicate an understanding of the scope of practice.

You should elaborate on how the degree and specialty best fit your professional and academic goals.
Personal statement helpful hints:
Personal statements are most efficient when they include details regarding in-depth knowledge of your program of interest, as well as clear goals for your career.
Personal statements are a perfect place to relay information to the admission committee that we do not have from other parts of your application.
Incorporating information about how it is you chose to become a nurse can be effective 

and/or experiences you had that led you to this specialty.

If there is something in your academics or resume that should be addressed, feel free to use the personal statement to touch on this as well.
References
Three recommendations are required for admission consideration. Recommendations must be sent directly to NursingCAS. If a recommender needs assistance please direct them to contact NursingCAS.

Recommenders should be able to comment on your potential success as a graduate student and as an advanced practice nurse in the area for which you are applying. It is recommended that references have a master's level nursing degree or higher.

Hard copy or electronic versions of recommendations sent directly to the school will not be accepted.
References helpful hints:
It is encouraged that applicants send their evaluation requests early in the application process to make sure recommenders have adequate time to complete the request.
Be sure to update your recommender on your goals in applying to graduate school so that he or she can speak eloquently about your skill sets.
Resume
The U-M School of Nursing requires the submission of a one - two page resume with your NursingCAS application. 

Your resume should be well written, formatted appropriately and easy to read.

Highlight important educational and professional experiences, including volunteering, professional associations, leadership, research, job shadowing and awards. 
Resume helpful hints:
Resumes should be current and no longer than two pages.
Applicants should keep information relevant to nursing-specific experiences and leadership activities.

We do not require specific work experience prior to applying for a program, however we encourage applicants who have work experience to share their passion and knowledge for advanced practice nursing throughout their application.

For individuals with limited to no work experience as an RN, it is recommended that applicants job shadow, volunteer and/or complete additional experiences to understand the role of an advanced practice nurse.
Involvement in extracurricular leadership activities are a good item to have on your resume. Examples include involvement in Student Nurses Associations or student groups while in school or participating in unit committees while working.
Achievements and awards can also be included in your resume, such as daisy awards or departmental recognition.
We recommend taking the first steps on your application at least five-six weeks before the application deadline. All application materials must be received by NursingCAS by the deadline in order to be considered for admission.
Post-baccalaureate DNP applicants must have:
Earned a BS in nursing or are in the process of completing a BS in nursing from a CCNE, AACN or NLN-accredited institution. Note: Successful completion of the BS in nursing must occur prior to the desired term of admission.
Minimum B average in all undergraduate coursework (this includes all courses taken to satisfy the degree requirements for a BS in nursing; an overall B average is usually equivalent to a 3.0 GPA on a 4.0 scale).
Please note: prior to their first term of enrollment, all admitted students must have a valid RN license in the state where they will be completing their clinical experiences.
Graduate applicants qualify for an exemption from taking an English proficiency examination if one of the following criteria are met:
You are a native speaker of English.
You are an applicant from Puerto Rico.
You completed all of your undergraduate education and earned an undergraduate degree at an institution where the language of instruction is English only. Undergraduate degree requirements must be completed before the start of classes at U-M.
You completed all of your graduate education and earned a graduate degree at an institution where the language of instruction is English only. Graduate degree requirements must be completed before the start of classes at U-M.
You are a current U-M student.
Does not meet English proficiency exemption:
A one year graduate degree does not meet an English exemption.
If you completed a Master's degree that was strictly research and no academic classes, that degree does not meet the exemption. This type of Master's degree is generally awarded at a non-U.S. institution.
If you have questions about qualifying for an exemption from taking an English proficiency examination, please contact the Office of Admissions and Records at UMSN-GradAdmissions@med.umich.edu.
English proficiency exemption documentation
If you think you qualify for an exemption based on receiving a degree from an institution where the language of instruction is English only, you must have your previous institution submit a letter directly to the School of Nursing following these guidelines:
The letter must state that the language of instruction for all courses taken at the institution was English only.
The letter must be signed, stamped, dated and sent in a sealed envelope directly from a school official to the School of Nursing.
Documentation sent directly from students will not be considered for an exemption. *
Letters may be sent to the following address:
Admissions & Records
400 N. Ingalls St.
Ann Arbor, MI 48109-5482
Exemptions will be considered on a case-by-case basis and are not guaranteed.
English language test information
Scores must be sent directly to the University of Michigan
Test scores are valid for two years after the test date.
Official score reports must be received from the testing agency no later than the program application deadline. 
Tests accepted are the Test of English as a Foreign Language (TOEFL) or International English Language Testing System (IELTS) for graduate applicants.
Only the highest total score from one test date will be considered in the admissions process.
Photocopies and/or faxes of English proficiency scores will not be accepted.
TOEFL (Preferred)
Total score must be 94 or higher
We accept TOEFL internet-based-test
Official scores should be sent directly to the University of Michigan, School Code 1839.
For  testing information, please view: https://www.ets.org/toefl
IELTS 
Total score must be 7.0 or higher
We accept IELTS, IELTS indicator exam
Official scores should be sent directly to the University of Michigan, Ann Arbor or have them mailed to the following address:
Admissions & Records
400 N. Ingalls St.
Ann Arbor, MI 48109-5482
The Graduate Record Exam (GRE) is not required for admission consideration to the post-baccalaureate DNP program.
All completed applications will be reviewed by the admissions committee. Applicants who submit all required application materials will also be required to complete a video assessment through Kira Talent. Once invited to a video assessment, applicants will have seven days to complete the full assessment. After receiving an invitation to complete a video assessment, please keep in mind the following:
Kira Talent allows for an unlimited number of practice questions before beginning the assessment.

Applicants will have 45 seconds for preparation before each question, and 120 seconds to respond. Applicants do not have to use the entire 120 seconds.

Applicants will have access to technical support through Kira Talent 24 hours, 7 days a week, 365 days a year via Kira Talent Support.
Please read this document for more information on what to expect from the Kira Talent video assessment.
Some candidates may also be invited to a live interview with U-M School of Nursing faculty. All live interviews will be conducted in a virtual format.
Applicants selected will be notified via email. Please note, most candidates will not be required to attend a live interview.
Questions or concerns regarding the video assessment can be addressed by contacting UMSN-GradAdmissions@med.umich.edu or by calling 734-763-5985.
Interview helpful hint:
The purpose of the Kira Assessment as well as the live interview is to assess each applicant's fit for the program to which they applied and evaluate their understanding of the scope of practice.
You are encouraged to submit your application as early as possible. Admission decisions are sent on a semi-rolling basis by email.
International applicants
US Federal Immigration Regulations allow for only one online/distance course to be counted towards the minimum required courses in any term for international students in the US on a student visa or status. As many courses are taught in an online or remote format in our professional graduate programs, the MSN, Post-Baccalaureate DNP, and Post-Master's DNP programs in the School of Nursing currently do not qualify for F-1 or J-1 student sponsorship.  However, students in other visa categories may be permitted to study. 
The BSN and Ph.D. degree programs in the School of Nursing, due to extensive in-person coursework, qualify for F-1 or J-1 student sponsorship.  
For questions, please contact the Office of Admissions and Records at UMSN-GradAdmissions@med.umich.edu. 
The School of Nursing remains committed to welcoming prospective applicants and connecting with you! We offer a number of on-campus events, virtual information sessions and live webinars featuring our distinguished faculty members. For more information and to register for an event, see the 
U-M School of Nursing visitor information page.
Have more questions?
Our Admissions Team is excited to connect with you!