The Michigan DNP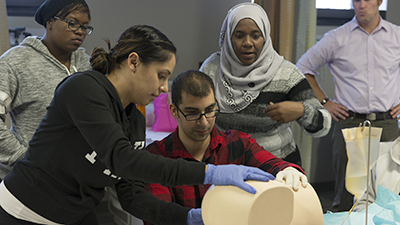 Overview
As a DNP student at one of the nation's largest public research universities, you will be mentored and taught by nationally recognized thought leaders specializing in a variety of nursing practice specialties, leadership and data analytics. Located less than a mile from one of America's top-ranked health systems, the U-M School of Nursing has thoughtfully curated a vast network of clinical learning environments around the country and forged interdisciplinary partnerships— all in an effort to streamline your ability to leverage U-M resources as you work to translate new discoveries into practice.
Download our Graduate Viewbook now and immerse yourself in the community of passionate clinicians and scholars you will join as a graduate student at the U-M School of Nursing.
Is a DNP right for me?
There are so many factors that will affect your decision to pursue an advanced nursing degree. We encourage you to take a few minutes to hear directly from our DNP program director. It will help you better understand the significant impact this degree can have on your career, the environments in which you can practice and your leadership options after earning a DNP from the University of Michigan.
Learn more about becoming a graduate student at the U-M School of Nursing.
What should I consider when applying?
Are you prepared for the challenge of pursuing a BSN to DNP degree pathway? Hear directly from a graduate to learn about the all-encompassing experience of earning your undergraduate and advanced practice degrees from the U-M School of Nursing. This firsthand insight will help you understand the distinct opportunities available through this rigorous and rewarding program.
I have a BSN
The University of Michigan's bachelor of science in nursing to doctor of nursing practice (BSN to DNP) degree was thoughtfully designed to prepare expert clinicians and leaders within their chosen advanced clinical practice specialty. It is one of the few top-ranked programs in the country that offers students a breadth of APRN specialties along with the opportunity to combine specialty programs (e.g., nurse-midwifery and primary care family nurse practitioner). You can choose from three and four-year degree program plans that include web-blended course offerings to help you maintain work–life balance. You are not responsible for finding your clinical placement in our BSN to DNP program; our experienced faculty and staff will work with you to learn about your clinical interests so they can find the best fit for you.
• Adult-Gerontology Acute Care Nurse Practitioner • Adult-Gerontology Primary Care Nurse Practitioner • Primary Care Family Nurse Practitioner • Nurse-Midwifery • Nurse-Midwifery / Primary Care Family Nurse Practitioner
I have an MSN
The University of Michigan's post-master's DNP provides students the opportunity to become a health care innovator with leadership skills to implement paradigm-shifting practice. Students work alongside faculty with expertise in a variety of clinical specialties, leadership, and evidence-based practice to address complex health care issues. With a variety of program plans to choose from, you can earn your post-master's DNP degree in two or three years through web-blended coursework online with limited campus visits each term.