Make a Gift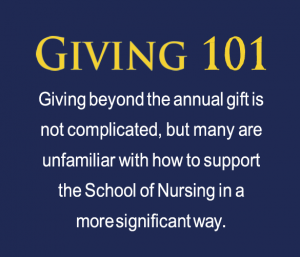 The continued excellence of the University of Michigan School of Nursing — from its accessibility to deserving students from all walks of life, to its enduring ability to deliver a transformative educational experience — depends heavily on support from our alumni and friends. 
A degree from the U-M School of Nursing opens doors throughout one's career. For the School of Nursing to remain a leader in education, patient care and research, strong financial support is essential.
Investing in the School of Nursing is an investment in the future. 
There are many ways to give to the School of Nursing — make an online gift today, or contact us by email or by calling 734-763-9710.
The University of Michigan has 501(c)(3) nonprofit tax-exempt status. Our federal tax ID number is 38-6006309.
Online: Use our simple and secure online form to make a gift right now using your credit card.
By mail: Please make your check payable to the University of Michigan and mail to:
Office of University Development, Gift and Records
3003 S. State St., Suite 8000
Ann Arbor, MI 48109-1288