Rankings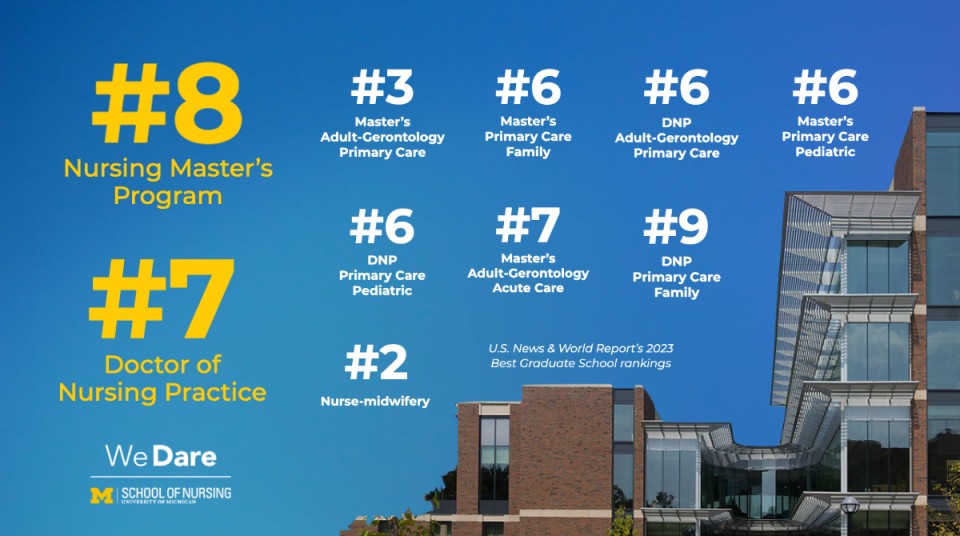 The University of Michigan School of Nursing today announced its master's program is ranked 8th in the latest release of the U.S. News & World Report 2023 Best Graduate School rankings, while its doctor of nursing practice program ranked 7th. 
The Nurse-midwifery program, which is not ranked annually, continues to hold its #2 ranking until the next ranking cycle. 
Additionally, seven specialty programs are ranked in the top 10:
Master's Program Specialties
Doctor of Nursing Practice Specialties
*Not all specialty programs are evaluated annually. The current ranking is applicable until the next ranking cycle.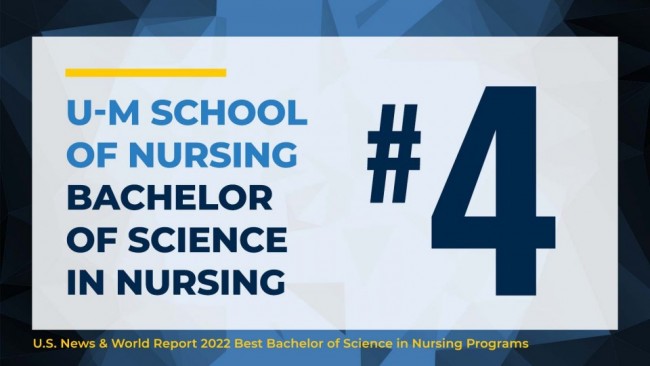 The University of Michigan School of Nursing's Bachelor of Science in Nursing program was ranked No. 4 in U.S. News & World Report's first rankings of the nation's top undergraduate nursing programs. U.S. News says it published BSN rankings for the first time this year due to the occupation's rapid growth and nurses' essential role during the pandemic.
BSN rankings are determined by the average of scores received from surveys of top academics and officials at nursing schools or departments. These officials rated the overall quality of undergraduate BSN programs they were familiar with on a 1-5 scale. Schools are included and ranked in this standalone peer assessment survey if they have bachelor's-level accreditation by either the Commission on Collegiate Nursing Education or the Accreditation Commission for Education in Nursing.
The data for the rankings come from statistical and reputation surveys conducted in fall 2020 and early 2021.