Primary Care Pediatric Nurse Practitioner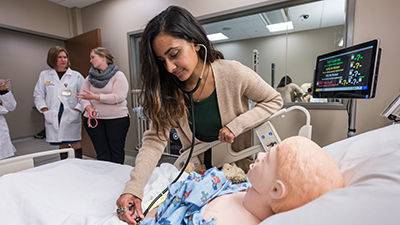 Overview
The role of the primary care pediatric nurse practitioner continues to expand as health systems across the country look to serve the increasingly complex needs of children and their parents. Primary care pediatric nurse practitioners focus on the overall well-being of children. These specialists recognize and respect the family's strengths as caregivers and supplement those strengths to benefit children. Approximately half of the graduates of our program choose a career in a primary care setting, providing well-baby/well-child care and management of minor acute illnesses, while the other half pursue careers in subspecialty care.
The U-M School of Nursing is now offering an online degree for this program!
Is This Specialty Right for Me?
Spend a few minutes to hear directly from the U-M School of Nursing faculty member who leads our Primary Care Pediatric Nurse Practitioner program. It will help you better understand the factors to consider as you decide if this advanced practice specialty program is right for you.
Learning and Program Plans
The U-M School of Nursing's learning plan will immerse you in knowledge of well-baby/well-child care and management of minor acute illnesses. Armed with theoretical understanding, you will then begin closely supervised clinical immersion, gaining hundreds of hours of experience caring for children and babies before wrapping up your clinical education with a subspecialty experience.
In Fall of 2024, the University of Michigan School of Nursing Primary Care Pediatric Nurse Practitioner (PNP) program will transition to an all-digital format. Our digital program will offer the same rigorous education as our previous face-to-face program. The transition to this format follows our other primary care nurse practitioner programs and offers a more accessible format to potential students across the country and allows for more flexibility for students. The digital PNP program is designed by faculty and with consultation with national experts in online learning and teaching. Students who are admitted to the digital PNP program will be required to come to campus for a two-day intensive session each term. The on-campus learning will focus on areas that are essential to student's success in the program including competency assessments, of the students' progression and performance throughout the program. These intensives allow time to participate in expert seminar content with student and faculty colleagues.