Nurse-midwifery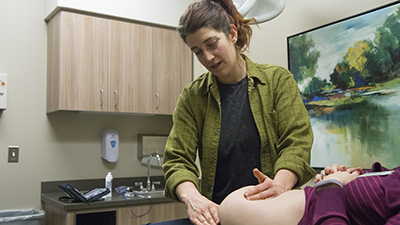 Overview
Ranked by U.S. News & World Report as the #2 Nurse-midwifery program in the country, the U-M School of Nursing created the first graduate Nurse-midwifery program in the state of Michigan to develop nurse-midwives who can address the challenge of high infant mortality rates. Today, nurse-midwives work in a number of settings, including birth centers, hospitals and private or public clinics to use their education and training for teaching, advocacy, research and public education. As a graduate of this program, you will be ready to promote women's health care across the lifespan and provide care for normal newborns.
Is this specialty right for me?
Spend a few minutes to hear directly from the U-M School of Nursing faculty member who leads our Nurse-midwifery program. It will help you better understand the factors to consider as you decide if this advanced practice specialty program is right for you.
What should I consider when applying?
What factors should I consider before applying? What kind of clinical experiences will I have in this program? Hear directly from a graduate to learn more about what it's like to study in the nation's top nurse-midwifery program, and find out just how far you can take your career in this rapidly evolving advanced practice specialty.
Learning and Program Plans
Our nurse-midwifery faculty take the time to learn about the unique professional experiences and personal goals of each student in the program before the first day of classes even begins. In addition to finding the right clinical placement for you, it helps our world-renowned faculty better prepare you to excel on the American Midwifery Certification Board exam. At the U-M School of Nursing, we base your education on an understanding of health sciences theory and clinical preparation that shapes the knowledge, judgment and skills needed to provide primary health care management to women and newborns.