The Michigan Ph.D.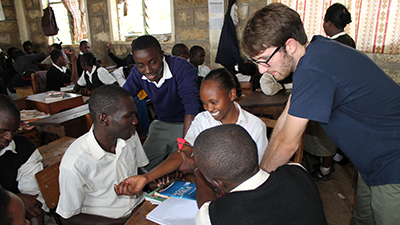 Overview
As part of an institution that is ranked #1 in research volume among public research universities, the U-M School of Nursing offers exceptional opportunities for Ph.D. students. Our robust research infrastructure will afford you access to the resources necessary to pursue your scholarly interests, including funding that enables you to be a full-time student, interdisciplinary connections with scholars throughout U-M and one-on-one mentorship from our world-renowned faculty.
Is a Ph.D. right for me?
Meet the U-M School of Nursing Ph.D. program director and learn more about what sets our program apart. Get the insight you need to determine if our Ph.D. program is right for you and how your identity as a nurse can continue to influence nursing practice within the health care system.
Explore the Michigan Ph.D.
In order to meet the diverse needs within the field of nursing and the goals of the student, this course of study provides flexibility. The program prepares nurses who are competent in research design, data analysis and inferential processes, and thus capable of pursuing research related to the delivery of patient care and developing theory, oriented toward the application of nursing practice. Learn more about important program details, including: curriculum, costs, dissertation grants and mentoring.
Mentoring
Meet current students and alumni of our Ph.D. program and learn firsthand about their experience as Ph.D. students and their relationship with their U-M School of Nursing mentor.
Research at the U-M School of Nursing & Program Details
As one of the first nursing schools in America to offer a Ph.D. in nursing, we have a rich history of research and innovation. We work to develop researchers who will make discoveries that positively affect patients and the health care system as a whole. U-M School of Nursing aims to lead as an interdisciplinary partner in expansive areas dedicated to improving all aspects of health.