Undergraduate global opportunities
Going global means, you are ready to challenge your limits by stepping into new perspectives, new spaces, and new situations. We at the Office of Global Outreach are here to help you explore what opportunities you may consider, and help you plan for your global endeavor.
BSN Global Health Curriculum
Population health in a global context minor
Learn more about the population health in a global context minor which provides opportunities for students to explore global health through a variety of courses and a required field experience. The getting started page discusses different options for field experiences.
UMSN courses
The undergraduate nursing curriculum includes two interdisciplinary elective courses on global health:
This 2-3 credit course, taught on campus, introduces global health concepts and the network of organizations working to advance health care internationally.
This 2-credit elective seminar, taught on campus in the winter term, has an optional 2-3 week faculty-led field extension for an additional 2 credits in:
New Delhi, India. Travel to India takes place in August. No foreign language proficiency required.

Khon Kaen, Thailand. No foreign language proficiency required.
Find details on each program through MCompass. The N421 seminar is part of the global course connections program. It is open to all undergraduates with at least sophomore standing. For more information, contact Professor Megan Eagle.
There is an additional option for students to incorporate global health concepts into the required curriculum.
This required core class, normally taken during fall or winter of senior year, offers opportunities for global and intercultural engagement in a subset of its clinical sections.
Videoconferencing: Each semester, at least one section will use technology to engage in a joint project with students at one of U-M's international partner schools. These have included partners in Haiti (fall term), Botswana and India (winter term).
Community Health Nursing offers a special option for clinical immersion in a global setting. Rising seniors can enroll in NURS 456 during the spring term, before their senior year, and fulfill some of the clinical requirement with the faculty-led field extension in New Delhi, India, Khon Kaen, Thailand or Mbrara, Uganda (see NURS 421, above). This requires full-time enrollment in the spring term.
This course focuses on the health attitudes, beliefs, and practices of patients and health care professionals of culturally diverse populations in the United States. Socioeconomic and political factors that influence health care delivery and health seeking behavior will be explicated. Emphasis will be placed on strategies to facilitate inter/intracultural communication and inter/intragroup dynamics in health care settings.
The purpose of this course is to provide an overview of the social and behavioral factors that influence the transmission and prevention of HIV and AIDS worldwide.
Students will explore and critique the current state of the science in health disparities, i.e., emphasis will be placed on defining concepts, developing methods and measures, examining the analytics and contemporary research on health inequalities, disparities, inequities/equity, and social determinants of health and social justice.
UMSN Education Abroad Opportunities
Team up with local nursing students
Participate in clinical observation and community outreach
Learn to conduct educational interventions at rural clinics schools and NGOs
Compare and contrast aspects of health care delivery
Take part in an international nurse's celebration walk
Apply: NursingIndia
Team up with local nursing students/faculty from Khon Kaen University
Participate in clinical observation and community outreach
Gain health promotion and risk reduction experience through local organizations
Explore existing and emerging public health priorities in Khon Kaen
Compare and contrast aspects of health care delivery
Experience Thai wellness culture
Apply: NursingKhonKaen
Join Mbrara University of Science and Technology (MUST) interprofessional students community health leadership training
Team up with MUST students, village health workers and leaders to implement and evaluate a community health intervention
Participate in and observe rural health care delivery system
Apply: NursingUganda
Reproductive Health Opportunities:
NURSING JUNIORS: TAKE N352 REPRODUCTIVE HEALTH IN WINTER 2019 with PNE in SP/SU 2019
Learn about Danish Health System and culture
Work side by side with midwives in Denmark
Observe patient care under Scandinavian Health System
Immerse with a local family
(Full for 2019, applications for 2020 begin in March 2019!)
Learn about the Ugandan Health System, reproductive health, and the needs of childbearing families in Uganda
Work with nurses in labor and delivery at Mbarara regional referral hospital
Perform post-partum home visits and infant follow up home visits with nursing students and faculty from Mbarara University
Apply: ReproductiveHealthUganda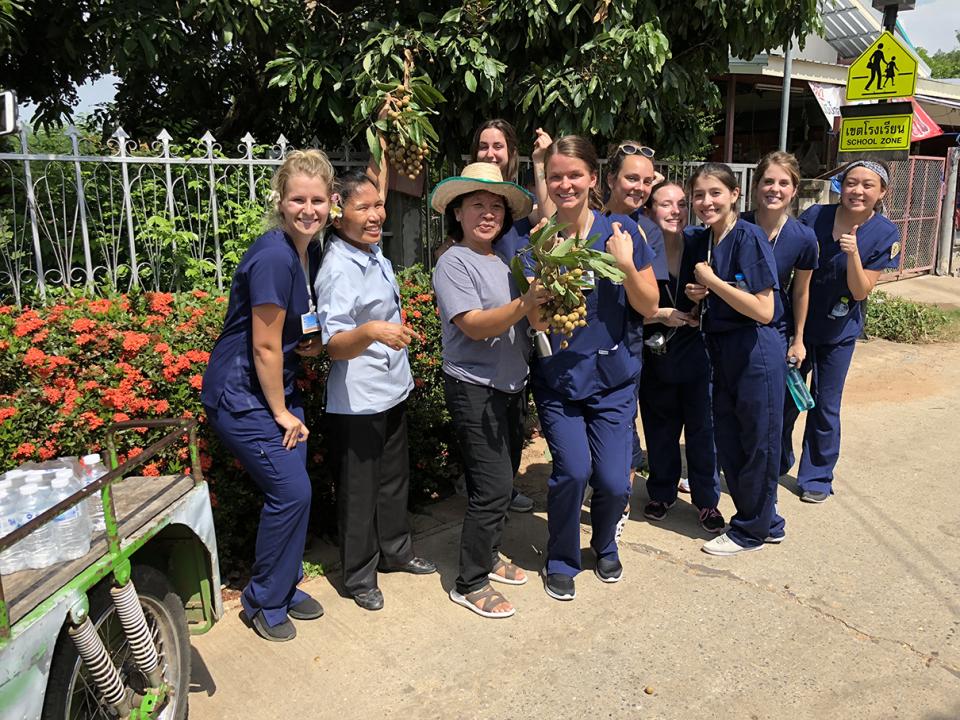 Other U-M sponsored study abroad opportunities
There are many study abroad opportunities offered through the University of Michigan that you may consider. If you are following the global health minor, please make sure to check with Beste Windes (beste@umich.edu) about your plans prior to committing. Visit M-Compass website to review all study abroad programs.
Study abroad programs sponsored outside U-M
Some students opt to pursue summer study abroad programs on their own that are not sponsored by U-M but by another university or, in some cases, a third-party provider or a non-governmental agency. Courses taken through non-U-M programs may or may not count for credit or towards degree requirements. Please consult with an academic advisor for advice on transfer credit before enrolling in a non-U-M program.
For guidance on selecting a non-U-M program, please visit U-M's International Center.
Research opportunities
Not all global experiences need to be connected with earning academic credit. Some UMSN professors routinely take students abroad with them to assist in research projects, an option that may be more flexible in terms of time commitment than study abroad programs.
Another research opportunity open to undergraduates is the U-M Center for Human Growth and Development: Minority Health and Health Disparities International Research Training program (MHIRT). These are three-month research positions with U-M faculty to international placements. Accepted students are awarded a monthly stipend, living expenses, round trip airfare to the placement site, and foreign and domestic expenses incurred while on the program. Undergraduate and graduate placements are available. Applicants must be African-American, Hispanic American, Alaskan Native, Native Hawaiian, Pacific Islander, or Rural Appalachian.
Internships, work and service opportunities
Like research opportunities, internship and service (e.g. volunteer) engagements may be more flexible than study abroad. These opportunities are available through U-M affiliated units as well as through a number of other accredited colleges, universities and external organizations.
U-M student organizations
U-M has a wealth of student organizations devoted to global health, many of which offer opportunities for volunteering and service learning abroad. For information, see the Maize pages.
International career guidance
The U-M International Career Pathways network hosts events for undergraduates, graduating seniors and graduate students interested in working, interning or volunteering abroad or working in an international career.
The International Opportunities Fair provides students the opportunity to meet with and obtain information from organizations and recruiters from around the world.
See and hear more via YouTube
For those who would like to learn more about global opportunities from the voices of faculty and students, you are encouraged to visit the YouTube channel, MGoAbroad, sponsored by the U-M International Center. Whether you're thinking about an eventual international career or simply interested hearing student panels discuss their experience during a term abroad, these YouTube videos provide some insights from the voice of the global traveler.
More resources
The University Library system has a wealth of online global health resources and a dedicated professional staff to assist faculty and students.