Advancing a Culture of Innovation
U-M School of Nursing Innovation "Defined"
HiiP is working to further a "Culture of Innovation" at the U-M School of Nursing for both faculty and students through a broad, inclusive definition of what it is, or can be.
Nursing Innovation is/are: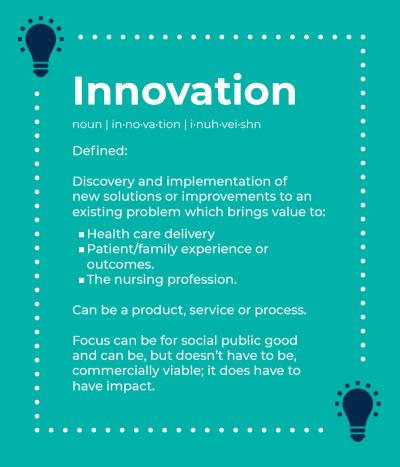 Products, services, programs, and/or processes; Interventions are/can be innovations.
 
Does NOT have to be a medical device, app or some medical technology.
 
An "act or service that can be made available to people that can improve or save lives."
 
Could be as simple as a nursing "workaround" at the bedside.
 
May or may not be commercially-viable, and does not need to make a profit to have value.
 
Impactful in some big or small way; for the "public good."
 
Ideally sustainable and scalable.
 
Inclusive of all faculty/ researchers/students in the School of Nursing.