Careers
Advance with employment at the School of Nursing
We are a dedicated, collaborative team in service of excellent nursing education and science. We want to learn about you and what you can offer, and welcome your application to join our team.
We enjoy a robust partnership with Michigan Medicine, an award-winning health care system and premier academic medical center, and are privileged to teach some of the best and brightest students in the nation.
Get to know the faculty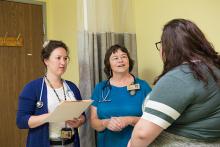 Michelle Pardee, DNP, FNP-BC, clinical associate professor 
Benefits of a UMSN career
Be a part of the University of Michigan community of leaders in nursing education and health care. For questions about any positions, please contact School of Nursing recruiting.
Educators and research faculty
There are many advantages to becoming an educator at UMSN. 
Recognition as a faculty member at a top-ranked school of nursing
Innovative program with an inventive curriculum
Schedule offers summer and semester breaks
Competitive salary with excellent benefits, including retirement
Opportunities for advancement
Opportunities for scholarship and research
Job satisfaction educating top-tier nursing students
Work with interdisciplinary specialists
Work as part of a team
To learn more about becoming a clinical instructor or a lecturer, contact Elissa Minke, Senior Manager of Undergraduate Nursing Program Services. If you are interested in a clinical teaching position but don't see an opening in your area of expertise, contact us to be notified when a position becomes available.
To learn more about tenure-track and research faculty positions, please contact School of Nursing recruiting.
Staff positions
The University of Michigan is consistently ranked one of the top university workplaces by the "Chronicle of Higher Education", and we are a leader in sustainability, health promotion, and work-life balance. Learn more about working at the University of Michigan, including benefits, opportunities, and professional development. University of Michigan careers is the university's comprehensive jobs board for opportunities across all three U-M campuses. All staff openings will be posted there. Use the search function to limit results. 
Student employment
Search and apply for part-time Work-Study and regular (non-Work-Study) jobs.
Open teaching positions
Tenure track
Assistant Professor/Associate Professor/Professor; Job Opening 217417
Clinical track
Clinical Assistant Professor/Clinical Associate Professor/Clinical Professor; Job Opening 217419
Lecturer
LEO Lecturer I (N481 PNE 427/428); Job Opening 237518
Teaching position(s) will remain open until filled. A position may still be open although the posting for it has expired on the careers website. To confirm the status of any position listed above, if the full job posting is no longer available, please contact School of Nursing recruiting. The evaluation of faculty candidates for any position generally begins immediately upon receipt of all necessary materials from interested individuals and continues until the position is filled.
The University of Michigan, as an equal opportunity/affirmative action employer, complies with all applicable federal and state laws regarding nondiscrimination and affirmative action. The University of Michigan is committed to a policy of equal opportunity for all persons and does not discriminate on the basis of race, color, national origin, age, marital status, sex, sexual orientation, gender identity, gender expression, disability, religion, height, weight, or veteran status in employment, educational programs and activities, and admissions. Inquiries or complaints may be addressed to the Senior Director for Institutional Equity, and Title IX/Section 504/ADA Coordinator, Office of Institutional Equity, 2072 Administrative Services Building, Ann Arbor, Michigan 48109-1432, (734)763-0235, TTY (734)647-1388. For other University of Michigan information call (734)764-1817.