Post-master's Doctor of Nursing Practice program
The University of Michigan School of Nursing strives to build a class of academically excellent, diverse students who show a demonstrated interest in changing the nature of health care. The information below is provided to help guide you through the application process. Clinical practice as a professional nurse is preferred but not required to be considered for admission to the post-master's DNP program. The NursingCAS application opens soon for fall 2022. Request more information.
FALL 2022 DEADLINES COMING SOON 
"In the higher levels, it's easier. If you have your bachelor's degree and experience at the bedside, you can go into these leadership roles. The big barriers at the undergraduate level are the physical technical standards."
— Lindsey Freysinger, U-M School of Nursing post-MSN to DNP student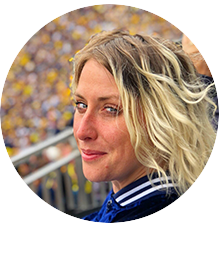 The non-refundable application fee is $75, payable through NursingCAS. For information on application fee waivers, visit the NursingCAS website.
It is the responsibility of the applicant to check their NursingCAS application account frequently to make sure documents have been received and processed by the deadline.
Detailed information about how to submit the application and required documents is also available while you are filling out the NursingCAS application.
NursingCAS sections:
Personal information
Complete the following sections:
Biographical
Contact
Citizenship
Family
Race and ethnicity
Other
Release form
Academic history
Send official post-secondary transcripts from all institutions where you earned a degree or completed any coursework. This includes higher education institutions where you may have completed dual-enrollment credits while still in high school. Transcripts may take up to four-six weeks to process. For information about how to submit transcripts, see the "help with transcripts" section of the NursingCAS website.
Transcripts sent to the U-M School of Nursing will not be accepted. If you have any questions during the process of submitting transcripts, please contact NursingCAS directly.
Current or previous University of Michigan students are required to request transcripts to be sent to NursingCAS through the Office of the Registrar.
Academic history helpful hints:
Late receival of transcripts is the biggest reason why applications are considered incomplete.
We require an official transcript from all academic institutions, even if credit for these courses are on your BSN transcript.
Supporting materials
Supporting materials helpful hints:
Use these sections to expand upon information in your resume or add details that are not included in your resume. It is not necessary to restate details that you've already covered elsewhere.
Program materials section
Personal statement
Provide an answer to the following question: What are your professional and academic goals as they relate to the post-MSN to DNP program? (700 words maximum). The answer should state your reason for pursuing the program. It is most effective when you have researched the program and can communicate an understanding of the scope of practice. You should elaborate on how the post-MSN to DNP best fits your professional and academic goals.
Personal statement helpful hints:
Personal statements are most efficient when they include details regarding in-depth knowledge of your program of interest, as well as clear goals for your career.
Personal statements are a perfect place to relay information to the admission team that we do not have from other parts of your application.
Incorporating information about how it is you chose to become a nurse can be effective.
If there is something in your academics or resume that should be addressed, feel free to use the personal statement to touch on this as well.
References
Identifying your selected references and initiating the recommendation request is part of the NursingCAS application. If a recommender needs assistance please direct them to contact NursingCAS.
Hard copy or electronic versions of recommendations sent directly to the U-M School of Nursing will not be accepted.
References helpful hints:
We strongly recommend that at least two references be from master's or doctoral prepared nurses, because these people can speak to an applicant's preparedness and potential success in a rigorous graduate nursing program. If you are unable to find two recommenders who meet this criteria, do not let this stop you from applying.
It is encouraged that applicants send their evaluation requests early in the application process to make sure recommenders have adequate time to complete the request.
Be sure to update your recommender on your goals in applying to graduate school so that he or she can speak eloquently about your skill sets.
Resume
The U-M School of Nursing requires the submission of a one page (maximum two pages) resume with your NursingCAS application.
We do not require specific work experience prior to applying for a program.
Your resume should be well written, formatted appropriately and easy to read.
Highlight important educational and professional experiences, including volunteering, professional associations, leadership, research and job shadowing.
Resume helpful hints:
Applicants should keep information relevant to nursing-specific experiences and leadership activities.
Involvement in extracurricular leadership activities are a good item to have on your resume. Examples include involvement in professional organizations or unit committees.
All application materials must be received by NursingCAS by the deadline in order to be considered for admission.
Post-master's to Doctor of Nursing Practice (DNP) program applicants must have:
Master Science (MS) in a nursing focus, Master Science in Nursing (MSN) or Master Nursing (MN) from an AACN, CCNE or NLN-accredited nursing program. Applicants may apply pending completion of the master's degree; conferral must be received prior to the selected term of application.
Bachelor of Science in Nursing (BSN) from an AACN, CCNE or NLN-accredited nursing program.
Minimum 3.0 GPA on a 4.0 scale in both graduate and undergraduate (BSN) programs.
All admitted students must obtain a current, valid RN license from any state within the USA prior to their first term of enrollment in the U-M School of Nursing.
The Graduate Record Exam (GRE) is not required for admission consideration to the post-MSN to DNP program.
All completed applications will be reviewed by the admissions committee. Applicants who submit all required application materials will also be required to complete a video assessment through Kira Talent. Once invited to a video assessment, applicants will have seven days to complete the full assessment. After receiving an invitation to complete a video assessment, please keep in mind the following:
Kira Talent allows for an unlimited number of practice questions before beginning the assessment.
Applicants will have 45 seconds for preparation before each question, and 90 seconds to respond. Applicants do not have to use the entire 90 seconds.
Applicants will have access to technical support through Kira Talent 24 hours, 7 days a week, 365 days a year.
Please read this document for more information on what to expect from the Kira Talent video assessment.
Some candidates may also be invited to a live interview with U-M School of Nursing faculty. All live interviews will be conducted in a webinar format until further notice. Applicants selected will be notified via email. Please note, most candidates will not be required to attend a live interview.
Questions or concerns regarding the video assessment can be addressed by contacting UMSN-GradAdmissions@med.umich.edu or by calling 734-763-5985.
Interview helpful hint:
The purpose of the Kira Assessment as well as the live interview is to assess each applicant's fit for the program to which they applied and evaluate their understanding of the scope of practice.
Decisions for applicants who submit a completed application by the fall priority deadline are sent via email by mid-to-late March. Decisions for applicants who submit a complete application by the final fall deadline are generally sent via email by mid-to-late June.
Admitted students helpful hints:
Decisions are sent on a semi-rolling basis — the earlier you submit your application, the earlier you may receive a decision.
Visit our admitted student FAQ page to get answers to several questions you may have.
Matriculated students must also complete compliance and orientation requirements prior to the first day of class.
Admitted applicants can contact the graduate advisors at UMSN-GradAdvisors@med.umich.edu for program specific questions. 
The School of Nursing remains committed to welcoming prospective applicants and connecting with you!  We offer a number of virtual information sessions and live webinars featuring our distinguished faculty members. For more information and to register for an event, see the
U-M School of Nursing visitor information page.
Have more questions?
Our Admissions Team is excited to connect with you!