Honors program
The Undergraduate Honors program provides special opportunities for research and mentorship. Honors graduates are prepared for active engagement in research and other scholarly work with the necessary knowledge, skills and values predictive of successful graduate study.
Benefits of the Honors program:
Work directly with faculty on meaningful health science research

Participate in a student mentorship program

Attend speaker presentations, professional meetings, and shadow specialized practitioners

Cultivate leadership abilities through community service and Honors program activities 

Interact with leaders in the nursing profession

Engage with faculty in small group settings

Learn through special Honors seminars
Expectations
The U-M School of Nursing Honors program sets high expectations for its selected students. Honors students are expected to actively engage in all activities of the program, including: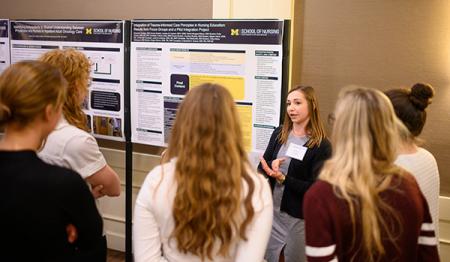 Take Honors seminars in addition to standard UMSN curriculum:

NURS 295: Sophomore level honors seminar, winter semester (1 credit)
NURS 390: Junior level honors seminar, fall semester (1 credit)
NURS 395: Junior level honors seminar, winter semester (1 credit)
NURS 490: Senor level honors seminar, fall semester (1 credit)
NURS 495: Honors project (minimum 2 credits)
Graduate-level nursing course

Under guidance of a faculty mentor, produce an Honors project demonstrating research skills in nursing or health sciences.
Actively disseminate scholarly work through publication, presentations and participation in UMSN Research Day. 
Attend all Honors program meetings, seminars and forum.
Participate in designated community service activities each year. 
Maintain Honors designation, including minimum GPA requirements and adherence to the U-M academic and professional code of conduct.
See Honors program handbook for more information.
About current and past honors students
Nursing students are known to have some of the busiest schedules, but University of Michigan School of Nursing (UMSN) Honors Student Kathryn Parkhurst isn't letting that deter her from taking on extra challenges to benefit her future career and patients. She's following an uncommon academic path by pursuing a minor in business administration.
"My plan is to work a few years at the bedside to get direct patient care experience and then go towards policy or administration," said Parkhurst. "We need more nurse leaders, especially people who know what nurses do in daily practice, to be involved in the higher-level decisions." Read more
Elizabeth Coolidge (BSN, 2019), "Integration of trauma-informed care principles in nursing education: results from focus groups and a pilot integration project" won best undergraduate poster at the 2019 UMSN Research Day
Austin Hill (BSN, 2018): Sigma Theta Tau International Rho Chapter award for student leadership
Karina Zanyk McLean (BSN, 2018), "Sustainability of maternity waiting homes in Bong County, Liberia: won the BSN poster award at the 2018 UMSN Research Day
Recent publications from honors students

Burmester, K. A., Ahluwalia, J. P., Ploutz-Snyder, R. J., & Strobbe, S. (2019). Interactive Computer Simulation for Adolescent Screening, Brief Intervention, and Referral to Treatment (SBIRT) for Substance Use in an Undergraduate Nursing Program. J Pediatr Nurs, 49, 31-36. doi:10.1016/j.pedn.2019.08.012
Cannon, L. M., Coolidge, E. M., LeGierse, J., Moskowitz, Y., Buckley, C., Chapin, E., . . . Kuzma, E. K. (2020). Trauma-informed education: Creating and pilot testing a nursing curriculum on trauma-informed care. Nurse Educ Today, 85, 104256. doi:10.1016/j.nedt.2019.104256
Knoerl, R., Chornoby, Z., & Smith, E. M. L. (2018). Estimating the Frequency, Severity, and Clustering of SPADE Symptoms in Chronic Painful Chemotherapy-Induced Peripheral Neuropathy. Pain Manag Nurs, 19(4), 354-365. doi:10.1016/j.pmn.2018.01.001
Kuzma, E. K., Boucher, N., Gray, B., Burmester, K., Ploutz-Snyder, R., & Strobbe, S. (2018). Preparing Advanced Practice Registered Nursing Students to Deliver Adolescent SBIRT for Substance Use. J Nurs Educ, 57(12), 736-741. doi:10.3928/01484834-20181119-06
Vlisides, P. E., Li, D., Zierau, M., Lapointe, A. P., Ip, K. I., McKinney, A. M., & Mashour, G. A. (2019). Dynamic Cortical Connectivity during General Anesthesia in Surgical Patients. Anesthesiology, 130(6), 885-897. doi:10.1097/aln.0000000000002677
Zierau, M., Li, D., Lapointe, A. P., Ip, K. I., McKinney, A. M., Thompson, A., . . . Vlisides, P. E. (2019). Cortical Oscillations and Connectivity During Postoperative Recovery. J Neurosurg Anesthesiol. doi:10.1097/ana.0000000000000636
Prospective Honors students
Application to the Honors Program is by invitation. Students meeting eligibility requirements will be contacted at the beginning of the fall term of sophomore year. Applications from eligible students are reviewed by UMSN faculty and the Associate Dean of Undergraduate Studies. Select applicants will be invited for an interview. Following these interviews, finalists are selected for the Honors Program. Selected students start the Honors Program beginning sophomore year.
A substantial element of the Honors Program is a mentored experience with UMSN or U-M faculty member. Prospective Honors students are encouraged to explore faculty profiles to learn more about their work.
The school supports an interdisciplinary approach that gives students the opportunity to pursue their interests, including the possibility of matching a students with a faculty member at U-M outside of the School of Nursing.
Contact
Lead faculty for the Honors program is Dr. Erin Kahle.