Annual fund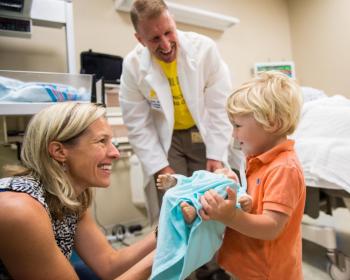 Contributions made annually to the School of Nursing Fund are important because they help the school support ongoing needs as well as emerging needs. The ability to be nimble is especially important today, as the healthcare environment is changing rapidly and new opportunities and challenges for the nursing workforce abound.
Gifts to the School of Nursing are used to ensure that:
The brightest and most dedicated students continue to have the very best nursing educational experience available anywhere in the country

Nursing faculty have funding to conduct research that will provide solutions to those health issues that plague our society as well as develop new models for care delivery

Patients in our communities receive the best care from highly skilled professional nurses
Most recently, the fund has provided support for:
Scholarships and grants that attract the brightest and most motivated students by making an extraordinary education affordable

Support for faculty research endeavors and to attract and retain outstanding scholars and educators that will enrich students' experiences and improve the quality of health for our society

Developing new patient care models and technology that will ensure optimum patient care across the continuum, such as community service agencies and the school's nurse managed primary care sites
For more information about a gift to the School of Nursing Fund, please contact the Office of Development and Alumni Relations, (734) 763-9710 or nursingalum@umich.edu.