Post-Master's DNP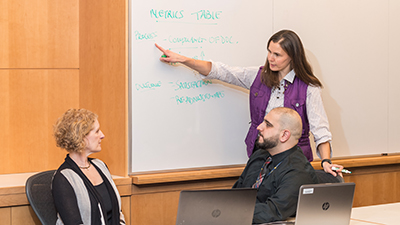 Overview
When health care systems look for new and innovative solutions to complex health care problems, DNP-educated expert nurse clinicians and executives are among the most qualified to take on those challenges. Our post-master's DNP degree supports clinicians and nurse leaders in translating evidence into practice, leading care delivery in complex settings across the continuum and influencing health care change and policy at all levels. As a DNP student at the University of Michigan, you will be able to tap into our robust network of clinical sites throughout the country for your DNP residency. DNP students have opportunities to work with nationally recognized leaders in traditional and non-traditional leadership roles for residency to meet a minimum of 1,000 hours of advanced clinical experience (500 hours may be counted from previous master's work).
Is the post-master's DNP right for me?
The post-master's DNP degree is designed to develop experienced nurses with advanced degrees into nationally renowned experts who lead health care innovation. As you consider whether now is the time to begin pursuing the highest-level nursing practice degree, we hope this video will provide you with more insight about the educational experience of a DNP student.
What should I consider when applying?
Ready to advance your career but not sure what to expect? Hear directly from a student in our post-master's DNP program and find out what you need to consider, what you will experience and how earning a DNP from the U-M School of Nursing can prepare you to effect change as a leader in health care.
Learning and Program Plans
We emphasize innovative and evidence-based nursing practice, applying scholarly processes to decision making and translating research findings to increase the effectiveness of direct and indirect patient outcomes. With web-blended online weekly course offerings and some on-campus days each semester, you can choose to complete your degree in two or three years.