U-M School of Nursing BSN program - first-year applicants
The University of Michigan School of Nursing seeks to create a class of academically excellent, culturally diverse students who show a genuine, demonstrated interest in contributing to the changing world of health care. See below to guide you through the application process or request more information. Admission is for fall term only. The Common Application will be available August 1.
Application Deadlines
EARLY DEADLINE: NOVEMBER 1, 2023
REGULAR DECISION DEADLINE: FEBRUARY 1, 2024
"You're with the same group for four years. I love that the clinical rotations are different each semester so I've gotten to know a lot of people really well and made a lot of good friends who support me."
— Bailey Forde, U-M School of Nursing BSN graduate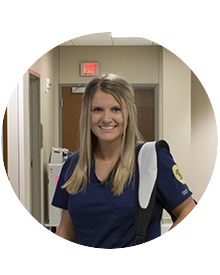 The Common Application is accessible online at commonapp.org.
Application instructions
Add the University of Michigan to your list of colleges.
Select fall 2024 as term of choice
Select the School of Nursing as your school of choice.
A complete application for freshman admission must include
Completed Common Application with $75 application fee.
School Report (Common Application) 
One academic teacher evaluation.
Official high school transcript.

Send transcript(s) directly to: Office of Undergraduate Admissions, 1220 Student Activities Building, 515 East Jefferson Street, Ann Arbor, MI 48109-1316.

Standardized test scores

U-M transitioned to a test flexible admissions policy in 2020 due to the unique challenges that the COVID-19 pandemic presented to prospective students given the impact of social distancing and cancellations on standardized testing options. Our test flexible policy will the 2024 recruitment cycles, in which applicants will have the option of submitting SAT or ACT scores, but will not be penalized for not doing so. For additional information, please visit the Application Changes webpage and select the heading "Testing."
Applicants who wish to have their ACT or SAT scores considered must have them sent directly from the testing agency to the University Of Michigan Office of Admissions (U-M ACT Code is 2062; SAT code is 1839).

Application fee of $75 or fee waiver.
Once you submit your application, you will receive access to your student portal called Enrollment Connect. Enrollment Connect is a U-M website for all your application needs: Track your checklist and application status, receive important messages from the Office of Undergraduate Admissions, view your application decision and more. To log in, you must use the login credentials from the email you receive from Michigan.Admissions@umich.edu verifying your application submission has been successful. If you have not received your login credentials, please visit the verification email not received section. 
Admission requirements
To be considered for the traditional BSN program, applicants are highly recommended to have completed the following credits:
Four units of English.
Four units of math (including second-year algebra and geometry).
Four units of science (chemistry and biology are required).
Two units of social science.
Two units of foreign language.
Additional math and science courses are encouraged.
Transfer credit policy for freshmen
If you have earned transfer credits during dual enrollment, enrollment in an early or middle college program, or through advanced placement or international baccalaureate testing, please review the U-M School of Nursing credit policy for freshmen to learn how your coursework or exam scores may be used to fulfill some credits in the traditional BSN curriculum.
The School of Nursing appreciates that our applicants come from a variety of communities, schools and experiences. As such, our approach to reviewing applications is an individualized and holistic one. The U-M School of Nursing looks for students who show solid academic strength, involvement in extracurricular activities and demonstrate a genuine interest in the field of nursing.
Educational background
At the U-M School of Nursing, we like to see applicants who are challenging themselves academically throughout their high school career. Students should take advantage of any science courses offered at their high school, as well as any AP or IB courses offered.  It is recommended to take 4 years of math and sciences during high school with a requirement of taking chemistry and biology. A statistics course is not required, however exposure to the subject during high school may be good preparation for our curriculum, as statistics is part of the nursing curriculum at the freshmen level.
Extracurricular activities
We encourage students to have exposure to the health care field. This can be done through working or volunteering in a health care setting. Examples of this include job shadowing a nurse, volunteering at a blood drive, volunteering in a nursing home, doctor's office, etc. Another way students can demonstrate their interest in the nursing field is by scheduling an informational interview with a nurse. Informational interviews can be done virtually by holding a one-on-one conversation with a nurse through a webinar, phone conversation or another medium to help you better understand the specifics of the profession.
Many of our students are involved in extracurricular activities, clubs, student organizations and community service; competitive applicants will address these experiences throughout their application.
Essays
Good communication skills are vital to finding success in the nursing field. Our most successful nursing students have the ability to synthesize information learned in class and apply it to clinical experience. Your essay is your opportunity to tell your own story in your own voice. We encourage you to utilize essays to communicate your unique attributes while supplementing the other information in your application. Most importantly, we want to see your essays communicate genuine interest in the field of nursing and the U-M School of Nursing. Essays should communicate to the admissions committee that you have done research about our program and have a good understanding of why our program is a good fit for your educational and career goals.
Our Recruiting and Admissions team is here for you! Prospective students can set up virtual appointments and/or phone conversations with our team.
Please contact us by emailing UMSN-UndergradAdmissions@med.umich.edu or by calling, 734-763-5985.
You can also learn more about our programs through a monthly information session. 
Have more questions?
Our Admissions Team is excited to connect with you!