Sara and Robert Rothschild Global Health Scholars
Sara and Robert Rothschild Global Health Scholars Program
A wonderful surprise greeted hundreds of global health leaders and nurse scientists convened at University of Michigan to celebrate 125 years of nursing education, impact and research. On Wednesday, April 6, 2016, a nearly $1 million gift from Robert and Sara Rothschild was announced by Kathleen Potempa, former dean of University of Michigan School of Nursing. The gift created the Sara and Robert Rothschild Global Health Scholars Program at UMSN, and was part of the $4 billion "Victors for Michigan" campaign at University of Michigan.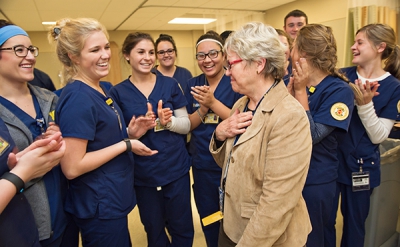 No doubt about it: U-M School of Nursing students are appreciative of support from donors like Sara Rothschild.
Dean Potempa called the Rothschilds' gift "transformative," because of how it will provide "new resources to send our undergraduate and graduate students to work, study, research and learn alongside faculty and partners around the world."
The announcement of the gift for UMSN students' global learning was applauded by many of the same students, faculty, alumni and symposium guests who are currently focusing on ways to improve population health and policy, via the school's PAHO/WHO Collaborating Center and dozens of research and learning projects worldwide. UMSN community health nursing partnerships in Botswana have already intersected with work initiated by the Robert and Sara Rothschild Family Foundation to build 20 libraries in Botswana.
Sara Rothschild (UMSN class of '65) credits nursing as motivation for her global work. "It allowed me to develop as a person and taught me how to communicate with other people about their needs and ideas," she said. "It's been helpful not just in nursing but in my life. The listening skills we learned in nursing at U-M have been so helpful in being able to work effectively in community development in villages in Botswana."