Academics
The U-M School of Nursing academic environment is a staging ground for nursing leaders in current and changing health care systems. Critical study of theory, cutting-edge curriculum, state-of-the-art technology, authorship of research, advanced clinical practice, and mentored leadership in complex organizations are all part of a UMSN education. Our degree programs are structured as pathways to careers in advanced clinical practice, leadership in health care organizations, informatics and population health, and research.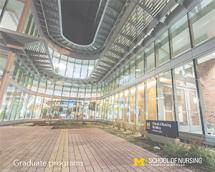 U-M School of Nursing graduate degree programs are structured for careers in advanced clinical practice, research, leadership in health care organizations, informatics and population health.
Building a meaningful graduate degree program for you starts now.
View our graduate degree programs.
Choose your path

DNP-prepared nurses are able to: provide advanced clinical care, lead interdisciplinary teams of health professionals, translate research findings into clinical practice norms, and manage complex health care systems.

MSN prepared nurses lead in a variety of complex organizations and environments to improve health outcomes. Focus areas are leadership; health informatics; and population health. Post-master's DNP graduates translate evidence into practice in settings such as health systems, communities, and primary care. Graduates lead changes in health care delivery and public policy.
Learn about recent DNP graduates' projects.

Ph.D.-prepared nurses are able to: conduct basic science, study the physiological, psychological, and socio-cultural aspects of health, inform and advise on nursing practice and policy, and contribute to the further development of nursing theory.
Learn about current Ph.D. students and recent graduates.

BSN-prepared nurses are able to provide superb bedside care, work in teams with physicians and other health professionals, provide health education, and implement health and safety policies and procedures.
Concentrations
Undergraduate and graduate students can add a concentration to their degree program. We offer concentrations in global health and occupational health nursing.
Certificate options
Accreditation
See our complete accreditation information.
Clinical experiences
The University of Michigan School of Nursing has more than 600 site locations for you to fulfill your clinical requirements, from top-ranked health systems to small rural clinics and specialty locations. We have partnerships with nearly every health system in the state of Michigan and a growing number of additional locations throughout the country. We are continually working to add new sites in order to give our students more opportunities. Learn more about clinical learning opportunities at UMSN.