Clinical learning
Clinical Learning Center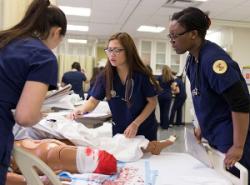 The state-of-the-art clinical learning facility engages the whole student. Focusing on active learning fosters greater understanding and advanced clinical reasoning.
From simulation rooms housed with high-fidelity mannequins for replicating realistic health care situations to skills labs for honing basic and advanced skills, this environment enables students to apply their knowledge of nursing theory in an interactive and challenging yet safe and supportive environment.
Students are active participants in the learning process, gaining both experience and confidence.
Leadership

Julia Seng, Ph.D., CNM, FAAN is Associate Dean for Strategic Affairs

Michelle Aebersold, Ph.D., RN, CHSE, FAAN is Innovation, Discovery and Technology Development Clinical Learning Center Lead Faculty.

Melissa Bathish, Ph.D., RN, CPNP-PC, Undergraduate Simulation Lead Faculty

Deborah Lee, MSN, FNP, ACNP-BC is Graduate Simulation Lead Faculty.
Facilities and services
The Clinical Learning Center includes a variety of facilities designed to support learning. An equipment catalog is available.
This CLC information memo for faculty and staff outlines some basic operating principles of the CLC. Anytime faculty and staff want to use space or supplies in the CLC, we ask that you partner with us in advance.
For students who may be having difficulty in the clinical area, we offer remediation and evaluation.
A simulation and or lab activity request form is needed a minimum of two weeks prior to a scheduled event and fulfillment is subject to availability.
Schedule a clinical for students who need make-up clinicals.
Simulation for clinical learning
In addition to clinical learning, simulation is an important piece of developing hands-on skills.
UMSN students
Students use simulation software to complete their requirements. The School of Nursing uses Sim-IQ. See here for system requirements and accessing Sim-IQ. Students must also be aware of the simulation lab Code of Conduct.
After participating in a simulation, please fill out the post-simulation survey
Resources available for U-M faculty
UMSN offers three courses, open for all University of Michigan faculty members to learn how to facilitate simulations. The courses are:
Simulation as a Teaching Methodology
Effective Facilitation Skills
Debriefing Basics
Sign up for these courses.
In addition, the Simulation Based Learning canvas course is open to everyone at the university. Sign up to learn about all things simulation at UMSN!
Clinical placements
Experience in a clinical setting is an integral part of all U-M School of Nursing academic programs. Through working side-by-side with some of the best nursing and medical professionals in the country, our students benefit from the knowledge and hands-on learning that is only possible through actually applying theoretical skills in practice.
To expose our students to the variety of practice settings and specialty fields available to them as professionals, we strive to provide diverse clinical experience locations. Find out more about clinical placements.
Videos
Watch Dr. Aebersold's TEDxUofM talk:
Spanish language videos:
UMSN produced a series of eight videos using conversational and medical Spanish to prepare current and future nurses for common clinical situations they might encounter. The videos are now available free of charge on Open.Michigan.