Melissa Bathish, PhD, RN, CPNP-PC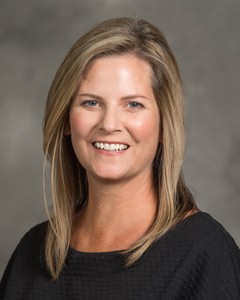 Clinical Assistant Professor
Undergraduate Clinical Learning Center Lead Faculty
Department of Systems, Populations and Leadership
Room A275 SNB
University of Michigan School of Nursing
426 North Ingalls Building
Ann Arbor, MI 48109-5482
Telephone: (734) 764-0095
Interests
Depression
Self-management
Deliberate practice
Nursing expertise
Pediatric critical care
Dr. Bathish currently focuses on the self-management of recurrent depression. She co-developed SRIM-D (Self-Regulated Illness Management of Depression), a self-management model and intervention based on metacognition and self-regulation theory that aims to prevent or lessen the severity of depressive episodes. This research has indicated that the SRIM-D self-management intervention positively influences depression symptoms and other health outcomes. Dr. Bathish has also explored health outcomes related to nurse expertise and competence. Through her dissertation she developed an instrument to measure deliberate practice in nursing and explored the impact of deliberate practice on nursing expertise. Dr. Bathish's knowledge of deliberate practice, use of simulation technology in education, and her teaching and leadership ability allow her to support faculty in improving skills and competence in nursing students through her role in the Clinical Learning Center.
Current Research Grants and Programs
Managing Your Depression; Development and Testing of a Self-Regulation Intervention, Co-I
Pains, Gains and Goals of Depression Self-Management, Co-PI
Self-Management Strategies of Arab American Women with Depression, Co-I
Teaching
Dr. Bathish has been teaching in the undergraduate program at the School of Nursing since 2006. She has provided clinical instruction to sophomore, junior, senior and second career students in the pediatric setting (Pediatric Intensive Care Unit, Pediatric Cardiothoracic Unit, Neonatal Intensive Care, Children's Emergency Services, Cardiology and Oncology). Dr. Bathish has also served as faculty of record for Nursing Care of Patients with Complex Needs I and II (N457 and N459). Likewise, in accordance with her knowledge of deliberate practice, one basic principle of her teaching philosophy is life-long learning. Preparing nursing students to practice as independent, caring, and safe patient care providers is a dynamic process, consistently changing and progressing. It is in this influential course of preparation that knowledge can be offered, not all at once, but deliberately, thoughtfully, and actively. It is Dr. Bathish's goal as a nursing educator to complement this dynamic process.
Affiliations / Service
Arbiter, Office of Student Conflict Resolution, University of Michigan, 2016-present
Member, Rackham Dispute Resolution Board, 2016-present
Member, University of Michigan Academic Integrity Roundtable, 2016-present
Member, University of Michigan Depression Center, 2014-present
Member, Midwest Nursing Research Society 2011-present
Member, Sigma Theta Tau International Nursing Honor Society, Rho Chapter, 1991-present
Notable Awards / Honors
Outstanding Reviewer, International Journal of Nursing Studies, 2015
Research Poster, 3rd Place Ribbon, "The Use of Specialty Surgical Service Teams in Operating Rooms. AORN Congress. San Diego, CA, 2013
Krikor Ketefian Endowment Award, University of Michigan School of Nursing, 2013
Education
Ph.D., University of Michigan, Ann Arbor, MI 2014
MS, University of Michigan, Ann Arbor, MI, 1995
BSN, University of Michigan, Ann Arbor, MI 1991
Publication Highlights
Hagerty, B., Bathish, M., Kuchner, E. (2018). Development and Testing of a Self-Regulation Intervention for Depression. Journal of Health Psychology (In Press). Journal of health psychology, 1359105318772083

Kleiner, C., Bathish, M. & Talsma, A. (2018). Quality in Perioperative Services. In K. Frye & L. Brazen (Eds.), Perioperative Services: Administration, Resources, and Patient Care. New York, NY: Wolters Kluwer Law & Business.

Bathish, M., Wilson, C., & Potempa, K. (2018). Deliberate practice and nurse competence. Applied Nursing Research, 40, 106-109.

Hagerty, B., Williams, R., Aikens, J., Bathish, M., West, B., Fuller, G., Kazemi, J. (2017). Assessing Cognitive Representations of Antidepressants: Development and Validation of the Attitudes toward Medication- Depression (ATM-D) Inventory. Western Journal of Nursing Research, 0193945917705136

Bathish, M., Aebersold, M., Fogg, L. & Potempa, K. (2016). Development of an Instrument to Measure Deliberate Practice in Professional Nurses, Applied Nursing Research, 29, 47-52. doi: 10.1016/j.apnr.2015.04.009

Bathish, M., McLaughlin, M., Talsma, A.N. (2014).The Relationship between operating room nursing staff expertise and patient outcomes. Journal of Nursing Care Quality. doi: 10.1097/NCQ.0000000000000092

Talsma, A.N., McLaughlin, M.M., Bathish, M., Sirihorachai, R., Kuttner, R. (2014). The Quality, Implementation, Evaluation model: a clinical practice model for sustainable interventions. Western Journal of Nursing Research, 36(7), 929-946. doi: 10.1177/019394591453712

Aebersold, M., Tschannen, D., Bathish, M., (2012). Innovative simulation strategies in education. Nursing Research and Practice, vol. 2012, Article ID 765212. doi:10.1155/2012/765212