Research
Our faculty members are at the forefront of high-impact scientific discoveries, engaged in research locally and across the globe.
Transdisciplinary research, education and clinical practice are integral to our work. The mission and vision of research at the U-M School of Nursing were developed in 2019.
Mission: The U-M School of Nursing is comprised of diverse interdisciplinary scientists working to advance nursing and health-related science using forward thinking, flexibility, creativity and sustainable partnerships.
Vision: The U-M School of Nursing will be a national and global leader in team science to improve health and health equity.
Focus areas
Acute and chronic symptom science, including diabetes, pain management, cancer fatigue and childbearing recovery
Big data, including visualization, analytics and informatics
Health system and care effectiveness research
Health equity
Faculty Expertise
Looking for new team members within the U-M School of Nursing?  Take a look at the faculty expertise dashboard, designed to provide interactive insight into both research and clinical expertise.
Grant services
The Grants and Research Office (GRO) provides streamlined grant services for faculty in the pre-award and post-award phases. 
Newsletter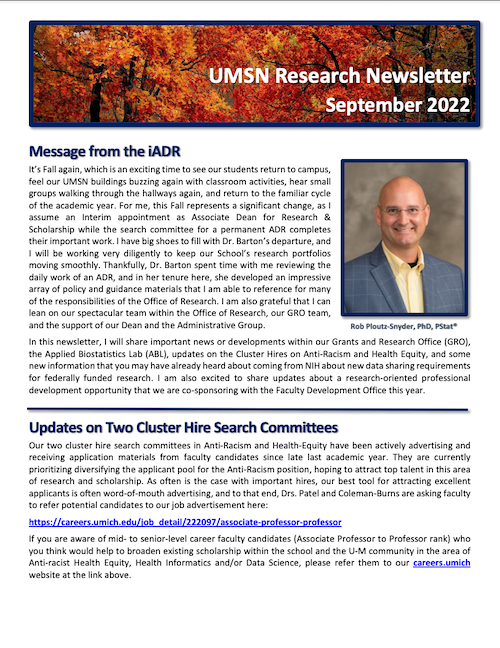 Read our most recent newsletter from the Office of Research. The purpose of this newsletter is to communicate important announcements, priorities, celebrations and other communications that our research community should be aware of within the U-M School of Nursing.
Centers and initiatives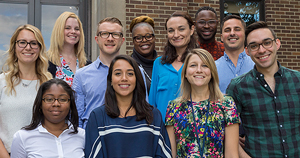 The Center for Sexuality and Health Disparities conducts research on sexuality, gender and sexual health, focusing on individual, community and structural risk factors for poor sexual health and HIV/STIs.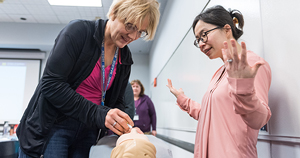 The DASH Center focuses on addressing clinical, educational and research issues related to substance use.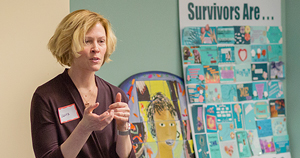 CASCAID (Complex ACEs, Complex Aid) is a study group formed to redress the adverse impacts of trauma by studying and creating interventions.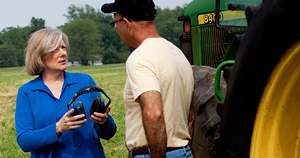 CIPPH brings together diverse health care fields in team-based approaches to aid patients and vulnerable populations.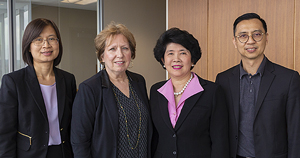 The Fogarty International Training Program for Strengthening Non-Communicable Disease Research and Training Capacity allows the U-M School of Nursing to host trainees from Thailand for postdoctoral research.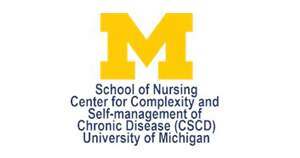 The Center for Complexity and Self-management of Chronic Disease (CSCD) overarching aim is to advance the science of self-management (SM) by addressing complexity, including the study of complex multi-component interventions and SM for people with complex comorbid conditions.