CASCAID (Complex ACEs, Complex Aid) project
Finding flow for youth with adverse childhood experiences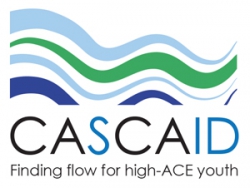 CASCAID (Complex ACEs, Complex Aid) is a study group of nursing faculty formed to research how to redress the adverse impacts of trauma experienced by youth (adverse childhood experiences, or ACE) by creating and studying complex interventions, in other words, complex aid. Complex ACEs are adverse childhood experiences that add up to traumatic and toxic stress that can derail development and impinge on health across the lifespan. Read more about the project.
Project
Lay groundwork for participatory research with high-ACE youth

Change the paradigm from "high-risk" to "high-ACE" youth

Engage with youth, professionals and the state-of-the-science to decrease the impact of trauma on the body.
Goals
Move nursing toward trauma-informed care

Influence traumatic stress research to focus on healthy embodiment and self-regulated wellbeing.
2017 Events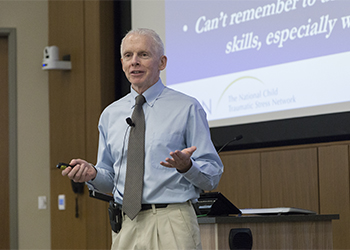 All events are free and open to the public.
February 8: Dinner and a movie: Break the Chain

March 8: Joan Gillece, Ph.D., Director of the National Center for Trauma-Informed Care

April 12: Valerie Maholmes, Ph.D., Chief, Pediatric Trauma and Critical Illness Branch at NICHD

September 27: Julian Ford, Ph.D., Professor at University of Connecticut and Director of Center for Trauma Recovery and Juvenile Justice (view the presentation)

October 11: Dinner and a movie: Paper Tigers

November 8: Telling our Stories panel discussion
Team
Co-leaders
Julia Seng, Ph.D., CNM, FAAN
Michelle Munro-Kramer, Ph.D., CNM, FNP-BC
Members
Nicole Boucher, Ph.D., RN, CPNP
Gina Dahlem, Ph.D., NP-C, FAANP
Cindy Darling-Fisher, Ph.D., RNP-BC
Laura Gultekin, Ph.D., FNP-BC
Yasamin Kusunoki, Ph.D., MPH,
Elizabeth Kuzma, DNP, FNP-BC
Donna Marvicsin, Ph.D., PNP-BC, CDE
Michelle Pardee, DNP, FNP-BC
Marie-Anne Sanon-Rosemberg, Ph.D., RN
Sarah Stoddard, Ph.D., RN, CNP, FSAHM
Kathryn Abramoski, Ph.D. student
Yang Li, Ph.D. student