Marie-Anne Sanon Rosemberg, PhD, RN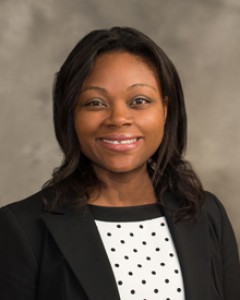 Assistant Professor
Department of Systems, Populations and Leadership
Room 4158, 400NIB
University of Michigan School of Nursing
400 North Ingalls Building
Ann Arbor, MI 48109-5482
Telephone: (734) 647-0146
Fax: (734)-763-0681
Marie-Anne Sanon Rosemberg is accepting new PhD students.
Interests
Worker health
Immigrant health
Biological responses to Stressors
Chronic disease outcome
Dr. Rosemberg received a PhD in Nursing from the University of Washington with an emphasis on occupational health. Her program of research focuses on optimizing the health of low wage service workers at risk for or experiencing one or multiple chronic conditions.
Current Research Grants and Programs
Developing Effective Training Approaches to Reduce Chemical Exposures Among Nail Salon Workers [Michigan Lifestage Environmental Exposures and Disease (M-LEEaD) Center: PI]
A Participatory Research Project to Explore Perceived Stressors and Identify Intervention Needs Among Women Hotel Housekeepers and Hotel Laundry Workers [Institute for Research on Women and Gender (IRWG): PI]
Occupational inhalation exposure to and health risk of volatile organic compounds of hotel housekeepers [T42 OH008455 CDC-COHSE ERC PILOT: Co-PI]
Notable Awards / Honors
Diversity Scholars Network at the National Center for Institutional Diversity (NCID), 2018
Recipient, National Institute of Health Loan Repayment Program, 2014 and 2016 cycles
Nurse Researcher Award, Washington State Nurses Association (WSNA), Professional Nursing and Health Care Council, 2013
Education
PhD, University of Washington Seattle, Seattle, WA, 2012
MN, University of Washington Tacoma, Tacoma, WA, 2010
BSN, University at Buffalo, State University of New York, Buffalo, NY, 2006
Publication Highlights
Rosemberg, M. A., Li, Y., McConnel, D., McCullagh, M. C. & Seng, J. (In Press) Stressors, Allostatic Load, and Health Outcomes among Women Hotel Housekeepers: A Pilot Study. Journal of Occupational & Environmental Hygiene

Boutain, D., Evans-Agnew, R., Liu, F., & Rosemberg, M-A. (2018). Creating Emancipatory Dialogues about Identity and Health by Modernizing Interviews. Advances in Nursing Science. 41(4), 305-315

Rosemberg, M. A., Shaver, B. S. N., Militzer, M. A., Seng PhD, C. N. M., & Marjorie, C. (2018). Blood Pressure and Job Domains Among Hotel Housekeepers. Journal of Health Disparities Research and Practice, 11(2), 7

Rosemberg, M-A., & Tsai, J. (2018). Population Health is Immigrant Health is Worker Health. American Journal of Public Health, 108(7), e22-e22

Rosemberg, M. A. S., & Li, Y. (2018). Effort-Reward Imbalance and Work Productivity Among Hotel Housekeeping Employees: A Pilot Study. Workplace Health & Safety, 2165079918755803

Rosemberg, M.A, Gultekin, L., & Pardee, M. (2017). High-ACE Low Wage Workers: Occupational Health Nursing Research and Praxis Through a Trauma-Informed Lens. Workplace Health & Safety, 2165079917736070. doi:10.1177/2165079917736070

Rosemberg, M.A., Y. Li, and J. Seng. (2017) Allostatic Load: A useful concept for advancing nursing research. Journal of Clinical Nursing, 26(23-24), 5191-5205

Jones, L. Rosemberg, M.A., Wright, K. (2017). Opportunities for the Advanced Practice Nurse to Enhance Hypertension Knowledge and Self-Management among African American Women. Clinical Nurse Specialist 31(6), 311-318.

Evans-Agnew, R., Boutain, D., & Rosemberg M.A. (2017). Advancing Nursing Research in the Visual Era: Re-Envisioning the Photovoice Process across Phenomenological, Grounded Theory and Critical Theory Methodologies. Advances In Nursing Science 40(1), E1-E15

Rosemberg, M.A., Lawrence-Johnson, V., Rostan, O., & McCullagh, M. (2016) Significant associative factors for hypertension among new US Immigrants: An exploration of the 2003 New Immigrant Survey (NIS) data. Journal of Community & Public Health Nursing 2 (118): 1-5

Sanon, M-A., Evans-Agnew, R.A., Boutain, D.M. (2014). An exploration of social justice intent in photovoice research studies: From 2008-2013. Nursing Inquiry (3): 212-216

Sanon, M-A., Mohammed, S. A., & McCullagh, M. C. (2014). Definition and Management of Hypertension Among Haitian Immigrants: A Qualitative Study.Journal of Health Care for the Poor and Underserved, 25(3), 1067.

Sanon, M-A., & Tsai, J. H.-C. (2014). Connecting gender, race, class, and immigration status to disease management. Journal of Health Disparities Research and Practice, 7(5), 13-31.

Sanon, M-A. (2014). Agency-hired hotel housekeepers: An at-risk group for adverse health outcomes. Workplace Safety & Health (formerly AAOHN Journal) 62(2): 81-85

Sanon, M-A. (2013). Hotel housekeeping work influences on hypertension management. American Journal of Industrial Medicine, 56(12), 1402-1413.
Download CV