Leadership, Analytics and Innovation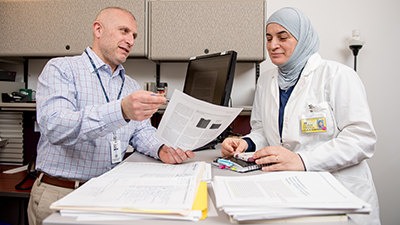 Overview
Today's health care industry is looking for innovative nursing leaders who will drive their organizations to achieve improved outcomes in quality, safety and effectiveness of care delivery by using value-based and data-driven approaches. Our Leadership, Analytics, and Innovation MSN offers the next step in your career by helping you develop the skills and knowledge needed to fill these important and constantly evolving roles. This top-ranked nursing leadership program is designed and taught by nationally recognized U-M School of Nursing faculty with real-world experience in executive leadership, research, clinical practice, health analytics, evidence-based practice and informatics. As you take the next step in your career, you can look forward to building confidence, competence and a comprehensive toolkit to appraise system challenges and drive change for the individuals and populations nurses serve.
Is This Specialty Right for Me?
At the U-M School of Nursing, we understand that transitioning from a clinically focused career trajectory to a leadership pathway is a complex decision. How do we know? Because so many of our Leadership, Analytics and Innovation faculty made that same transition—taking what they learned from their clinical experiences and building upon it with advanced degree training and education. Take a few minutes to hear from a U-M School of Nursing faculty member and former chief nursing officer who helped design our MSN degree program in Leadership, Analytics and Innovation. It will give you an idea of what to expect as a student in our MSN leadership pathway.
Learning and Program Plans
You can choose from a variety of program plan options to suit your needs, including online and residential learning environments. Introduced in fall 2020, our online leadership program option is intended to offer the same rigorous education as the U-M School of Nursing's traditional residential format. The online leadership program is designed by faculty along with student input, and consultation with national experts in online learning. Faculty are trained in highly effective and cutting-edge strategies for optimal learning and student engagement. Visit our tuition information page for more information on online program costs. You will learn how to apply knowledge, data analytics, creativity and innovation to drive strategic decisions in program development along with the evaluation of technology, information, care delivery and outcomes. The goal of our learning plan for Leadership, Analytics and Innovation students pursuing an MSN is to develop confidence in the use, analysis and interpretation of data to build clinical and financial cases for change, patient care delivery and health programs throughout the health care continuum. Students in the LAI program can pursue an Occupational Health Concentration, Certificate in Nursing Education or Health Informatics Certificate.