Bachelor of Science in Nursing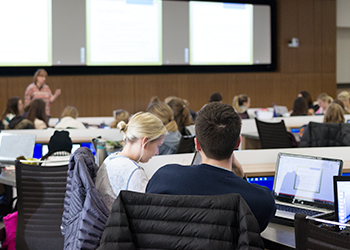 Our Bachelor of Science in Nursing program balances nursing courses with humanities as well as social and biological sciences. With an Honors program for high-achieving students, a low student-faculty ratio, and a distinguished faculty versed in both teaching and research, the School of Nursing provides an ideal environment for success.
Nursing is an ever-evolving profession and its greatest asset are the highly trained individuals who improve patient care through their technical skill and their critical thinking.
Bachelor of Science in Nursing
Designed for those seeking a traditional, four year undergraduate experience, the traditional BSN program prepares graduates to enter the field of nursing through a fusion of theoretical classroom study and ample hands-on clinical experience.
Application and transfers
See application requirements for details on eligibility and how to apply. We accept direct applicants and sophomore transfers from other schools at the University of Michigan and other colleges and universities into the undergraduate nursing program. Nursing transfer students can apply previous coursework, and begin the program by taking one required course in the summer prior to their sophomore year.
Minor option
The population health in a global context minor expands the undergraduate content area to provide opportunities for students to more fully explore global health through a variety of courses and a required field experience.
Study abroad
Global opportunities
are an important part of a UMSN education. There are a variety of options to fit almost all students' degree plan.
Trauma-informed practice mini-certificate
Juniors and seniors, as well as graduate students, may participate in three one-credit mini-courses (HS540/541/542) focused on trauma-informed practice. Those who complete all three will be awarded a certificate, in addition to earning credit. Each course meets only once, for a full-day Saturday interactive workshop. Requirements include pre-learnings, debriefing, and a post-workshop reflective essay. Learn more about the course content and schedule.
Honors
The
undergraduate Honors program
provides special opportunities for students who wish to delve further into their undergraduate educational experience and research. It is designed to both challenge and support UMSN undergraduate students who have shown potential for excellence in research, leadership, and service. Benefits include financial support, opportunities to work with faculty on research projects, and interaction with health science leaders in a variety of professions at conferences, meetings, and more. Students in the program:
Work with faculty doing meaningful research

Participate in a student mentorship program

Cultivate leadership capabilities through community service and involvement in planning/development Honors activities

Meet and interact with leaders in the nursing profession

Engage with faculty in small group settings

Learn through special Honors seminars
BSN curriculum
The minimum credit hours required for graduation is 128.
Effective fall 2018, UMSN has reimagined the curriculum for undergraduate education. This curriculum will be valid for students entering in the 2018-19 academic year. Currently enrolled students will continue to follow the previous curriculum.
Sample plan of study: For students enrolled in 2018-19 academic year and subsequent years
Level I typically includes courses and requirements:
NURS 194: Context of Care I
Biochemistry 212
English 124 or other first-year writing course
Psychology 111: Introduction to Psychology
NURS 210: Anatomy and Physiology
NURS 211: Anatomy and Physiology Lab
Psychology 250: Introduction to Developmental Psychology
NURS 218: Applied Statistics
NURS 196: Communications, Groups and Teams
NURS 142: Nursing Seminar
Elective
Level II typically includes courses and requirements:
NURS 240: Pharmacology
NURS 245: Pathophysiology
Health Assessment, with lab
Using data in nursing: Research and evidence-based practice
Infectious diseases
Culture of Health
Nursing therapies (lecture and PNE)
Level III typically includes courses and requirements:
Care of the family: Infants, Children & Adolescent (lecture and PNE)
Care of the family: Reproductive Health (lecture and PNE)
Elective, IPE course, and/or course to fulfill minor requirements
Nursing therapies II (lecture and PNE)
Behavioral health (lecture and PNE)
Level IV typically includes courses and requirements:
Population health (lecture and PNE)
Leadership for professional practice improvement (lecture and PNE)
Context of Care II
Nursing therapies III (lecture and clinical PNE)
Role transition
Elective, IPE course, and/or course to fulfill minor requirements
Sample plan of study: For students enrolled in 2017-18 academic year and prior
Level I typically includes courses and requirements:
NURS 122: Nursing as a Societal and Interpersonal Profession
Biochemistry 212
Psychology 111
NURS 152: Assessment of Health and Illness
NURS 210: Structure and Function of the Human Body
Psychology 250
Elective
Level II typically includes courses and requirements:
NURS 230: Health Promotion and Risk Reduction
NURS 245: Pathophysiology
NURS 254: Health Maintenance and Restoration I
Electives (2)
NURS 240: Pharmacology
NURS 256: Health Maintenance and Restoration II
NURS 257: Introduction to Research Approach in Nursing
Statistics 250
Level III typical includes courses and requirements:
Level IV typical includes courses and requirements: