Sophomore transfer credit policy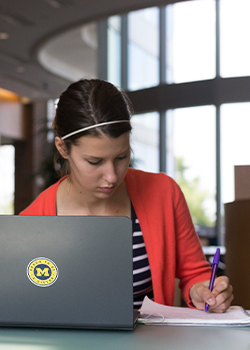 BSN PROGRAM- SOPHOMORE TRANSFER CREDIT POLICY
Prerequisites are key factors when planning your journey to transfer to the Bachelor of Science in Nursing program. Sophomore-level transfer students may transfer around 36 credits, including the prerequisite coursework, if offered admission. Required prerequisites include the following:
English Composition (equivalent to U-M ENG 125)
Introductory Psychology (equivalent to U-M PSYCH 111)
Developmental Psychology (equivalent to U-M PSYCH 250)
Organic Biochemistry (equivalent to U-M BIOLCHEM 212)
Anatomy & Physiology (equivalent to U-M NURS 210 + NURS 211)
Electives (7-8 credits)- Electives may be courses from the humanities, social sciences, biological sciences, physical sciences and/or mathematics.
Statistics (equivalent to U-M NURS 218 or STATS 250)
Statistics, Organic Biochemistry, and Anatomy & Physiology courses must be taken within the past 5 years. Students must earn a C or better for a class to meet prerequisite requirements.
While transfer students will have their first nursing classes (Nursing 194 & Nursing 196) during the summer term, all prerequisite coursework must be completed by the start of the fall term if offered admission.
All applicants are required to submit official transcripts as proof of successful completion of their prerequisite courses. Prior to registering for any course, please check with the institution to ensure that you can obtain an official transcript upon completion. Please note that many MOOCs do not issue official transcripts; those that do not will NOT be accepted to meet prerequisite requirements or transferred in for credit.

The School of Nursing has evaluated many in-state and out-of-state colleges and universities for the exact courses that will transfer to meet our prerequisite requirements. Please use one of the tools below to help you determine what course you should take:
University of Michigan's Transfer Credit Equivalency Website (in state institutions)

Be sure to select "School of Nursing"

Course Equivalency Guide (in-state and out-of-state institutions)
If your course is not listed on the Course Equivalency Guide or Transfer Credit Equivalency Website, it has not yet been evaluated by the University of Michigan School of Nursing and may or may not transfer for credit. To determine if your course is equivalent, compare our Self-Review Guide, to the syllabus from the course you are evaluating. Compare the content of that course to the University of Michigan course; if approximately 90% - 95% of the course content is the same, there is a strong possibility, but no guarantee, that the course will transfer.
Unevaluated courses will require the course syllabus from the term in which you took the course and the course description to be submitted to the School of Nursing. Course syllabi can usually be obtained from the registrar's office at the institution.
To request that your unapproved course is reviewed by U-M School of Nursing please fill out this form completely. You must upload your syllabus for the course to be reviewed. Fill out one form for each individual prerequisite course you wish to have reviewed.
As you are planning your prerequisite coursework, utilize the Sophomore Transfer Supplemental Form. The form provides a space to outline your progress toward completing the prerequisite requirements. Instructions on how to complete the form are included in the first tab of the document. The Sophomore Transfer Supplemental Form must be submitted to UMSN-UndergradAdmissions@med.umich.edu by the application deadline in order for your application to be considered complete
Applicants are strongly encouraged to complete both the Organic Biochemistry and Anatomy & Physiology prerequisite courses prior to enrollment in the School of Nursing, due to the time commitment necessary to fulfill the requirements of the summer nursing course.
If you have an interest in taking prerequisites at the University of Michigan, please note that Organic Biochemistry (BIOCHEM 212) is only offered in the Fall term. Anatomy & Physiology is only offered in the Winter term (NURS 210 + NURS 211). BIOCHEM 212 is the prerequisite for NURS 210 + NURS 211.
Technical coursework (e.g. EMT or medical terminology) will not transfer for elective credit. 
Planning your schedule is key in order to ensure meeting the prerequisite courses requirements. Some of these courses may have prerequisites that are only offered in certain terms. Use the Sophomore Transfer Supplemental Form to help you plan and track your courses!