DEI Strategic Plan
U-M's Strategic Plan
"We are a community that is built from diversity. We believe that diversity, the presence of difference, must be joined with equity, the parity of difference, and inclusion, an open welcome to difference. We recognize that conflicts between groups exist in our history and in our present, and we aim to be a space where we can work together to bridge the divisions among us."
— Dr. Patricia Hurn, Dean, University of Michigan School of Nursing
U-M School of Nursing's Strategic Plan
At the U-M School of Nursing, we acknowledge we are living in times when differences in class, gender, race, religion, culture, ethnicity, sexuality, age, and disability have created marginalized populations that disproportionately bear the burden of health inequities.  As a nationally-ranked, leading educator of nurses, we believe it is our responsibility and privilege to actively work toward creating a society that provides "health for all" by mobilizing our strengths, resources and people.
Our 2024 – 2028 DEI Strategic Plan has been developed to provide a blueprint for our efforts and activities to create an environment that inspires ideas, applauds action and manifests change. The plan is centered on three core areas of focus:
PEOPLE (Recruit, Retain and Develop a Diverse Community)
PROCESS (Create an Equitable and Inclusive Campus Climate)
PRODUCTS (Support Innovative and Inclusive Teaching, Research and Service)

 Download our full DEI strategic plan here to learn more.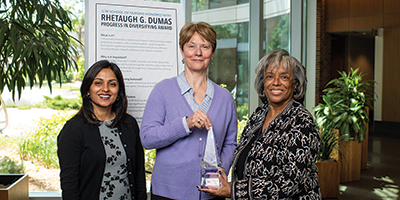 Past U-M School of Nursing strategic plans: