DEI Dialogues, Trainings and Events
The University of Michigan School of Nursing is committed to meeting the needs of all students, faculty and staff. DEI training opportunities and events at the U-M School of Nursing will be listed here as they are made available.
Upcoming Events
Brave Space
Heritage Months
U-M DEI events and trainings can also be found through U-M DEI Courses and Trainings and U-M Organizational Learning.
Please contact Dr. Rushika Patel at Rushika@umich.edu if you have a DEI related question or simply to share what is on your mind. Please check this page periodically for further updates.
Thank you for your commitment to Diversity, Equity and Inclusion at the School of Nursing.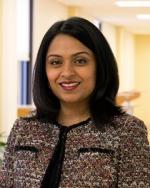 Rushika Patel
Chief Health and Academic Equity Officer
U-M School of Nursing
Inclusive Care for Transgender Clients
The LGBTQ+ Nursing Leadership Society discusses the new and innovative ways we can provide care for and support transgender patients.
Q&A with Dr. Joneigh Khaldun
The U-M School of Nursing virtually hosted Dr. Joneigh Khaldun, Chief Medical Executive and Chief Deputy Director for Health and Human Services for the State of Michigan.
Discussion with Dr. Claire Valderama-Wallace
Claire Valderama-Wallace, Ph.D., MPH, RN presents "Reckoning with the Racism and Colonialism of Nursing Education to Move Towards Health Equity and Healing"
Disparities in Transgender Healthcare
Dr. Rachel Levine, Secretary of Health for the State of Pennsylvania leads a conversation on rights and equity for sexual and gender minority populations, COVID-19 and the need for science based policy, opioids and more.
A discussion with Dr. Martha Dawson, President of National Black Nurses Association
Dr. Martha Dawson shared her pearls of wisdom including expert insight on the issues, challenges and successes facing the organization and Black Americans throughout the nursing profession and healthcare industry.
Support Men in Nursing
U-M School of Nursing student leaders Josiah Ratts and Neal Hautz moderate a panel and interactive session celebrating the launch of the Men in Nursing initiative.