DEI Dialogues, Trainings and Events
The University of Michigan School of Nursing is committed to meeting the needs of all students, faculty and staff. DEI training opportunities and events at the U-M School of Nursing will be listed here as they are made available.
Upcoming Events
Brave Space
Heritage Months
U-M DEI events and trainings can also be found through U-M DEI Courses and Trainings and U-M Organizational Learning.
Please contact Dr. Rushika Patel at Rushika@umich.edu if you have a DEI related question or simply to share what is on your mind. Please check this page periodically for further updates.
Thank you for your commitment to Diversity, Equity and Inclusion at the School of Nursing.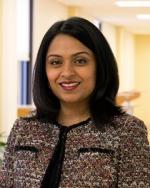 Rushika Patel
Chief Inclusion Officer
U-M School of Nursing
Annual U-M Events and Information
Past Events and Information