Research Day 2021 explores 'Avenues of Impact' in a virtual format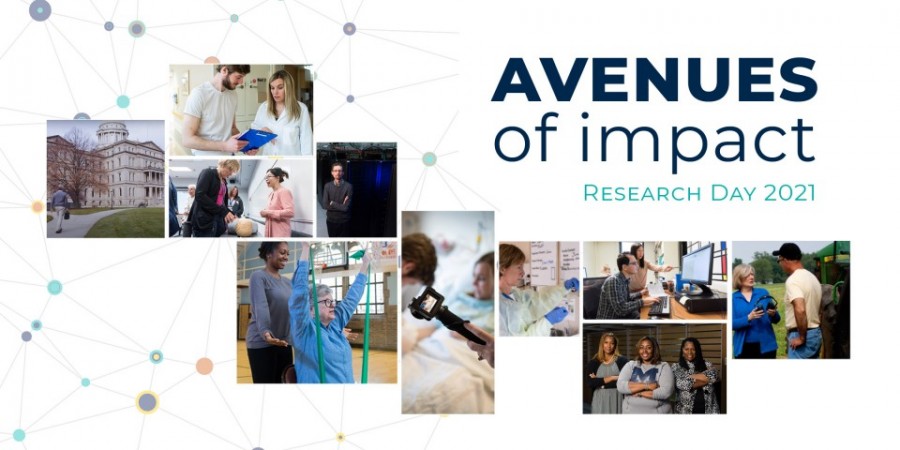 After pandemic precautions forced an abrupt cancelation last year, the University of Michigan School of Nursing held its 10th Research Day event April 5 and 6 on an all-new virtual platform. Research Day 2021: Avenues of Nursing Impact brought students, staff, faculty and alumni together to celebrate their contributions to advancing health through the avenues of patient-centered care, policy and public engagement, practice implementation and dissemination, and innovative digital and technical solutions.
In addition to more than 70 virtual research presentations, the event included the Suzanne H. Brouse keynote lecture from Victoria L. Champion, Ph.D., RN, FAAN, distinguished professor at the Indiana University-Purdue University Indianapolis School of Nursing. During her presentation, "The Integration of Research into Professional Nursing: A Journey," Champion discussed her own path as a nurse scientist, the need for interdisciplinary knowledge and her thoughts on the future of nursing practice and research.
Research Day 2021 also featured a panel discussion with Assistant Professors Lenette M. Jones, Ph.D., ACNS-BC, RN, and Clayton J. Shuman, Ph.D., MSN, RN; U-M Institute for Healthcare Policy and Innovation Director John Z. Ayanian, M.D., MPP; and Professor Kathleen Potempa, Ph.D., RN, FAAN. The event took place over two half days and concluded with a discussion on diversity, equity and inclusion in nursing science led by Assistant Professor Emerita Patricia Coleman-Burns, Ph.D.
"It was hard to just let go of all the work we did leading up to the anticipated in-person Research Day event last year," said Research Professor and Director of the U-M School of Nursing's Applied Biostatistics Laboratory Robert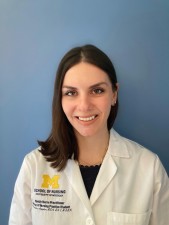 Ploutz-Snyder, Ph.D., PStat®, who chairs the Research Day Planning Committee. "A virtual community isn't quite the same as being there in person, but I think this year's event provided that sense of community for many of us.
"People were present and engaged, and I was so pleased to see the enthusiastic compliments and 'virtual high-fives' faculty and students were pouring out to their colleagues," he continued. "It was a lot of work, but everyone involved did their part to make virtual Research Day a success."
Presentations took place across four separate Zoom rooms, covering a broad range of topics in each Avenue of Impact. The top presentations were recognized in six categories, determined through a standardized review by a panel of U-M School of Nursing alumni.
The event also included recognition of 2021-22 Medvec Nursing Innovation Award winner Alexandra Agapiou for her proposal, "Changing Language to Reduce Type 2 Diabetes-related Stigma." The award is given annually to graduate students to promote the development of projects aimed at improving health care delivery, quality of care, patient outcomes and population health through innovation. Agapiou, a Doctor of Nursing Practice student in the Primary Care Family Nurse Practitioner specialty program, will present her findings at next year's Research Day.
2021 Research Day award winners
Undergraduate
Ava Padgett, BSN student
"A Pilot Study to Assess the Feasibility and Acceptability of a Peer-based HIV Testing and Counseling Intervention to Increase HIV Testing Among Female Sex Workers in Guatemala"
DNP
Abigayle Alger, BSN, RN
"Implementing Standardized Post-intensive Care Unit Syndrome Education in the Pediatric Intensive Care Unit"
Ph.D.
Kathryn Lee, BSN, RN
"Geographic Variation in Nurse Practitioners Who Treat Dementia"
Research staff
Alexis Hunter, M.A., research area specialist intermediate
"Web and Venue-based Sampling for Substance-using GBMSM"
Faculty
Rob Stephenson, Ph.D., Sylvia S. Hacker Collegiate Professor of Nursing
"Recruiting a Diverse Sample during the COVID-19 Pandemic: Strategically Engaging Young Gay, Bisexual and Other Men Who Have Sex with Men in HIV Research"
Alumni
Alexis Green (BSN '17), RN*
"Improving Outcomes through Diabetes Standardization of Care: A New Care Delivery Model for Patients at the University of Michigan Student-Run Free Clinic"
*Green is also the winner of the 2020-21 Medvec Nursing Innovation Award and was recognized at this year's event after the cancelation of Research Day 2020.