Research Day
Research Day 2019: Innovation at the interface of knowledge development and equitable care
Tuesday, April 9, 2019
12:00 - 4:30 p.m.
Sheraton Ann Arbor Hotel
3200 Boardwalk, Ann Arbor, MI 48108
Research Day features the Suzanne H. Brouse Lecture, a panel discussion, and poster session.
Poster Abstracts:
Submission Guidelines
Thank you to all who submitted abstracts! The submission period for Research Day 2019 is now closed.
Brouse Lecture: Disrupting the health care landscape: New role for nurses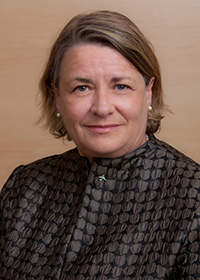 Nancy P. Hanrahan, Ph.D., RN, FAAN
Professor College of Nursing and Health Sciences
Executive Director Innovation & Entrepreneurship, University of Massachusetts-Boston
Dr. Hanrahan graduated with a Ph.D. from Boston College 2003 and subsequently became faculty at the University of Pennsylvania School of Nursing and a Research Fellow at the Center for Health Policy and Outcome Research. Her research focuses on individuals with a serious mental illness and the health systems that care for them. She founded the nurse innovation and entrepreneurship program at the University of Pennsylvania School of Nursing and Northeastern University School of Nursing. Currently, she is a professor and the Executive Director of Innovation & Entrepreneurship at the University of Massachusetts-Boston, College of Nursing and Exercise Science.
On a daily basis, nurses respond to the complex nature and dysfunction of healthcare systems with multiple work-arounds that adapt environments for better patient care. Nurses' exclusive patient knowledge is a goldmine for solving complex patient and environment challenges. However, few know of their brilliant inventions. Indeed, nurses' expertise and knowledge are underutilized in the multi-billion-dollar healthcare start up markets that cultivate leading digital approaches for individuals and health care systems. It is imperative that the education of the nurse include qualities and competencies that prepare them to take leading roles in the design and management of rapid technology innovation, and quality control in complex systems. Knowledge acquisition and the management of knowledge, idea engineering, advanced data analysis using digital tools and information, are some of the skills and competencies required for the nurse to join the digital age of innovation.
Panelists:
Laura Gultekin, Ph.D., FNP-BC
Assistant Professor
U-M School of Nursing
Using innovative approaches to access, research and influence care among vulnerable populations

Michelle A. Meade, Ph.D.
Associate Professor
U-M Department of Physical Medicine and Rehabilitation
Developing and evaluating mobile technology to enhance health management and independence among adolescents and young adults with disabilities

Matthew J. Smith, Ph.D., MSW, MPE, LCSW
Associate Professor
U-M School of Social Work
Developing and evaluating technology-based interventions to improve community-based outcomes for youth and adults with educational disabilities
Contact Hours:
For questions regarding Nursing credit hours, please contact Corinne Lee: leeco@umich.edu
About the event
Nursing research is at the core of advancing health care. As a champion of nursing research that has impact, UMSN organized an initiative in 2009 to bring together the nursing community for a day dedicated to research. The goal was not only to provide an additional forum for faculty; we also wanted to give students at all levels an opportunity to present their research, igniting and fueling their own research ambitions. Now an annual event at the school, Research Day remains a way for faculty, students, and university health care professionals to share the impact of their research, while hearing new perspectives and forging collaborative partnerships.
The event includes a poster session, a panel discussion, and the Suzanne H. Brouse Lecture. The Brouse Lecture is made possible through generous donation by Suzanne H. Brouse, Ph.D., RN, who received her Bachelor of Science in Nursing from the University of Michigan in 1958.
2018 Research Day recap
This event focused on the Science of Nursing Education.
2017 Research Day recap
Read more about the 2017 event, focused on the science of addiction, from risks to recovery.
2016 Research Day recap
Read more about the 2016 event, which kicked off a three-day UMSN Symposium on Global Health: 125 Years of Research and Impact.
2015 Research Day recap
Read more about 2015 Dean's Research Day activities and poster winners, plus photos!
2014 Research Day recap
2014 DRD focused on "Learning on the Edge of Discovery"
2013 Research Day recap
2013 Dean's Research Day Events, Photos and Poster Winners