Kathleen Potempa, PhD, RN, FAAN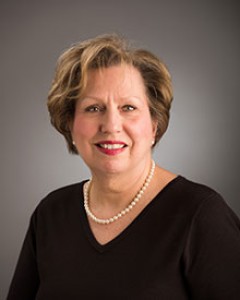 Professor
Department of Systems, Populations and Leadership
Room 4010 SNB
University of Michigan School of Nursing
426 North Ingalls
Ann Arbor, MI 48109-5482
Fax: (734) 764-7186
Interests
Nursing pedagogy
Leadership
Community-based approaches to improving health behavior
Exercise capacity of post-stroke hemiplegic patients
Cardiovascular fitness in physically impaired populations
Dr. Kathleen Potempa is an internationally recognized leader in nursing, education, and science—as well as the integration of education, practice, and research in clinical settings. Former positions include progressive leadership in health systems and in higher education. She served as dean of UMSN from 2006-2016.
Her research program has focused on fatigue, exercise, and cardiovascular fitness in physically impaired populations, for which she has received funding support from the U.S. National Institutes of Health, the Fogarty International Center at the NIH, the U.S. Health Resource and Services Administration, the U.S. Administration on Aging, the Robert Wood Johnson Foundation and several pharmaceutical companies for phase IV efficacy studies. She has numerous scientific publications, and more than 100 national and international scientific and professional presentations. Dr. Potempa has served on national and international expert panels and committees on research, including NIH review panels; she recently completed service as a member of the National Advisory Council for Nursing Research at the NIH, an appointment made by the U.S. Secretary of Health and Human Services.
Dr. Potempa became a member of the Board of Directors of the American Association of Colleges of Nursing (AACN) in 2001 and was elected to serve as president from March 2010 through 2012. She was a member of the Nursing Advisory Council of the Joint Commission in 2010-2011. She currently serves as a Wall Street Journal health expert. She was elected to membership in the National Academy of Medicine of the National Academics in 2014.
Current Research Grants and Programs
Strengthening Nurse NCD Research and Training Capacity in Thailand, PI. Funded by NIH/Fogarty Institute (2014-2019).
Teaching
Dr. Potempa's dedication to students is clearly seen in her commitment to nursing pedagogy, career development, and mentorship. While serving as the Vice-President and Dean of the School of Nursing at Oregon Health and Science University, Dr. Potempa was honored with the Oregon Medical Research Foundation Mentor Award in 2002. She is also an innovator in team-based learning and training as well as in the use of simulation techniques in nursing education. Dr. Potempa is available to meet with students at all levels to offer advice and guidance related to their educational and career goals. She is also interested in working with doctoral students on her research and mentoring them as they develop their scholarly practice and writing.
Affiliations / Service
Member and Fellow, American Academy of Nursing, 1994-present (Program Planning Committee 2006-2007, Finance Committee 2001-2004)
Invited Member, Institute of Medicine Health Professions Education Summit, 2002
Member, National Advisory Council for Nurse Education and Practice, 2002-2006 (Chair of the Executive Committee 2004-2006)
Member, National Advisory Council for Nursing Research (the principal advisory board for the federal National Institute of Nursing Research), 2009-2013
President, American Association of Colleges of Nursing, 2010-2012 (additional service roles since 1995)
Member, National Advisory Council, The Joint Commission, 2010-2012
Notable Awards / Honors
Honorary Doctorate of Nursing, Mahidol University, 2015
Elected Member, National Academy of Medicine, 2014
Honorary Doctorate of Humane Letters, State University of New York, 2010
Named one of the 25 People Who Defined 2005 by Portland Monthly magazine, 2005
Named one of the 2004 Fifty Great Leaders of Oregon by Oregon Business magazine, 2005
Distinguished Alumni Award, Rush University, 2003
Education
PhD, Rush University, Chicago, IL, 1986
MS, Rush University, Chicago, IL, 1978
BA, University of Detroit, Detroit, MI 1974
Publication Highlights
Singhadong, N., Bigelow, A., Villarruel, A., Potempa, K. (in press). Capacity for non-communicable disease research in Thailand. Journal of Public Health Management and Practice.

Bathish, M., Aebersold, M., Fogg, L., Potempa, K. (2015). Development of an instrument to measure deliberate practice in professional nurses. Applied Nursing Research, 29, 47-52.

Redman, R., Pressler, S., Furspan, P., Potempa, K. (2015). Nurses in the U.S. with a practice doctorate: Implications for leading in the context of health care. Nursing Outlook 63(2), 124-129.

Potempa, K., Furspan, P. (2015). "Leading Nursing in the Academy" in Leadership in Nursing: Contemporary Perspectives. 2nd ed. Elsevier Press, NSW Australia, 239-249.

Tschannen, D., Aebersold, M., Kocan, M.J., Lundy, F., Potempa, K. (2014). Improving patient care through student leadership in team quality improvement projects. Journal of Nursing Care Quality, 30(2), 181-186.

Potempa, K., Titler, M.G., Daly, J. (2012). Building the clinical bridge to support nursing effectiveness science: an overview. Nursing Research and Practice, vol 2012. PMID: 22830006

The Blue Ridge Academic Health Group Report #15 (2012). The Affordable Care Act of 2010: The challenge for academic health centers in driving and implementing health care reform. The Blue Ridge Academic Health Group, Emory University Publications, 1-21.

Kaufman, N., Rajataramya, B., Tanomsingh, S., Ronis, D.L., Potempa, K. (2012). Nurse preparedness for the non-communicable disease escalation in Thailand: A cross-sectional survey of nurses in Thailand. Nursing and Health Sciences, 14, 32-37. PMID: 22304737

Potempa, K. (2011). The DNP services the public good. Nursing Outlook, 59, 123-135. PMID: 21565579

Kaufman, N., Chasombat S., Tanomsingh, S., Rajataramya B., Potempa, K. (2011). Public health in Thailand: Emerging focus on non-communicable diseases, International Journal of Health Planning and Management, 25, 1-16. PMID: 21796679

Wilson, D. S., Redman, W.R., & Potempa, K. (2010). A vision and compass for healthcare leadership: Lessons from the migrant nurse resolution for recurrent nursing shortages, Journal of Healthcare Leadership, 2, 91-96.

Potempa, K., Butterworth, S., Flaherty-Robb, M. & Gaynor, W. (2010). The Healthy Aging Model: Toward a practical model of health behavior change for older adults, Collegian, 17(2), 51-55.PMID:20738056

Potempa, K.M., Phancharoenworakul, K., Glass, N., Chasombat, S., & Cody, B. (2009). Leveraging the role of public health nursing in managing HIV/AIDS in Thailand: A journey of international collaboration. Collegian, 16(2), 49-53.

Potempa, K.M., Redman, R.W., & Anderson, C.A. (2008). Capacity for the advancement of nursing science: Issues and challenges. Journal of Professional Nursing, 24(6), 329-336.

Perry, C.K., Rosenfeld, A.G., Bennet, J.A., & Potempa, K.M. (2007). Heart-to-heart: Promoting walking in rural women through motivational interviewing and group support. Journal of Cardiovascular Nursing, 22(4), 304-312.
Download CV