U-M School of Nursing faculty honored for their work to grow simulation in nursing education internationally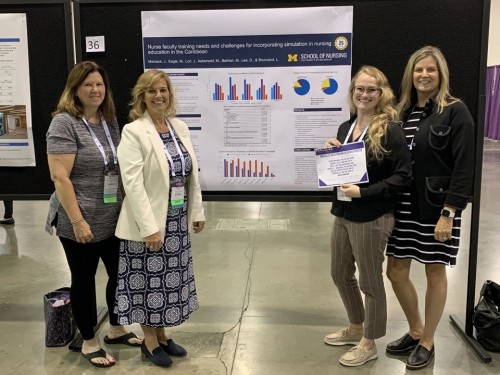 Several University of Michigan School of Nursing faculty members were recently honored with an outstanding research poster award at the June 15-18 International Nursing Association for Clinical Simulation and Learning (INACSL) conference for their poster, "Nurse faculty training needs and challenges for incorporating simulation in nursing education in the Caribbean."  
The faculty who were recognized include: Clinical Professor Michelle L. Aebersold, Ph.D., RN, CHSE, FAAN; Clinical Assistant Professor Melissa Bathish, Ph.D., RN, CPNP-PC; Clinical Instructor Megan J. Eagle, MSN, MPH, FNP-BC; Clinical Assistant Professor Deborah Lee, Ph.D., FNP, ACNP-BC; Professor Jody R. Lori, Ph.D., CNM, FACNM, FAAN and Clinical Assistant Professor Jessica Marsack, RN, BSN, Ph.D., CMSRN.
"This award is a great recognition of the work we do through our Pan American Health Organization and World Health Organization Collaborating Center to support the strategic direction of the Pan American Health Organization in the region," said Bathish.
The U-M School of Nursing was asked to create a training program for schools of nursing in the Caribbean.
A cadre of faculty specializing in simulation training and global health developed an electronic survey, where nursing educators from Caribbean nursing schools answered questions about the impact of COVID-19 on simulation and clinical learning, their confidence using the INACSL stages of simulation and their current versus desired simulation teachings.
The survey revealed educators had some training on simulation but were interested in additional training. Respondents also expressed that they want to move beyond the use of simulation to train for specific tasks to more complex uses such as clinical decision making and virtual reality. Additionally, there is a need to support faculty leveraging stakeholders to invest in simulation since resource limitations like insufficient equipment or materials are a common barrier.
"As part of the Pan American Health Organization and World Health Organization's efforts to develop human resource capacity in evidence-based clinical judgment, this research and the follow-up webinar will promote best practices to improve health promotion through capacity building on the use of clinical simulation for improved quality of care in nursing education in the region of the Americas," commented Bathish.
A follow-up webinar workshop from July 25 – 27, 2022 for faculty from the Caribbean as well as other global collaborating centers will explore "Optimizing Simulation: Best Practices for Nursing Education."