Michelle L. Aebersold, PhD, RN, CHSE, FSSH, FAAN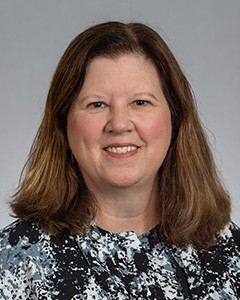 Clinical Professor
Vice Chair for Research, Department of Systems, Populations and Leadership
Clinical Assistant Professor, University of Michigan School of Information
XR Faculty Innovator in Residence, Center for Academic Innovation
Department of Systems, Populations and Leadership
Room 4112 NURS2
University of Michigan School of Nursing
426 North Ingalls Building
Ann Arbor, MI 48109-2003
Telephone: (734) 615-8498
Fax: (734) 647-2416
Interests
Simulation
XR-Mixed, Virtual and Augmented Reality
Serious games
Quality and Safety
Teamwork and Communication Training
Dr. Michelle Aebersold is a Certified Healthcare Simulation Educator, a Fellow in the American Academy of Nursing and a Fellow in the Society for Simulation in Healthcare. She is currently an XR Faculty Innovator in Residence through the University of Michigan XR Initiative at the Center for Academic Innovation. Dr. Aebersold has extensive experience in using a variety of simulation learning methods including Extended Realities, to improve the care of patients through caregiver education and training. She has developed the Simulation Model to Improve Learner and Health Outcomes (SMILHO).
Current Research Grants and Programs
The Big Ten Practice Initiative funded by the American Nurses Foundation, Co-I
XR in Interprofessional Learning: Facilitating Engineering-Medicine Interactions, College of Engineering, Co-I
Getting Under the Skin: A Virtual Reality Experience to Improve the Safety of Chemotherapy Treatment. Academic Innovation XR Initiative, PI.
Immersive Virtual Reality Environment for Training Acute Care Teams (iREACT) funded by The Doctors Hospital, Co-I.
Teaching
A day in Dr. Aebersold's class is often a novel experience. You may find yourself climbing Mount Everest or trying to figure how tall a structure you can build to hold your marshmallow so your team can win. Dr. Aebersold uses innovative teaching strategies such as case based learning, virtual reality or augmented reality, simulation (computer based and mannequin) in her courses for both graduate and undergraduate students. She teaches in the area of leadership in complex system, quality and safety and management and operations. She also teaches in the fully online Masters Degree in Learning, Analyics and Innovation. Using a student centered teaching approach she engages her students in learning activities to further their learning and develop skills to support their success.
Affiliations / Service
Member, Society for Simulation in Healthcare (Co-Chair, VR/AR/XR Section of SSIH Research Summit)
Member, International Nursing Association for Clinical Simulation and Learning, (Vice President for Operations 2016-2020)
Member, XR Safety Initiative Medical Advisory Committee
Member, Association of Medical Educators in Europe (Member, Technology Enhanced Committee)
Notable Awards / Honors
Fellow, American Academy of Nursing, 2015
Certified Simulation Health Care Educator, 2015
Excellence in Research, Midwest Nursing Research Society Systems Research Interest Group, 2016
Excellence in Research: Advancing Research in the Field of Nursing Simulation & Clinical Laboratories-International Association of Clinical Simulation and Nursing (INACSL)
SSH Presidential Citation – Knowledge Map Task Force-Development of an Interactive Research Map, Society for Simulation in Healthcare, 2020
Fellow, Society for Simulation in Healthcare, 2023
Education
PhD, University of Michigan, Ann Arbor, MI, 2008
MSBA, Madonna University, Livonia, MI, 1991
BSN, Madonna University, Livonia, MI, 1985
Publication Highlights
Aebersold, M. L., Kraft, S., Farris, K. B., Scherdt, M., Olsen, M., Polovich, M., Shelton, B. K., Montgomery, G. H., & Friese, C. R. (2021). Evaluation of an interprofessional training program to improve cancer drug therapy safety. JCO Oncology Practice, 17(10) e1551-e1558. PMID: 33577351

Aebersold, M., McCullagh, M., Titler, M., Jiang, Y., Zhang, X., Tschannen, D., & Friese, C. (2021). Improving patient/population health: Using 'why' to develop a transformative research center. SAGE Open Nursing, 7. https://dx.doi.org/10.1177/23779608211008603

Wright, N., Scherdt, M., Aebersold, M. L., McCullagh, M. C., Medvec, B. R., Ellimoottil, C., Patel, M. R., Shapiro, S., & Friese, C. R. (2021). Rural Michigan farmers' health concerns and experiences: A focus group study. Journal of Primary Care & Community Health, 12. http://dx.doi.org/10.1177/21501327211053519

Abulebda, K., Whitfill, T., Montgomery, E. E., Thomas, A., Dudas, R. A., Leung, J. S., Scherzer, D. J., Aebersold, M., Van Ittersum, W. L., Kant, S., Walls, T. A., Sessa, A. K., Janofsky, S., Fenster, D. B., Kessler, D. O., Chatfield, J., Okada, P., Arteaga, G. ., Berg, M. D., ... Auerback, M. A. (2021). Improving pediatric readiness in general emergency departments: A prospective interventional study. The Journal of Pediatrics, 230(1), 230-237. http://dx.doi.org/10.1016/j.jpeds.2020.10.040

Yorke, A. M., Hoelscher, D. C., Stalburg, C. M., Daniels, T., Aebersold, M., Patterson, V., Keune, K. L., Capellari, E. C., Duffy, E. A., & Thiel, M. (2022). Interprofessional education faculty development survey: Perspectives on IPE and collaborative practice and COVID-19. Journal of Interprofessional Education & Practice, 29, 100529. http://dx.doi.org/10.1016/j.xjep.2022.100529

Salcedo, D., Regan, J., Aebersold, M., Lee, D., Darr, A., Davis, K. & Berrocal, Y. (2022). Frequently used conceptual frameworks and design principles for extended reality in health professions education. Medical Science Educator, 32, 1587-1595. https://dx.doi.org/10.1007/s40670-022-01620-y

Schoville, R. R., Ross, T., Szczechowski, K., Medvec, B., Pineau, M., Aebersold, M., Anderson, C., & Baird-Cox, K. (2022). Creating the nurse executive for the future: A collaborative academic and health system partnership. Nurse Leader, 21(2), 268-275. https://doi.org/10.1016/j.mnl.2022.08.006

Southwick, K., Kardong-Edgren, S., Aebersold, M. L., & Simmons, V. C. (2022). Screen-based simulation as a novel recertification tool for certified registered nurse anesthetists. Clinical Simulation in Nursing, 75, 11-19. http://dx.doi.org/10.1016/j.ecns.2022.11.002

Foronda, C. L., Gonzalez, L., Meese, M. M., Slamon, N., Baluyot, M., Lee, J., & Aebersold, M. (in press). A comparison of virtual reality to traditional simulation in health professions education: A systematic review. Simulation in Healthcare. http://dx.doi.org/10.1097/SIH.0000000000000745

Auerback, M. A., Whitfill, T., Montgomery, E., Leung, J., Kessler, D., Gross, I. T., Walsh, B. M., Hamilton, M. F., Gawel, M., Kant, S., Janofsky, S., Brown, L. L., Walls, T. A., Alletag, M., Sessa, A., Arteaga, G. M., Keilman, A., Van Ittersum, W., ... Aebersold, M., ... Abelebda, K. (2023). Factors associated with improved pediatric resuscitative care in general emergency departments. Pediatrics, 152(2), e2022060790. https://doi.org/10.1542/peds.2022-060790

Rule, J. & Aebersold, M. (in press). Checkup XR: Revisualizing spaces of care through a multidisciplinary immersion experience.

Blok, A. C., Bach-Stante, D., Merlotti, A., Schoville, R., Jones, H., Davis, K., Sicard, A., & Aebersold, M. (2023). Educational 360-video development for clinical practice improvement toward deaf and hard-of-hearing population. Clinical Simulation in Nursing, 83, 101436. http://dx.doi.org/10.1016/j.ecns.2023.101436
Download CV