Michelle L. Aebersold, PhD, RN, CHSE, FAAN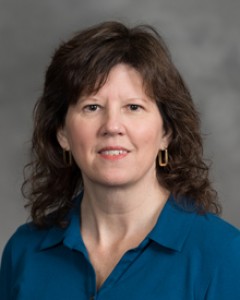 Clinical Professor
Department of Systems, Populations and Leadership Vice Chair
Faculty Lead for Innovation, Research, and Technology Development
Department of Systems, Populations and Leadership
Room 4112 SNB
University of Michigan School of Nursing
426 North Ingalls Building
Ann Arbor, MI 48109-2003
Telephone: (734) 615-8498
Fax: (734) 647-2416
Interests
Simulation
Virtual reality
Serious games
Innovative education methods
Patient safety
Dr. Aebersold's professional and academic career is focused on advancing the science of learning applied in simulation to align clinician and student practice behaviors with research evidence to improve learner and health outcomes. She focuses her scholarship in both high fidelity and virtual reality simulation and is a national leader and expert in simulation. Her scholarship has culminated in developing the Simulation Model to Improve Learner and Health Outcomes (SMILHO).
Current Research Grants and Programs
Closing the loop: new data tools for measuring change in the quality for nursing education and the value of new approaches to instruction (PI) University of Michigan School of Nursing.
Interactive anatomy-augmented virtual simulation training (PI with Voepel-Lewis) Archie MD Award Number 045889
A Multi-Modal Interprofessional Training to Improve Chemotherapy Safety (Co-I) (Friese-PI) project website http://most.nursing.umich.edu
Virtual Reality-Based Team Training to Improve Patient Outcomes in Pediatric Cardiac Arrest-(Co-PI with Mahajant) project website https://sites.google.com/a/umich.edu/michelle-aebersold/research-projects/we-heart-vr
Teaching
A day in Dr. Aebersold's class is often a novel experience. You may find yourself climbing Mount Everest or trying to figure how tall a structure you can build to hold your marshmallow so your team can win. The next class might be trying to save an 68-year-old women suffering a stroke. Dr. Aebersold uses innovative teaching strategies such as case based learning, virtual reality or augmented reality, simulation (computer based and mannequin) in her courses for both graduate and undergraduate students. She teaches in the area of leadership in complex system, quality and safety and management and operations. Using a student centered teaching approach she engages her students in learning activities to further their learning and develop skills to support their success.
Affiliations / Service
Vice-President of Operations, International Nursting Association for Clinical Simulation and Learning Board of Directors
Member, Society for Simulation in Healthcare (SSH) Research Committee, 2015-present
Chair, International Nursing Association for Clinical Simulation and Learning, Board of Directors Bylaws Committee
Co-Chair Education and Networking Group, National Nursing Practice Network, 2010-2016
Member, International Nursing Association for Clinical Simulation and Learning, Standards Committee, 2014-2016
Notable Awards / Honors
Finalist, Macy Scholar, 2016
Fellow, American Academy of Nursing, 2015
Certified Simulation Health Care Educator, 2015
Certificate of Excellence in Reviewing-Clinical Simulation in Nursing, 2014
Interprofessional Fellow, Center for Interprofessional Education, University of Michigan
Excellence in Research, Midwest Nursing Research Society Systems Research Interest Group
Education
PhD, University of Michigan, Ann Arbor, MI, 2008
MSBA, Madonna University, Livonia, MI, 1991
BSN, Madonna University, Livonia, MI, 1985
Publication Highlights
Ochylski, D., Aebersold, M., & Kuebrich, M. (2017). Multidimensional evaluation of simulation-based course to enhance prelicensure nursing students' clinical skills. Nurse Educator, 42(6), 313-315. http://dx.doi.org/10.1097/NNE.0000000000000379

Turkelson, C., Aebersold, M., Redman, R. & Tschannen, D (in press). Improving Nursing Communication Skills in an Intensive Care Unit Using Simulation and Nursing Crew Resource Management Strategies: An Implementation Project, Journal of Nursing Care Quality, 32(4), 331-339. http://dx.doi.org/doi:10.1097/NCQ.0000000000000241

Tschannen, D., Yaksich, J., Aebersold, M., & Villaruel, A, M. (2016) Implementation fidelity after second life training in a sexual risk behavior prevention intervention, Simulation and Gaming, 47(1), 130-150.

Aebersold, M. (2016) The history of simulation and its impact on the future, AACN Advanced Critical Care 27(1), 56-61.

Bathish, M., Aebersold, M., Fogg, L, & Potempa, K. (2016) Development of an Instrument to Measure Deliberate Practice in Professional Nurses, Applied Nursing Research 29, 47-52.

Sittner, B. J., Aebersold, M.L., Paige, J.B., Graham, L., Parsons-Schram, A., Decker, S.I. & Lioce, L. (2015) INACSL Standards of Best Practice: Past, Present, and Future, Nursing Education Perspectives, 36(5), 294-298.

Aebersold, M., Villarruel, A.M., Tschannen, D.T, Valladares, A.F., Yaksich, J., Yeagly, E., & Hawes, A. (2015) Using a virtual environment to deliver evidence based interventions: the facilitator's experience. JMIR Serious Games 3(2), e5 doi:10.2196/games.4293.

Sculli, G., Fore, A., Sine, D.M., Paull, D.E., Tschannen, D., Aebersold, M., Seagull, F.J., & Bagian, J. (2015) Effective followership: a standardized algorithm to resolve clinical conflict and improve teamwork, Journal of Healthcare Risk Management 35 (1), 21-30 DOI: 10.1002/jhrm.

James, S., Aebersold, M. Lapham, J. (2015) The Use of Virtual Simulation and a Modified Team STEPPS Training for Interprofessional Education, Clinical Simulation in Nursing, 11, 163-171.

Kalisch, B., Aebersold, M., McLaughlin, P., Tschannen, D., & Lane, S. (2015) Using virtual simulation to improve nursing teamwork: a feasibility study. Western Journal of Nursing, 32(2), 164-179.

Tschannen, D., McClish, D., Aebersold, M. & Rohde, J. (2015) Improving nurse and physician communication through a nursing crew resource management (NCRM) intervention. Journal of Nursing Care Quality, 30(1)7-11.

Valladares, A.F., Aebersold, M., Tschannen, D., Villarruel, A. M. Preparing facilitators for evidence-based intervention training in Second Life (2014) Journal of Medical Internet Research, 16(9), e220, doi: 10.2196/jmir.3606.

Aebersold, M. (2014) High stakes for our patients sake. [Editorial] Clinical Simulation in Nursing, 10, 441.

Villarruel, A. M., Aebersold, M.,Valladares, A. F., Yeagley, E., & Tschannen, D. (2014) Avatars travel for free:Virtual access to evidence-based intervention training and capacity building. AIDS Education and Prevention: An Interdisciplinary Journal, 26(5), 445-458.

Aebersold, M. Voepel-Lewis, T., Cherera, L., Weber, M., Khouri, C., Levine, R., & Tait, A. (2018). Interactive anatomy-augmented virtual reality simulation training. Clinical Simulation in Nursing, (15), 34-41. http://dx.doi.org/10.1016/j.ecns.2017.09.008
Download CV