Jody R. Lori, PhD, CNM, FACNM, FAAN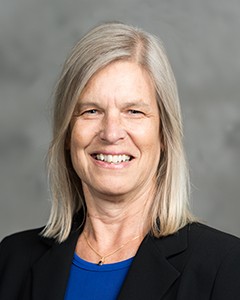 Professor
Associate Dean for Global Affairs
Department of Health Behavior and Biological Sciences
Room 3320A 400NIB
University of Michigan School of Nursing
400 North Ingalls Building
Ann Arbor, MI 48109-5482
Telephone: (734) 763-0097
Fax: (734) 615-9771
Jody Lori is accepting new PhD students.
Interests
Global health
Reproductive rights
Vulnerable populations
Community-based participatory research
Dr. Lori is Director, PAHO/WHO Collaborating Center.
Dr. Lori's program of research contributes to the design and testing of innovative models of care to improve maternal and newborn health in areas of the world challenged by a lack of human resources, long distances to care, and cultural, gender, and socio-economic barriers. The design of the interventions utilizes a human rights framework to tackle the intractable problems of preventable maternal and newborn death through strengthening health systems and influencing reproductive health policy. Her research has contributed to the development of models of care to reduce the burden of maternal and newborn mortality on individuals, their families, and society through a program of participatory action research in low-resource countries.
The key policy issues driving her research are the 300,000 maternal deaths, 2.6 million stillbirths, and 2.8 million neonatal deaths that occur each year worldwide – with the vast majority occurring in low resource countries. Funding for her program of research has come from diverse intramural and extramural sources including the National Institutes of Health/Fogarty International Center, the United States Agency for International Development (USAID), multiple private foundations including the Bill & Melinda Gates Foundation, ELMA, and Merck for Mothers. She has extensive field work experience in Ghana, Guatemala, Ethiopia, Liberia, Mexico, and Zambia.
Current Research Grants and Programs
The Zambian Maternity Homes (ZaMs) Project: Phase 2 Implementation and Evaluation, Merck for Mothers, Bill & Melinda Gates Foundation and ELMA Foundation, Phase II funding. (PI) 2015-2018.
The Last Mile: A Retrospective Study of the Impact of Maternity Waiting Homes Using Geographic Information System Mapping, University of Michigan Office of Research, (PI), 2016-2017.
Teaching
Dr. Jody Lori has developed two undergraduate elective courses, Perspectives in Global Health (N420) and Introduction to Global health: Issues and Challenges (N421) to introduce students to global heath concepts. N421 provides students with an opportunity for a supervised international experience in a low or middle resource country focused on the global and public health concepts of health promotion and risk reduction. With a core group of faculty, she developed the Global Health Minor for undergraduates and the Global Health Concentration for graduate students.
Affiliations / Service
Advisory Council, Centering Healthcare Institute International, 2016-present
Executive Committee, African Studies Center, University of Michigan, 2015-present
Advisory Board, Global REACH, Medical School, University of Michigan, 2014-present
Fellow, American Academy of Nursing, 2012-present
Fellow, American College of Nurse-Midwives, 2010-present
Member, Global Nursing and Health Expert Panel, American Academy of Nursing
USAID/Saving Lives at Birth – ad hoc reviewer, Grand Challenges Awards, 2015
Notable Awards / Honors
Excellence in Policy Writing Award, Nursing Outlook, American Academy of Nursing, 2016
Faculty Advisor, Honors Student Best Research Paper Award, University of Michigan Undergraduate Honors Program, 2014
Harriet H. Werley New Investigator Award, Midwest Nursing Research Society, 2012
Excellence in Nursing Research Award, Sigma Theta Tau, 2011
Excellence in Teaching Award, American College of Nurse-Midwives, 2008, 2006, 2004, 2002
Education
AACN Wharton Executive Leadership Program, University of Pennsylvania, Philadelphia, PA, 2015
PhD, University of Arizona, Tucson, AZ, 2009
MS, University of Michigan, Ann Arbor, MI, 1992
BSN, University of Michigan, Ann Arbor, MI ,1980
Publication Highlights
Moyer, CA, Rominski, S, Nakua, EK, Dzomeku, VM, Agyei-Baffour, P, Lori, JR. (2016). Exposure to disrespectful patient care during training: Data from midwifery students at 15 midwifery schools in Ghana, Midwifery, 41: 39-44. doi.org/10.1016/j.midw.2016.07.009

Buser, JM & Lori, JR. (2016). Newborn outcomes and maternity waiting homes: A scoping review, Maternal & Child Health. DOI 10.1007/s10995-016-2162-2

• Rominski-Danielson, S, Lori, JR, Moyer, C, Dzomeku, Nakua, E. (2016). "When the baby remains there for a long time it is going to die so you have to hit her small for the baby to come out": Justification of disrespectful and abusive care during childbirth among midwifery students in Ghana, Health Policy and Planning, doi: 10.1093/heapol/czw114

Lori, JR, Munro, ML, Mdluli, EA, Musonda, GK, Boyd, CJ. (2016). Developing a community driven sustainable model of maternity waiting homes for rural Zambia, Midwifery, 41: 89-95. http://dx.doi.org/10.1016/j.midw.2016.08.005

Rominski-Danielson, S, Moyer, C, Dzomeku, Nakua, E & Lori, JR. (2016). What makes a willing abortion provider? Evidence from a nation-wide survey of final-year students at Ghana's public midwifery training colleges, Contraception, 93(3):226-32. doi:10.1016/j.contraception.2015.11.007

Beck, DC, Choi, KR, Munro-Kramer, ML & Lori, JR. (2016). Human trafficking in Ethiopia: A scoping review to identify gaps in service delivery, research, and policy, Trauma, Violence & Abuse, doi: 10.1177/1524838016641670

Lori, JR, McCullagh, M, Krueger, A & Oteng, R. (2016). Sharps injuries among emergency department nurses in one tertiary care hospital in Ghana, International Emergency Nursing, doi.org/10.1016/j.ienj.2015.11.007

Lori JR, Munro ML, Chuey MR. (2016). Use of a facilitated discussion model for antenatal care to improve communication. International Journal of Nursing Studies, 54: 84. doi: 10.1016/j.ijnurstu.2015.03.018. PubMed PMID: 25862409; PubMed Central PMCID: PMC4592694.

Bell, SA, Lori, JR, Redman, R, Johnson, T & Seng, J. (2015). Psychometric Validation and Comparison of the Self Reporting Questionnaire-20 and Self Reporting Questionnaire-Suicide Ideation and Behavior Among Congolese Refugee Women, Journal of Nursing Measurement, 23(3):393-408. doi:10.1891/1061-3749.23.3.393.

Rominski, S, Lori, JR, Tadesse, L & Fisseha, S. (2015). Willingness to provide comprehensive abortion services and knowledge of the abortion law in Addis Ababa, Ethiopia. International Journal of Nursing and Midwifery, 7(11):168-74. doi:105897/IJNM2015.0189.

Lori JR, Rominski SD, Perosky JE, Munro ML, Williams G, Bell SA, Nyanplu AB, Amarah PN, Boyd CJ. (2015). A case series study on the effect of Ebola on facility-based deliveries in rural Liberia. BMC Pregnancy Childbirth, 15(1):254. doi: 10.1186/s12884-015-0694-x. PubMed PMID: 26459295. PubMEd Central PMCID: PMC 4603295.

Perosky, JE, Munro, ML, Kay, JL, Nyanplu, A, Williams, G Andreatta, PB, & Lori, JR. (2015). Texting from the Bush: Data Collection using SMS Text Messaging in Areas of Low Network Coverage from Low-Literacy Providers, Journal of Health Communication: International Perspectives.

Bell SA, Lori J, Redman R, Seng J. (2015). Development of a brief screening tool for women's mental health assessment in refugee settings: A psychometric evaluation. International Journal of Nursing Studies, 52(7):1202-8. doi: 10.1016/j.ijnurstu.2015.04.003. PubMed PMID: 25892280.

Lori JR, Stalls S, Rominski SD. (2015). Strengthening midwifery to end preventable maternal, child, and newborn deaths. Journal of Midwifery & Women's Health, 60(4):343-7. doi: 10.1111/jmwh.12341. PubMed PMID: 26255797; PubMed Central PMCID: PMC4533120.

Bell SA, Lori J, Redman R, Seng J. (2015). Understanding the effects of mental health on reproductive health service use: a mixed methods approach. Health Care for Women International, 18:1-22. doi: 10.1080/07399332.2015.1061525. PubMed PMID: 26086238.
Download CV