Sigma Rho Chapter announces 2022 award recipients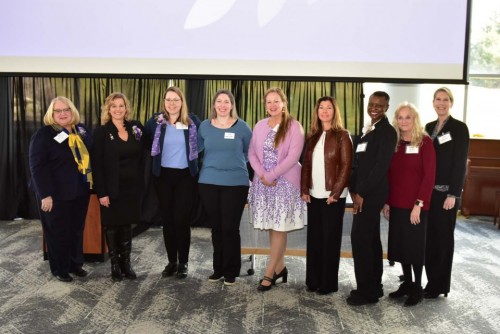 Sigma Rho Chapter Nursing Honor Society recently recognized several U-M School of Nursing faculty, students and Michigan Medicine nurses for outstanding service, leadership and excellence in various categories. The awards were presented on Sunday, March 27 at the Sigma Rho Chapter awards ceremony held at the North Campus Research Complex. 
SIGMA RHO CHAPTER 2022 EXCELLENCE AWARDS RECIPIENTS
Excellence in Research: Sarah Stoddard, Ph.D., RN, CNP, FASHM, FAAN
Dr. Stoddard was honored for her research in adolescent health with specific contributions to the role of youth violence and substance use on teen health. Her extensive publications include sources that focus on community and school nursing, and behavioral health journals of high impact.
Excellence in Leadership: Maria Bobo, DNP, RN WHNP-BC, CENP
Dr. Bobo was nominated by her Nursing at Michigan community for her impact on nursing during the challenges of the pandemic. She quickly developed relationships with her own team, the U-M School of Nursing and nursing administrators and leaders at Michigan Medicine. Her leadership during Magnet recertification resulted in a successful continuing certification.
Excellence in Leadership: Rhonda R. Schoville, Ph.D., MSBA, RN
Dr. Schoville is known as a caring, holistic and transformational nurse leader who takes pride in building relationships and fostering a culture of engagement between the School of Nursing and Nursing at Michigan. Her efforts toward community building and her commitment to developing nursing leaders at every level influences nursing practice throughout the health system.
Excellence in Mentorship: Florence Johnson, MSN, MHA, RN
Ms. Johnson is deeply passionate about serving underprivileged populations, including economically disadvantaged and demographic minority student populations. Her mentorship aimed to create a greater appreciation for the minority experience, while examining the various challenges minorities face in health care always with a pragmatic eye towards developing policy and practice orientations that enlighten policy makers.
Excellence in Mentorship: Ann Kruszewski, Ph.D., RN
Dr. Kruszewski's commitment to mentoring the next generation of nurse leaders is evident in her work at Sigma Rho Chapter. She was recognized for her work in mentoring Sigma Rho board members and student leaders and is always quick to reward and highlight others' accomplishments.
Excellence in Nursing Practice: Tammy Ross, BSN, RN, OCN
Ms. Ross was honored for her outstanding work in cancer care including patient care, mentoring colleagues and developing programs to provide quality care to cancer patients.
Rising Star Award: Carri Polick, Ph.D.(c), BSN, RN
Carri Polick has emerged as a leader during her time as a doctoral student at the U-M School of Nursing, engaging in the development of a Pre-Ph.D. Institute for incoming students, serving on multiple school committees, mentoring UROP students and proposing a new reviewer role for Ph.D. students for the U-M School of Nursing's Research Day. Her research and pending publications on the impact of child and adult stressors on multiple sclerosis have important implications for the field of adverse child experiences.
Rising Star Award: Heather Jones, DNP, AGNP-C
Dr. Jones was honored for her work in promoting telehealth. She is involved in multiple telehealth initiatives including serving on the NONPF telehealth committee, adding telehealth instruction to advanced physical assessment, and developing a model APRN telehealth initiative at Nursing for Michigan. Dr. Jones was a Jonas Scholar and a recipient of the Ellen A. Woodman Transformational Nursing Leadership Award.
Student Leadership: Kailey Schmidt
As student leader intern for Rho Chapter, Kailey led a successful service project, a book drive benefitting Mott Children's hospital. Kailey also served as an important liaison between Rho Chapter and U-M School of Nursing students to keep students informed about activities and news.
Drickamer Student Mentorship: Jennifer Riske, DNP, RN, FNP
Jennifer Riske demonstrated outstanding mentorship in many roles. She serves as President of the Student Chapter of the Michigan Council of Nurse Practitioners. As director for the student run free clinic, she has mentored health care students to provide free, high-quality health care to underinsured individuals in Southeast Michigan. She also tutored students in pathophysiology and pharmacology.
Distinguished Service: Diane Ferguson, MSN, RN
As Sigma Membership Involvement Chair, Ms. Ferguson created Sigma Social Hour to engage members. These virtual sessions provided education and networking during the difficult pandemic time. Her passion and drive extended to leading Rho Chapter projects where she engaged members in community service.

Friend of Nursing: Olga Yakusheva, Ph.D.
Dr. Yakusheva is a health economist who studies the value-added of nursing. She has dedicated her career to documenting and quantifying the benefits of nurses to their patients and the entire health care system. Dr. Yakusheva is the staunchest advocate of nurses and the nursing profession and was described as nursing's 'Best Friend'.