Rhonda Schoville, PhD, MSBA, RN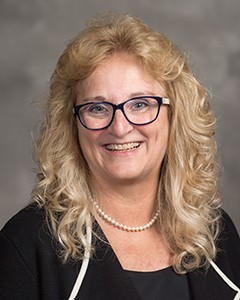 Clinical Assistant Professor
Department of Systems, Populations and Leadership
Room 4342, 400 NIB
University of Michigan School of Nursing
400 North Ingalls Building
Ann Arbor, MI 48109-5482
Telephone: (734) 615-3288
Rhonda Schoville is accepting new PhD students.
Interests
Informatics
Technology adoption
Implementation science
Innovations and simulations
Innovative education methods
Dr. Schoville research interests focus on technology and innovation adoption, clinical informatics, product/innovation development, implementation science and education methods. Before joining the University of Michigan School of Nursing faculty, Dr. Schoville served in a variety of leadership roles, most recently as the director of nursing informatics at the second largest healthcare delivery system in the United States. In that role, she provided leadership, consultation, and coordination for the transformation of care processes and outcomes within nursing, and clinical support services across the continuum. Dr. Schoville partnered with members of the clinical operations informatics teams, including acute and ambulatory care to coordinate the development of new processes and tools to enhance care throughout the 93 hospitals within that system.
Teaching
Dr. Schoville has been teaching and mentoring health professionals since 1985. Her teaching experience includes courses, in-services, conferences, preceptoring, mentoring and lectureships. She has taught at the undergraduate and graduate level. Dr. Schoville has worked closely with some students completing their practicums, DNP and masters projects, and dissertations. Using a variety of teaching strategies, she covers concepts of health informatics, technology adoption, implementation science, teamwork, communication, negotiations, patient safety, and organizational content. Dr. Schoville's prior clinical experience in a variety of acute services (critical care medicine, pediatric ICU, acute care, emergency services, and post anesthesia recovery) and multiple leadership positions provides a firm foundation and practical understanding of the bedside nurse and leaders challenges in the current healthcare environment.
Affiliations / Service
Member, Midwest Nursing Research Society, 2013-present
Member, American Nursing Informatics Association, 2008-present
Member, Healthcare Information and Management Systems Society, 2017
Member, Sigma Theta Tau International Honor Society of Nursing, 2014-present
Notable Awards / Honors
Class of 1959 endowment fund award for new investigators, 2014
Alice Hatt Lapides graduate fellowship endowment, 2010, 2011, 2012
Catherine & Arthur Adle & Backus graduate fellowship endowment, 2009, 2010, 2011
Education
PhD, University of Michigan, Ann Arbor, 2015
MSBA, Madonna College, Livonia, MI, 1995
BSN, University of Michigan, Ann Arbor, 1990
Publication Highlights
Schoville, R. (pending). Discovery of Implementation Factors that Lead to Technology Adoption in Long Term Care. Journal of Gerontological Nursing.

Schoville, R., & Titler, M. (2015). Guiding healthcare technology Implementation: A new integrated implementation model. CIN, 33(3), 99-107.

Schoville, R., Calarco, M., Shever, L., Tschannen, D. (2014). A cost benefit analysis: electronic clinical procedural resource supporting evidence based practice (EBP). Nursing Economics, 32(5), 241-247.

Tschannen, D., Schoville, R., Schmidt, P., Buehler, K., Borst, S., Flaherty-Robb, M. (2013). Communication practices among nurses in the acute care setting. Journal of Communication in Healthcare, 6(3), 171-179.

Kalisch, B., Schoville, R. (2012). It takes a Team. AJN, 112(10), 50-54.

Tschannen, D., Talsma, A., Reinemeyer, N., Belt, C., Schoville, R. (2011). Nursing medication administration and workflow nusing computerized physician order entry. CIN, 19(7), 401-410.

Schoville, R. (2009). Work-arounds and artifacts during transition to a computer physician order entry. Journal of Nursing Care Quality. 24(4), 316-324.

Coffey, R., Richards, J., Remmert, C., LeRoy, S., Schoville, R., Baldwin, P. (2005). Introduction to critical pathways. Quality Management in Healthcare, 14 (1), 46-55.

Kahn, K., Schmidt, P., Schoville, R., Williams, M. (1993). From expert to novice, pitfalls of a promotion. AJN, 93(9), 53-58.

Coffey, R., Richards, J., Remmert, C., LeRoy, S., Schoville, R., Baldwin, P. (1992). Introduction to critical pathways. Quality Management in Healthcare, 1(1), 45-54.