Nurses Month 2021: A shared commitment to community health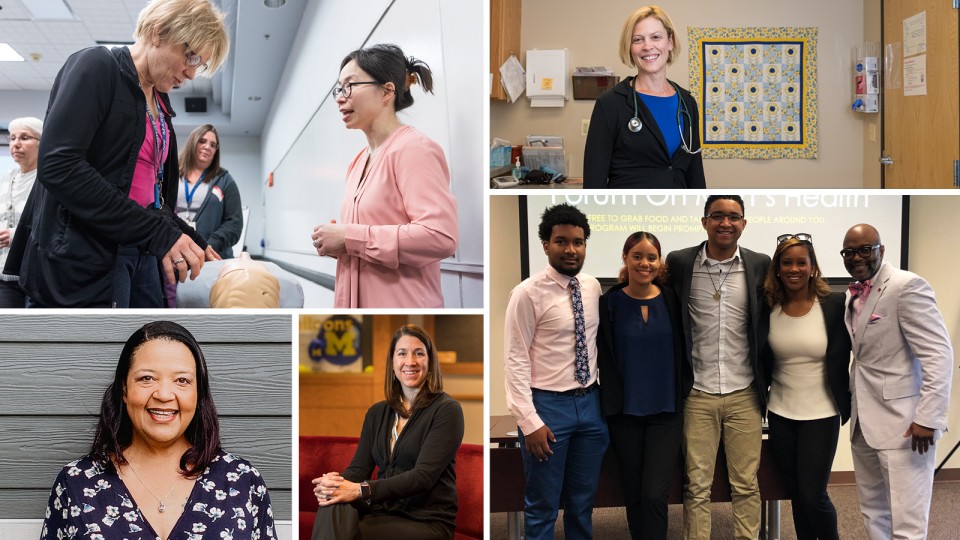 A number of U-M School of Nursing faculty members are experts in community-focused practice and research, while many others have stepped into active roles helping communities in need during the COVID-19 pandemic. In Michigan and around the world, nurses are vital to the health and well-being of the communities they serve. Below, we have highlighted a few of the ways our faculty members are working to build healthier communities.
"I think all of us became community health nurses in one way or another over the course of the last year, whether it was assisting with contact tracing efforts, vaccine rollout, or community education on COVID-19 or vaccines," said Assistant Professor Sheria Robinson-Lane, Ph.D, RN. "I don't know that I have ever been as proud to be a nurse as I have been over this past year. It really was the year of the nurse and midwife."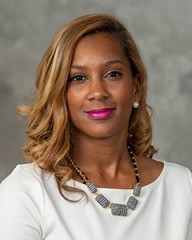 Last year, Assistant Professor Jade Burns, Ph.D., RN, CPNP-PC, and her DRB Lab began a community-academic partnership between the U-M School of Nursing and Detroit Community Health Connection, Inc. (DCHC), a federally qualified health center serving Detroit. This partnership has led to several community-based health education events for men, many of which have been held virtually due to pandemic precautions.
In January, DCHC health care providers gathered for an event to share information on what Detroiters need to know regarding the COVID-19 vaccine. A subsequent event with U-M's Rogel Cancer Center, "Get Healthy Together: Community Conversation" was presented in February for American Heart Month, covering topics including heart health tips, cancer awareness and Black history 101.
During Colorectal Cancer Awareness Month in March, speakers from the Rogel Cancer Center and the Detroit Area Agency on Aging delivered presentations on digestive health issues and other important considerations for health and longevity. In April, a panel of experts from the U-M Center for Sexuality and Health Disparities and Wayne State University School of Medicine engaged with community members in an event to bring awareness to STD prevention.
In May, Burns and her team coordinated a panel discussion with local business owners, young men and athletes to discuss the importance of fitness and physical health. For Men's Health Month in June, they have planned a group 5K walk along the Detroit Riverwalk, followed by a virtual event to discuss mental health. Together, Burns hopes these wide-ranging events can build upon existing support networks to meet the diverse needs of men of all ages within the greater Detroit area.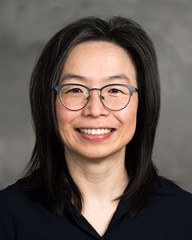 Clinical Associate Professor Gina Dahlem, Ph.D., FNP-C, FAANP, is providing opioid overdose prevention education and naloxone distribution in collaboration with the Community Mental Health Partnership of Southeast Michigan. She is also evaluating the Recovery Opioid Overdose Team (ROOT+), a project focusing on individuals who are involved in opiate overdoses, are rescued with Narcan/naloxone by first responders and transferred to the emergency department for medical services. The program works to ensure individuals are released into a safe setting with adequate recovery support and provides assistance with referrals to recovery services that can include treatment, medical and social support as well as other resources.
Additionally, Dahlem is working with agencies across the state of Michigan, developing an overdose fatality review team with the Michigan State Police and helping emergency departments in different localities distribute naloxone to high-risk patients. ​​​​​​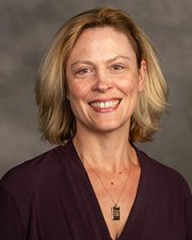 Clinical Assistant Professor Laura Gultekin, Ph.D., FNP-BC, shifted her clinical practice over the last year, working with the Washtenaw County Health Department (WCHD) to address the challenges of COVID-19. Prior to the pandemic, Gultekin served as a nurse practitioner in the department's Adult Health Clinic, evaluating and treating patients for sexually transmitted infections. In the last year, Gultekin and her colleagues began contact tracing across the county, calling patients who tested positive for COVID-19, advising them on self-isolation practices and resources to assist them in staying safe at home while also collecting information about their recent close contacts.
In winter 2020, Gultekin began to focus her efforts on vaccine administration. She is currently part of the department's Nurses on the Run team along with Assistant Professor Michelle Munro-Kramer, Ph.D., CNM, FNP-BC. The team has been reaching out to community stakeholders such as pastors, primary care providers and social service agencies to identify individuals who are unable to leave their homes and bring COVID-19 vaccines to their doorstep. The team has coordinated community pop-up vaccine clinics while also visiting senior living communities and group homes in an effort to remove barriers to accessing the vaccine. Many U-M nursing students have been involved in vaccination and contact tracing efforts as well.
 
Clinical Instructor and Community Health Specialty Lead Patricia Tillman-Meakins, Ph.D., ANP-BC, worked closely with Ypsilanti Meals on Wheels through support from the Ann Arbor Area Community Foundation to help build and implement the CAPABLE program, designed to help older adults age in their homes. Along with a handyperson, social worker and occupational therapist, Tillman-Meakins began serving as the team's nurse, briefly conducting home health visits before the COVID-19 pandemic hit. At that point, she helped shift the program to a virtual platform under the new name Aging with Dignity and Empowered by Positive Tools (ADEPT). She is now helping the program with recruitment efforts in preparation to relaunch its new format in June.
While working in the Ypsilanti community, Tillman-Meakins connected with the West Willow Neighborhood Association. A critically underserved community, West Willow does not have any health care providers or grocery stores. Tillman-Meakins has helped create a neighborhood wellness program and is working to develop a student-run, interprofessional clinic and practice site in collaboration with the West Willow Neighborhood Association, community stakeholders, the U-M schools of Social Work and Public Health and a student from UM-Flint's occupational therapy program.
West Willow lies in a zip code that had one of the highest COVID-19 infection rates in Washtenaw County. Working with the county's health equity officer, the School of Public Health's Contact Tracing Core and students in her community health course, Tillman-Meakins helped lead an effort to contact every older adult in the county to fill more than 700 vaccination appointments in less than two days in March.