As learners and volunteers, nursing students play an important role in the fight to conquer COVID-19
Over the last year, University of Michigan School of Nursing students and faculty have both created and capitalized on new opportunities to apply their skills in a wide range of efforts to bring the COVID-19 pandemic under control.
Griffin Klaft and Maureen Luddy are seniors in U-M's Bachelor of Science in Nursing Program who have been volunteering at Michigan Medicine's COVID-19 Vaccination Clinic at Michigan Stadium. Over the last few months, they've been assisting with the intake process by screening and directing patients, verifying appointments and providing a knowledgeable helping hand in a complex plan to vaccinate tens of thousands in the local community.
"The ability to be adaptive and flexible is important in nursing," said Klaft. "Our training as Michigan nursing students has allowed us to be creative in getting through this pandemic by taking advantage of new opportunities and taking ownership of our education."
Much like her students, Clinical Instructor and Community Health Specialty Lead Patricia Tillman-Meakins, Ph.D., ANP-BC, has been adapting as well, working tirelessly to create safe new clinical experiences for students despite the challenges of COVID-19.
"Community health requires added flexibility, so my role is to help students adjust to these changes," she explained. "We want nursing students to be involved in fighting the pandemic in a safe way, and we've crafted our clinicals around that."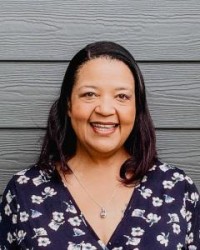 In addition to volunteering at the Big House, Klaft, Luddy and their peers at the School of Nursing have taken advantage of opportunities to play a leading role in COVID-19 response efforts on campus and in the community. Since the beginning of the fall 2020 term, U-M nursing students have conducted contact tracing in partnership with the School of Public Health; carried out COVID-19 surveillance testing programs for students across campus; administered flu shots at drive-through clinics in Ann Arbor, Ypsilanti and Adrian; and signed on to staff the Washtenaw County Health Department's COVID-19 vaccine clinics.
"I spend up to eight hours or more a week volunteering at the vaccine clinic and doing contact tracing," said Luddy. "We've all learned to take things one step at a time and be OK with change, and my instructors have done a great job finding interesting clinical opportunities for us."
"Students really start to understand the whole process of navigating a health crisis like COVID-19, leading up to where we are now with vaccine development and distribution," said Tillman-Meakins. "I think it has shifted their mindset, helped them realize their potential as nurses and empowered them to deal with this pandemic in an impactful way."