Sheria G. Robinson-Lane, Ph.D., RN, MHA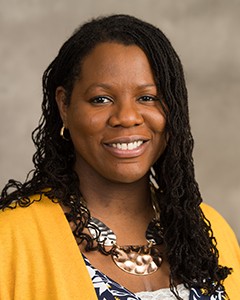 Assistant Professor
Department of Systems, Populations and Leadership
Room 4341 NURS1
University of Michigan School of Nursing
400 North Ingalls Building
Ann Arbor, MI 48109-5482
Telephone: (734) 764-9280
Fax: (734) 647-2416
Sheria Robinson-Lane is accepting new PhD students.
In the news
Interests
Older Adults
Dementia
Pain Management
Family Caregiving
Health disparities
Dr. Sheria G. Robinson-Lane is a gerontologist with expertise in palliative care, long-term care, and nursing administration. Her work aims to reduce health disparities and improve health equity for diverse older adults and family caregivers managing pain and chronic diseases such as Alzheimer's. Dr. Robinson-Lane's research addresses the ways in which older adults adapt to changes in health, and particularly how various coping strategies affect health outcomes. Her current work is focused on improving the ability of diverse older adults to successfully age in place through culturally responsive and community engaged care practices along with effective caregiver support. Dr. Robinson-Lane completed her Ph.D. in Nursing at Wayne State University in Detroit and a postdoctoral fellowship in Advanced Rehabilitation Research Training at the University of Michigan Medical School.
Current Research Grants and Programs
NIH, National Institute on Aging (PI), K01AG065420, Culturally Responsive Support Programming for Black Caregivers of Persons with Dementia
Teaching
Dr. Robinson-Lane is a national geriatric lecturer and health educator. She has taught a wide variety of courses for interdisciplinary professions on healthcare topics ranging from geriatric assessment and managing challenging geriatric behaviors, to pain and symptom management at end-of-life. She uses a variety of techniques to actively engage diverse learners in critical thinking, knowledge synthesis, and skill refinement. In addition to teaching nursing courses in foundational nursing and adult and community heath, Dr. Robinson-Lane has helped many students to successfully pass the national nursing licensure exam, the NCLEX, through test-prep review courses. She has also successfully mentored students from pre-nursing through the doctoral level and often engages local communities in a wide variety of topics related to health promotion.
Affiliations / Service
Editorial Review Board Member, The Gerontologist, 2016-present
Reviewer, Nursing Outlook, 2012-present
Reviewer, Journal of Clinical Nursing, 2011-present
Member, Gerontological Society of America, 2009-present
Member, Sigma Theta Tau International, Lambda chapter, 2008-present
Notable Awards / Honors
Scholar, National Institute on Aging Butler-William Scholar, Fall 2019
Distinguished Alumni Award, University of Wisconsin Oshkosh, 2020
Fellowship Award, Academy of Behavioral Medicine Research, 2020
Early Career Awardee, Diversity and Disparities Professional Interest Area, Alzheimer's Association International Conference, 2020
Mentor Fellow, University of Michigan Public Engagment Faculty Fellowship, 2021-2022
Education
Post-doctoral fellowship, University of Michigan Medical School, Ann Arbor 2016
Ph.D., Wayne State University, Detroit, MI 2015
MSN/MHA, University of Phoenix, Phoenix, AZ 2007
BSN, University of Wisconsin, Oshkosh, WI 2002
Publication Highlights
S.G. Robinson. (2013). The relevancy of ethnography to nursing research. Nursing Science Quarterly 26(1), 14-19. DOI: 10.1177/0894318412466742 PMID: 23247342

S.G. Robinson. (2013). The unique work of nursing. Nursing 43(3), 42-43. DOI: 10.1097/01.NURSE.0000426623.60917.a9. PubMed PMID: 23411553.

S.G. Robinson (2014). True presence: Practicing the art of nursing. Nursing2014 44(4), 44-45. DOI: 10.1097/01.NURSE.0000444533.58704.e5

S. M. Schim, A. H. Vallerand, S. Hasenau, and S.G. Robinson. (2014). Challenges to recruitment of urban African American patients with cancer pain. Palliative Medicine & Care 1(3),5. DOI: 10.15226/2374-8362/1/3/00111

S.G. Robinson-Lane & S.Q. Booker. (2017). Culturally responsive pain management for Black older adults. Journal of Gerontological Nursing 43(8), 33-41. DOI: 10.3928/00989134-20170224-03

S.G. Robinson-Lane. (2017). Accessing respite care for persons with a disability. Archives of Physical Medicine and Rehabilitation 98(10), 2103-05. DOI: http://dx.doi.org/10.1016/j.apmr.2017.05.010. PMID: 28823821

S.G. Robinson-Lane & A.H. Vallerand. (2018). The pain treatment practices of community dwelling Black older adults. Pain Management Nursing 19(1), 46-53. DOI; 10.1016/j.pmn.2017.10.009. PMID: 29248605

R.P. McGrath, S.G. Robinson-Lane, S. Cook, B. Clark, S. Herrmann, M.L. O'Connor, & Hackney K. (2019). Handgrip strength is associated with poorer cognitive functioning in aging Americans. Journal of Alzheimer's Disease 70(4), 1187-1196

S.G. Robinson-Lane. (2020). Adapting to chronic pain: A focused ethnography of Black older adults. Geriatric Nursing 41(4),468-473. doi: 10.1016/j.gerinurse.2019.08.001. PMID: 31481258

K. Dunn & S.G. Robinson-Lane. (2020). A philosophical analysis of spiritual coping. Advances in Nursing Science 43(3), 239-250 DOI: 10.1097/ANS.0000000000000323

S.G. Robinson-Lane, X. Zhang, and A. Patel. (2020). Coping and adaptation to dementia family caregiving: A pilot study. Geriatric Nursing Sep 2:S0197-4572(20), 30252-4. Epub ahead of print. PMID 32891443

M. Janevic, S.G. Robinson-Lane, S.L. Murphy, R. Courser, and J. Piette. (2021). A pilot study of a chronic pain self-management program delivered by community health workers to underserved African American older Adults. Pain Medicine. DOI: 10.1093/pm/pnaa468

R. McGrath, S.G. Robinson-Lane, B.C. Clark, J. A. Suhr, B.Giordani, and B.M. Vincent. (In Press). Self-reported dementia-related diagnosis underestimates the prevalence of older Americans living with possible dementia. Journal of Alzheimer's Disease. DOI:10.3233/JAD-201212

S.G. Robinson-Lane. (In Press). Letter to the editor: Interdisciplinary nursing faculty and the advancement of nursing knowledge. Nursing Outlook. DOI: https://doi.org/10.1016/j.outlook.2021.02.003

S.G. Robinson-Lane, T.G. Hill-Jarrett, & M.R. Janevic. (In Press). "Ooh, You Got to Holler Sometime" Pain Meaning and Experiences of Black Older Adults. In S.v.Rysewyk (Ed.). Meaning of Pain. Volume 3. Springer.
Download CV