Sheria G. Robinson-Lane, PhD, RN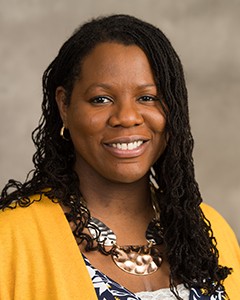 Assistant Professor
Department of Systems, Populations and Leadership
Room 4305
University of Michigan School of Nursing
400 North Ingalls Building
Ann Arbor, MI 48109-5482
Telephone: (734) 764-9280
Fax: (734) 647-2416
Sheria Robinson-Lane is accepting new PhD students.
Interests
Gerontology
Health disparities
Informal caregiving for dementia
Adaptation and coping
Mixed-methods
Dr. Sheria Robinson-Lane is a gerontologist with expertise in palliative care, long-term care, and nursing administration. She has focused her career on the care and support of older adults with cognitive and/or functional disabilities. Dr. Robinson-Lane is interested in the ways that older adults adapt to changes in health, and particularly how adaptive coping strategies effect health outcomes. Her research is focused on reducing health disparities for minority older adults with cognitive impairments and their informal caregivers. Prior to coming to coming to the University of Michigan School of Nursing, Dr. Robinson-Lane completed an NIH-funded advanced research rehabilitation training program in community living and participation with the University of Michigan Medical School.
Teaching
Dr. Robinson-Lane is a national geriatric lecturer and health educator. She has taught a wide variety of courses for interdisciplinary professions on healthcare topics ranging from geriatric assessment and managing challenging geriatric behaviors, to pain and symptom management at end-of-life. She uses a variety of techniques to actively engage diverse learners in critical thinking, knowledge synthesis, and skill refinement. In addition to teaching nursing courses in foundational nursing and adult and community heath, Dr. Robinson-Lane has helped many students to successfully pass the national nursing licensure exam, the NCLEX, through test-prep review courses. She has also successfully mentored students from pre-nursing through the doctoral level and often engages local communities in a wide variety of topics related to health promotion.
Affiliations / Service
Editorial Review Board Member, The Gerontologist, 2016-present
Reviewer, Nursing Outlook, 2012-present
Reviewer, Journal of Clinical Nursing, 2011-present
Member, Gerontological Society of America, 2009-present
Member, Sigma Theta Tau International, Lambda chapter, 2008-present
Notable Awards / Honors
Novice to Powerhouse award from The Gerontologist, 2016
Young Investigator Travel Award, American Pain Society, 2016, 2016
Wayne State University Institute of Gerontology Predoctoral Scholar, 2014-2015
Wayne State University and College of Nursing Dissertation Award, 2014
Michigan Center for Urban African American Aging Research Summer Workshop Fellow, 2012, 2013
Education
Post-doctoral fellowship, University of Michigan Medical School, Ann Arbor 2016
PhD, Wayne State University, Detroit, MI 2015
MSN/MHA, University of Phoenix, Phoenix, AZ 2007
BSN, University of Wisconsin, Oshkosh, WI 2002
Publication Highlights
Robinson-Lane, S.G. (In Press). Accessing respite care for persons with disability. Archives of Physical Medicine and Rehabilitation.

Robinson-Lane, S.G. & Booker, S.Q. (In Press). Culturally responsive pain management for Black older adults. Journal of Gerontological Nursing.

Murphy,SL, Robinson-Lane, SG, & Schepens, SN. (2016). Knee and hip osteoarthritis management: A review of current and emerging non-pharmacological approaches. Current Treatment Options in Rheumatology. DOI 10.1007/s40674-016-0054-7

Robinson, S.G. & Bushinski, S. (2015). Managing frailty syndrome. Today's Geriatric Medicine 8(3), 30-31.

Robinson, S.G., Vallerand, A.H., & Hall, K.P. (2015). Nursing care of patients in pain. In L.S. Williams & P.D. Hopper (Eds.), Understanding Medical Surgical Nursing, (5th ed, chapter 10). Philadelphia: FA Davis Co.

Schim, S.M., Vallerand, A.H., Hasenau, S., and Robinson, S.G. (2014). Challenges to recruitment of urban African American patients with cancer pain. Palliative Medicine & Care 1(3), 5.

Robinson, S.G. (2014). True presence: Practicing the art of nursing. Nursing2014 44(4), 44-45. DOI: 10.1097/01.NURSE.0000444533.58704.e5

Robinson, S.G. (2013). The unique work of nursing. Nursing2013 43(3), 42-43. DOI: 10.1097/01.NURSE.0000426623.60917.a9

Robinson, S.G. (2013). The relevance of ethnography to nursing research. Nursing Science Quarterly 26(1), 14-19. DOI: 10.1177/0894318412466742

Chirco, N., Dunn,K., & Robinson, S.G. (2011). The trajectory of terminal delirium at the end-of-life. Journal of Hospice and Palliative Nursing 13(6), 411-418. DOI: 10.1097/NJH.0b013e3182271a6c