Supporting a sustainable future for research in Thailand
Professor Kathleen Potempa's work in Thailand began in the late '90s, when she planted roots that quickly grew into a role advising national strategies in nursing and public health over the next two decades. Now, supported by three successive grants from the National Institutes of Health's Fogarty International Center, Potempa and a team of U-M School of Nursing faculty are leading efforts to strengthen research capacity in two Southeast Asian countries and build a framework for sustainable science surrounding noncommunicable diseases.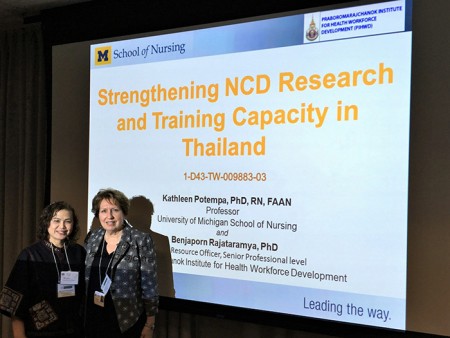 Potempa, who served as U-M School of Nursing dean from 2006-16, estimates she's made 25 trips to Thailand over the years. Her work began during her tenure as dean of Oregon Health & Science University's School of Nursing, when she connected with her counterparts at Thai institutions to discuss the development of the country's nursing workforce. Through those conversations, she learned about the government's progressive approach to a public health crisis and its push toward universal health care.
"Many things were happening that were very interesting to me," Potempa recalled. "Thailand was one of the earliest countries to get the HIV/AIDS epidemic under control, and they did it largely through public health methods focused on education and antiretroviral medications. We used that to start thinking about how we could work together to make universal health care possible."
Potempa became a consultant for Thailand's Nursing Council, advising on strategies to build capacity and bridge gaps that inhibited access to effective health care in local municipalities, or Tambon, particularly in rural villages.
"I was able to help them build their vision of a public health delivery system that could actually provide a level of access consistent with their policy of universal health coverage. The test case was antiretrovirals and creating a methodology that could get them to the Tambon," she explained.
Those early successes and the Thai government's demonstrable dedication to its public health priorities inspired Potempa to direct her research toward another emerging crisis, with the potential for long-term impact.
Noncommunicable diseases account for nearly 60% of deaths in Southeast Asia. As Thailand shifted their focus from infectious diseases, there was a critical need for data on noncommunicable diseases and their effects across population groups. Research from that data could inform national strategies on prevention, primary care and chronic disease management.
"Because Thailand was so good at public health prevention and early intervention for communicable diseases, they started seeing the emergence of chronic and noncommunicable diseases, so we got together and said, 'What can we do about this?'"
The first round
In 2014, after three years of groundwork supported by an NIH D71 planning grant, the Fogarty Center awarded Potempa and her co-investigators their first D43 International Research Training grant for their project, "Strengthening Noncommunicable Disease Research Capacity in Thailand."
Building on what had now become a longstanding relationship between the U-M School of Nursing and The Praboromarajchanok Institute for Health Workforce Development (PBRI) within Thailand's Ministry of Public Health, the project carried out an integrated plan for postdoctoral training. By equipping Thai scholars with the tools to lead cutting-edge research, the project aimed to produce a new cohort of nurse scientists who could enhance the quantity and quality of research surrounding noncommunicable diseases. The five-year Fogarty grant helped facilitate postdoctoral training for nine Thai scholars supported by mentors from the U-M School of Nursing faculty, in addition to three international conferences and 14 workshops on a variety of topics. The training program included a year of guided instruction in Ann Arbor and another year implementing a research project in Thailand.  
"Thailand is very big on policy-related research, and because we're being supported by the Ministry of Public Health, we had access to great data and opportunities," said Potempa. "The Thais can turn ideas, data and evidence into policy faster than many countries, so that's a major focus of this work."
In addition to Potempa, U-M faculty members supporting this work include Professor and former Co-Principal Investigator Debra Barton, Ph.D., FAAN, RN; Professor Ellen Smith, Ph.D., MSN, RN, AOCN, FAAN; Professor and current Co-Principal Investigator Rob Stephenson, Ph.D.; Assistant Professor Erin Kahle, Ph.D.; Associate Professor Sarah Stoddard, Ph.D., RN, CNP, FSAHM; Associate Professor Matthew Davis, Ph.D.; Professor Ivo Dinov, Ph.D.; and Assistant Professor Laura Saslow, Ph.D. These faculty members have used their expertise to lead training efforts on subjects ranging from cancer and sexual health to diabetes, dementia and big data.
"The Michigan presence in Thailand is very strong across many institutions because of the work we've done."
— Professor Kathleen Potempa, Ph.D., RN, FAAN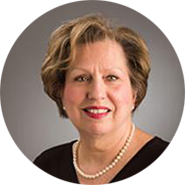 The next step
The initial D43 grant ended in 2019, but Potempa and her team received a competitive renewal for a third round of NIH funding to support the next iteration of their work through 2024, which will continue the expansion of noncommunicable disease research capacity in Thailand and eventually extend the program into Indonesia. Building on a strong foundation, current efforts include an increased focus on interdisciplinary training, intervention research and big data.
"A few of the trainees from the initial project began work on big data, so now we've formalized that into the second grant," Potempa said. "The Thai government has developed systems for collecting all kinds of information on population health, so they're learning how to capitalize on that to make policy decisions and understand various dimensions of chronic disease management.
"Many interventional studies conducted so far have been very small pilots," she continued. "So we're also working to scale up that research across multiple sites, in addition to increasing postdoctoral training."
The current project also includes enhanced considerations for research infrastructure and eLearning, as much of the work is being conducted remotely due to COVID-19 precautions.
Building a sustainable system
The infrastructure for academic research in Thailand is not nearly as fortified as it is in the United States. Developing systemic support was identified in the initial project scope and will be a key focus as the endeavor moves forward with a new round of support from the Fogarty Center.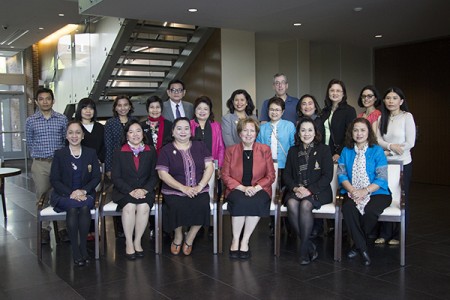 "We have consulted the ministries of public health and education at various levels on building research capacity in their schools and colleges," said Potempa. "We're examining how to build up research support systems within departments at the college and university level, including ways to support young faculty."
Philip Furspan, a senior research associate at the School of Nursing, has played an important role in this effort. Furspan helped draft the grant proposals and manages many of the day-to-day responsibilities involved with coordinating a high-level international research project. A doctorally trained scientist who led research on vascular physiology for more than 25 years, Furspan has helped U-M's Thai partners understand issues such as asset allocation and how to create formal systems that can support long-term research. In 2015 and 2018, Furspan traveled to Thailand to lead workshops on developing research infrastructure.
"I'm proud of that aspect of it. It was important to me to contribute to this work and be more than just an administrator," he said. "It's ultimately about sustainability after the grant money runs out. We can make a lasting impact that will allow them to develop a research community, especially in nursing, that connects graduate students, postdocs, faculty researchers and grant support."
A lasting presence
Potempa can see the evidence of her project's influence, as a number of postdoctoral trainees have begun to take on key positions advising the development of Thailand's health policies. She also realizes how the research and relationships she started in the '90s are making a difference for Michigan nursing students today. The School of Nursing has established a number of new partnerships in Thailand over the last five years, thanks in no small part to Potempa's work.
 "Many of our primary care students now train in Thailand and gain great community health experience, which probably wouldn't have happened if we didn't have this connection," she said. "The Michigan presence in Thailand is very strong across many institutions because of the work we've done."