Laura Saslow, Ph.D.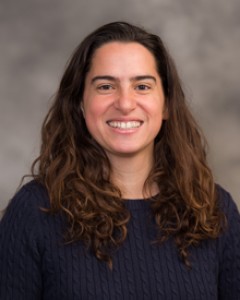 Assistant Professor
Department of Health Behavior and Biological Sciences
Room 2178 400NIB
University of Michigan School of Nursing
400 North Ingalls Building
Ann Arbor, MI 48109-5482
Telephone: (734) 764-7836
Laura Saslow is accepting new PhD students.
Interests
Optimizing multi-component, online diet and lifestyle interventions
Supporting long-term dietary adherence with psychological tools
Self-management of chronic diseases using nutrition
Possible clinical applications of a very low-carbohydrate, ketogenic diet
Dr. Saslow is interested in creating and optimizing highly scalable technologically-enhanced diet and lifestyle interventions to improve health and well-being. Over the last several years she has been a principal investigator on several clinical trials, directed at type 2 diabetes, prediabetes, and their management, with an emphasis on physical and psychological well-being. To address barriers for self-management, her interventions teach psychological tools, including skills to increase the experience of positive affect and mindful eating. Her long-term goal is to become a leader in creating effective, multicomponent interventions for the treatment and prevention of chronic diseases.
Current Research Grants and Programs
The WELL Study (Wellness Education for Liver Health Study): Reducing liver disease in genetically predisposed adults. R03, National Institute of Diabetes and Digestive and Kidney Diseases (PI)
Optimization of a Multicomponent Diet Intervention in Type 2 Diabetes. K01, National Institute of Diabetes and Digestive and Kidney Diseases (PI)
Stemming a Public Health Crisis: Using an Interprofessional Approach to Compare the Effectiveness of Two Different Diet and Lifestyle Interventions for Adults with Overweight or Obesity, Hypertension, and Prediabetes or Type 2 Diabetes. Interprofessional Exchange (IP-X) Research Stimulus (PI)
The PINK Study (PCOS Intervention using Nutritional Ketosis): Diet and Lifestyle Management for Women with Polycystic Ovary Syndrome. The Michigan Diabetes Research Center Pilot and Feasibility Grant (PI)
Positive Affect Skills for Depression: Optimizing Internet and Mobile Delivery. R34, The National Institute of Mental Health (Co-I)
Optimizing Lifestyle Interventions with Mindfulness-Based Strategies in Type 2 Diabetes. R61/R33, National Center for Complementary and Integrative Health (Co-I)
Teaching
Dr. Saslow has three primary goals when teaching. She strives to ignite student interest, to promote their engagement with complex material, and to help them understand how knowledge gained in the classroom may be applied to solve real-world problems. She has taught for more than 15 semesters at the college level, including, at Vanderbilt University, the use of technology in education for several semesters, and at the University of California Berkeley, being the main instructor for Introduction to Psychology as well as helping to lead an honors research methods class for two years.
Affiliations / Service
Member, Society for Behavioral Medicine
Member, Society for Personality and Social Psychology
Member, American Diabetes Association
Notable Awards / Honors
Selected member of the American Diabetes Association's Nutrition Scientific Review Committee, 2018-2019
Selected for the 1st Annual Training on Optimization of Behavioral and Biobehavioral Interventions, funded by NIH, 2016
Pilot research grants from the William Bowes, Jr. Research Fund and the Mount Zion Health Fund, 2012-2015
Selected for NIH Institute on Randomized Behavioral Clinical Trials, 2013
Awarded Selective T32 Postdoctoral Scholar Fellowship, UC San Francisco School of Medicine 2011
Outstanding Graduate Student Instructor, University of California Berkeley Department of Psychology, 2011
Education
Postdoctoral Scholar in Integrative Medicine, University of California San Francisco, San Francisco, CA 2011-2015
Ph.D. in Social and Personality Psychology, University of California Berkeley, Berkeley, CA 2011
MS in Teaching and Learning (Education), Vanderbilt University, Nashville, TN 2004
BA in Psychology, Princeton University, Princeton, NJ 2000
Publication Highlights
Saslow, L. R., Moskowitz, J. T., Mason, A. E., Daubenmier, J., Liestenfeltz, B., Missel, A. L., Bayandorian, H., Aikens, J. E., Kim, S., Hecht, F. M. (2020). Intervention enhancement strategies among adults with type 2 diabetes in a very low–carbohydrate web-based program: Evaluating the impact with a randomized trial. Journal of Medical Internet Research Diabetes 5(3), e15835. doi: 10.2196/15835

Evert, A.B., Dennison, M., Gardner, C. D., Garvey, W. T., Lau, K. H. K., MacLeod, J.,... Saslow, L. R., Uelmen, S.,Urbanski, P.B., & Yancy, W. S. (2019). Nutrition therapy for adults with diabetes or prediabetes: a consensus report. Diabetes Care, 42(5), 731-754

Pichayapinyo, P., Saslow, L. R., Aikens, J. E., Marinec, N., Sillabutra, J., Rattanapongsai, P., & Piette, J. D. (2019). Feasibility study of automated interactive voice response telephone calls with community health nurse follow‐up to improve glycaemic control in patients with type 2 diabetes. International Journal of Nursing Practice, 25(6), e12781. doi: 10.1111/ijn.12781

Saslow, L. R., Summers, C., Aikens, J. E., & Unwin, D. J. (2018). Outcomes of a digitally delivered low-carbohydrate type 2 diabetes self-management program: 1-year results of a single-arm longitudinal study. Journal of Medical Internet Research Diabetes, 3(3), e12. doi: 10.2196/diabetes.9333

Saslow, L.R., Daubenmier, J.J., Moskowitz, J.T., Kim, S., Murphy, E.J., Phinney, S.D., Ploutz-Snyder, R., Goldman, V., Cox, R.M., Mason, A.E., Moran, P., Hecht, F.M. (2017) Twelve-month outcomes of a randomized trial of a moderate-carbohydrate versus very low carbohydrate diet in overweight adults with type 2 diabetes mellitus or prediabetes. Nutrition & Diabetes, 7. doi:10.1038/s41387-017-0006-9

Cucuzzella, M.T., Tondt, J., Dockter, N.E., Saslow, L., Wood, T.R. (2017). A low-carbohydrate survey: Evidence for sustainable metabolic syndrome reversal. Journal of Insulin Resistance, 2(1). doi: https://doi.org/10.4102/jir.v2i1.30

Saslow, L. R., Mason, A. E., Kim, S., Goldman, V., Ploutz-Snyder, R., Bayandorian, H., . . . Moskowitz, J. T. (2017). An online intervention comparing a very low-carbohydrate ketogenic diet and lifestyle recommendations versus a plate method diet in overweight individuals with type 2 diabetes: A randomized controlled trial. Journal of Medical Internet Research, 19(2), e36. doi: 10.2196/jmir.5806

Feinman, R., Pogozelski, W.K., Astrup, A., Bernstein, R. K., Fine, E. J., Westman, E. C., . . . Saslow, L. R., Worm, N. (2015). Dietary carbohydrate restriction as the first approach in diabetes management: Critical review and evidence base. Nutrition, 31(1), 1-13. doi: 10.1016/j.nut.2014.06.011

Saslow, L. R., Kim, S., Daubenmier, J. J., Moskowitz, J. T., Phinney, S. D., Goldman, V., . . . Hecht, F. M. (2014). A randomized pilot trial of a moderate carbohydrate diet compared to a very low carbohydrate diet in overweight or obese individuals with type 2 diabetes mellitus or prediabetes. PLOS ONE, 9, e91027. doi: 10.1371/journal.pone.0091027