Center for Improving Patient and Population Health
Discovery to implementation 
Launched in 2017 under the directorship of Christopher R. Friese Ph.D., RN, AOCN®, FAAN, the Center for Improving Patient and Population Health (CIPPH) works to address the most vexing problems faced by patients and vulnerable populations.
Projects at CIPPH span the continuum from discovery to intervention development to implementation studies. Research in these three areas, when combined, transform outcomes for individual patients and populations. 
Investigators work within and outside of health care settings. Health problems don't stop when patients exit their health care institution's door, and neither do our solutions.
Collective orientation
Researchers at CIPPH use a nursing lens with diverse backgrounds, scientific expertise, and interdisciplinary approaches.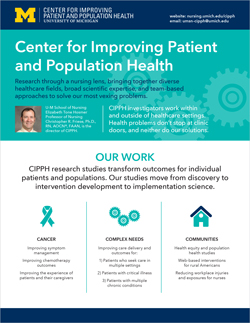 CIPPH members have expertise in
nursing
medicine
health policy
management and organizations
social science
statistics and study design
Approaches to finding these solutions include
big data and analytics 
mHealth
survey research 
simulation 
complex intervention development and evaluation 
dissemination and implementation 
mixed methods 
Focal areas
Cancer
To improve the experience of patients with cancer and their caregivers, an emphasis of CIPPH is improving symptom management and outcomes for patients receiving chemotherapy.
Complex needs
Patients with complex needs include those who seek care across multiple settings, or who are in critical care units, and/or those with multiple chronic conditions. CIPPH members work towards the implementation of evidence-based interventions to deliver high-quality, high-value care.
Vulnerable communities
CIPPH addresses health equity through population health studies. Current investigations include novel web-based interventions to improve hearing health among youth residing in rural areas and a novel audit and feedback intervention to reduce hazardous drug exposures among oncology nurses. 
Current projects
1. Alliance to Advance Patient-Centered Cancer Care: Co-led by Drs. Debra Barton and Christopher Friese, this project is a coalition of six academic health centers focused on the improvement of cancer care delivery.
2. Quiet4Healthy Farm: Led by Dr. Marjorie McCullagh, this project includes programs for adult farm operators (HEAR on the Farm) and children and adolescents (Hearing Heroes).
3. Interprofessional teamwork in complex care delivery: Led by Dr. Deena Kelly Costa, this project investigates how well interprofessional teams implement proven interventions to improve outcomes in mechanically ventilated patients.  
4. Applying an Innovation Framework to Improve Health in Rural Populations: Led by Dr. Christopher R. Friese, this project focuses on identifying the most pressing gaps in the health of rural Michigan populations and generating solutions for improving those gaps.
Partners
CIPPH collaborates with a number of units at the School of Nursing and across campus. Among them are:
Institute for Healthcare Policy and Innovation
University of Michigan Rogel Cancer Center
Center for Occupational Health and Safety Engineering 
Michigan Center for Integrative Research in Critical Care
School of Nursing Health Analytics Collaboratory
Michigan Institute for Data Science
Leadership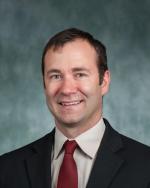 Christopher Friese, Ph.D., RN, AOCN®, FAAN, Elizabeth Tone Hosmer Professor of Nursing
Dr. Friese's program of research is focused on understanding and improving health care delivery in high-risk settings such as cancer. He continues to practice clinically as a staff nurse in hematological malignancies and advanced cancers. He currently leads three federally-funded research projects to understand and improve the safety and quality of chemotherapy care across diverse ambulatory oncology settings.
Members

Michelle Aebersold, Ph.D., RN, CHSE, FAAN, clinical associate professor

Debra Barton, Ph.D., RN, AOCN, FAAN, Mary Lou Willard French Professor of Nursing

Trevor Brooks, research associate

Deena Kelly Costa, Ph.D., RN, assistant professor

Alex Fauer, doctoral student

Marjorie McCullagh, Ph.D., RN, APHN-BC, COHN-S, FAAOHN, FAAN, professor

Matthew A. Davis, Ph.D., MPH, assistant professor

Barbara Medvec, DNP, RN, NEA-BC, clinical assistant professor

Kari Mendelsohn-Victor, clinical research project manager

Robert Ploutz-Snyder, Ph.D., PStat®, research professor

Marylee Scherdt, clinical research coordinator 

Ellen Lavoie Smith, Ph.D., APRN, AOCN®, FAAN, associate professor

Marita Titler, PhD., RN, FAAN, Rhetaugh G. Dumas Endowed Professor
.
Contact
For questions or more information contact us at umsn-cipph@umich.edu.