Awards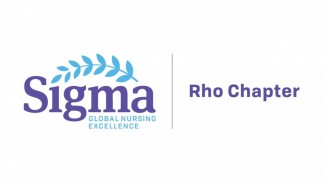 Rho Chapter Awards
Criteria and how to nominate
Nominations are due February 28. Submit the nomination form. 
Note: Some people may need to use a browser other than Firefox to access the fillable form or they may use this Awards Nomination Form. With the exception of the Student Leadership Award and the Friend of Nursing & Institutional Excellence Award, all awards nominees must be Rho Chapter members. More information on each award is provided below.
Excellence in Research
Conducts distinguished research in nursing
Communicates nursing research findings
Writes scholarly works related to nursing theory and/or nursing research
Encourages research activities within Sigma Theta Tau, nursing, and/or the public
Excellence in Education
Demonstrates excellence in teaching
Advances the science of nursing through clarifying, refining, and/or expanding the knowledge base of nursing
Promotes a theory/practice base for nursing curricula and nursing practice
Influences scholarly development in nursing education, practice, and/or research through teaching.
Influences the professional practice of nursing and the public's image of nursing through excellence in teaching
Excellence in Nursing Practice
Demonstrates a breadth of knowledge in area of clinical nursing practice
Develops creative approaches to nursing practice that contribute to quality client care
Possesses clinical expertise and the attributes of a clinical scholar
Advances the scope and practice of nursing
Serves as a mentor/preceptor that inspires peer's practice of nursing
Influences the practice of nursing through communication
Enhances the image of nursing through nursing practice
Participates in community affairs, legislation, or organizations that affect nursing practice
Excellence in Nursing Leadership
Receives local, national, and/or international recognition as a nursing leader in education, practice, administration, or research
Influences leadership in nursing through visionary and innovative approaches to leadership
Creates an environment that enhances the image of nursing
Participates in the development of nursing leaders and leadership
Rising Star
This award recognizes a Rho Chapter member early in her/his career and who:
Demonstrates potential to make significant contributions to nursing practice, education and/or research
Exceeds expectations of current role
Models behaviors of higher levels of practice
Actively seeks out professional growth opportunities
Distinguished Service
This award recognizes a seasoned Rho Chapter member who has:
Consistently demonstrated excellence in nursing practice, education and/or research
Made an impact over time
Significantly influenced and inspired others
Modeled ideals of professional practice
Demonstrated presence and engagement
"Set the bar..."
Student Leadership
This award recognizes a nursing student who has:
Successfully taken on a formal or informal leadership role
Volunteered in community or hospital efforts
Actively participated in university service or governance roles
Drickamer Student Mentorship Award:
This award recognizes a nursing student who has demonstrated outstanding skills in mentorship. The award carries a $500 honorarium through the generous contribution of Anne Hurley and family in honor of their mother, Jean Anne Laing Drickamer.
Mentorship Award
This award recognizes a Rho Chapter member who has made a significant impact over time by:
Actively shaping and promoting the career of a nurse or the development of the chapter
Freely sharing personal resources for the growth and development of the individual or chapter
Friend of Nursing Award
This award recognizes an individual who actively promotes the values and goals of nursing and Sigma Theta Tau by:
Supporting nursing legislation via public forums
Favorably portraying nursing in the media
Contributing funds to nursing schools, scholarship and/or research
Cultivating others to support nursing and contribute to its development
Cultivating interest in the profession of nursing
Institutional/Organizational Excellence Award
This award recognizes an institution or organization that actively promotes the interests of nursing as a profession by:
Consistently portraying the value of nursing
Demonstrating excellence in nursing recruitment and retention
Promoting and/or supporting professional certification
Contributing funds for nursing scholarship and/or research
Cultivating others to support nursing and contribute to its development
Award Recipients
Excellence in Nursing Practice
2021 - Denise O'Brien, DNP, RN, ACNS-BC, CNS-C and Andrea Ransom, RN, FNP-BC
See all past recipients
2020 - Regi Freeman MSN, RN, ACNS-BC, FCNS

2019 - Lisa Ryan, MSN, RN

2018 - Suzanne Quallich, PhD, ANP-BC, NP-C, CUNP, FAANP

2017 - Lisa M. Newberry, BSN, RN

2016 - Annette M. Sandretton, MSN, ANPBC

2016 - Janet Pund, BSN, RN, BC

2016 - Robert Wonnacott, MSN, RN

2014 - Martha Zawacki McClain, RN, MSN, C 

2013 - Marcia Hegstad, MS, RN, ACNS, CDE, BC-ADM

2012 - Mary A. Bonner, BSN, RNC-NIC

2011 - Christine M. Pionk, MS, RN, COHN

2010 - Mary Sue Webb, BSN, RN

2009 - Victoria Shieck, BSN, RN, CCTN & Madonna R. Walters, MS, RN

2008 - Susan Godell, MS, RN, ANP-BC & Emily Meuleman, MS, RN

2007 - Sheila Hay, BSN, RN, CHP

2006 - Maureen Goode Giacomazza, MA, RN & Linda K. Strodtman, PhD, RN

2005 - Sherry Bumpus, APRN-BC; Mary Lou Gillard, MS, RN, CDE; Mary Jo Kocan, MSN, RN, CNRN, CCRN; Jennifer Salerno, MS, RN, CPNP

2004 - Michaelyn Page, MS, RN, AOCN & Sue Fink, PhD, RN

2003 - Megan Eagle, MS, RN, CS, FN

2000 - Louise Grondin, MS, RN & Elaine McIntosh, MSN, RN

1999 - Elaine Fellows, MS, RN, NP

1998 - Lynn Gregory, MSN, RN, CS, FNP

1996 - Kay Louise Klymko, MSN, RN, CS

1995 - Linda Daniel, MN, RN

1993 - Terry VandenBosch, MS, RN

1991 - Jeanette Benson & Marie Neaton, MS, RN

1990 - Sheila Crowley, MS, RN & Barbara Hill, MS, RN
Excellence in Nursing Education
2021 - Nadia A. Charania, Ph.D., RN
See all past recipients
2020 - Rhonda Schoville, Ph.D., MSBA, RN

2019- Diane Asher, MS, RN, FNP-BC

Michelle Pardee, DNP, RN, FNP-BC 

2018 - Kathryn Nelson, DNP, RN, CPNP-AC/PC, 

2017 - Bethany R. Lee-Lehner, BSN, RN

2016 - Jennifer Lee Pesenecker, BSN, RN

2015 - Richard W. Redman, PhD, RN, Professor Emeritus

2014 - Deborah M. Price, DNP, RN

2013 - Laurie S. Hartman, DNP, RN, ACNP-BC

2012 - Elizabeth Brough, PhD, RN

2011 - Cynthia Lynne Fenske, MS, RN

2010 - Trudy J. Esch, MS, RN & Iris Bickel Lagrou, MS, RN

2009 - Susan Clemen-Stone, MPH, RN

2008 - Ann Kruszewski, PhD, RN & Carol Williams, MS, RN-BC

2007 - Desiree Denise Blake, BSN, MPH, RN

2006 - Donna L. Algase, PhD, RN, FAAN

2005 - Elizabeth R. A. Beattie, PhD, RN

2004 - Ann Whall, PhD, RN, FAAN & Judith Wismont, PhD, MS, RN

2003 - Val Spotts, BSN, RN

1999 - Linda Strodtman, PhD, RN

1997 - Reg Williams, PhD, RN, FAAN

1996 - Bonnie Metzger, PhD, RN, FAAN

1995 - Lillian Simms, PhD, RN, FAAN

1993 - Diane Willis

1990 - Janice Lindberg, PhD, RN
Excellence in Nursing Leadership
2021 - Julie Juno-LaPan, MS, RN-BC, CNML and MaryAnn Adamczyk, MSA, RN, CNML
See all past recipients
2020 - Bonnie Hagerty, Ph.D., RN

2018 - Suzanne Knight, DNP, RN

2017 - Juanita Perry, MS, RN

2016 - Louise Grondin, MS, RN

2015 - Candia Baker Laughlin, MS, RN-BC

2014 - Sharon L. Smith, PhD, RN

2012 - Marge Calarco, PhD, RN

2011 - Gay L. Landstrom, MS, RN, NEA-BC

2009 - Norma Sarkar, MPH, RN (award for Rho Chapter leadership)
2009 - Sandra Merkel, MS, RN-BC

2008 - Deanna Beyer, MS, RN

2007 - Barbara L. Brush, PhD, ANP-C, FAAN

2006 - Ada Sue Hinshaw, PhD, RN, FAAN

2005 - Barbara J. Guthrie, PhD, RN, FAAN

2003 - Victoria Averhart, MS, APRN, BC

1999 - Shaké Ketefian, EdD, RN, FAAN

1997 - Ruth M. Barnard, PhD, RN & Bonnie Hagerty, PhD, RN

1996 - Martha Funnell, MS, RN, CDE & Barbara A. Petersen, EdD, RN, CNM

1995 - Phyllis Grzegorczyk, PhD, RN

1994 - Sharon L. Woodcock, BSN, RN

1993 - Maureen Thompson, MSN, RN

1992 - Nadine F. Nelson, MN, RN 
Excellence in Nursing Research
2021- Ellen Smith, Ph.D., RN, AOCN, FAAN
See all past recipients
2020 - Christopher Friese Ph.D., RN, AOCN, FAA

2015 - Milisa Manojlovich, PhD, RN, CCRN

2014 - Marjorie McCullagh, PhD, RN PHCNS-BC, COHN-S & Laurel L. Northouse, PhD, RN, FAAN

2013 - Sonia A. Duffy, PhD, RN, FAAN

2012 - Mary A. Nies, PhD, RN, FAAN, FAAHB

2011 - Jody Rae Lori, PhD, CNM, FACNM

2010 - Huey-Ming Tzeng, PhD, RN

2009 - AkkeNeel Talsma, PhD, RN 

2007 - Lisa Kane Low, PhD, CNM, FACNM

2006 - Antonia M. Villarruel, PhD, RN, FAAN

2004 - Donna Algase, PhD, RN, FAAN

1996 - Barbara Therrien, PhD, RN, FAAN

1995 - Terry Vanden Bosch, MS, RN

1991 - Margaret Reynolds, PhD, RN, FAAN
Distinguished Service Award
2020 - Ann Kruszewski, Ph.D., RN
See all past recipients
2016 - Janet Tarolli, BSN, RN

2015 - Mary Joan Kocan, MSN, RN

2013 - Judy G. McCook, PhD, MSN, CNS, RN-BC

2012 - Shaké Ketefian, EdD, RN, FAAN

2011 - Ruth E. Clark, BSN, RN, MPA

2010 - Carol Loveland Cherry, PhD, RN, FAAN

2008 - Elaine McIntosh, MSN, RN

2006 - Linda K. Strodtman, PhD, RN

2004 - Ruth Barnard, PhD, RN & Ann Kruszewski, PhD, RN

2003 - Roberta M. Asplund, BSN, MPH, EdS, RN
Rising Star Award
2021 - Melissa Harris, BSN, RN, Ph.D.c
2020 -  Grace Kanzawa-Lee Ph.D., RN

2018 - Alex Fauer, BSN, RN

2017 - Tayler Lenz, BSN, RN

2014 - Michelle L. Munro, Ph.D., CNM, FNP-BC

2013 - Sarah Louise Taylor, MSN, RN, ACNS-BC

2011 - April D. Bigelow, PhD, ANP-BC

2008 - Martha L. Merkel, MS, RN

2006 - Jennifer R. Cheng, NPH, MS, NP & Kimberlee A. Gretebeck, Ph.D., RN

2005 - Cynthia Arslanian-Engoren, Ph.D., RN

2004 - Alice Davis, Ph.D., RN

2003 - Heather Livermore, BSN, RN
Student Leadership
2021 - Joyce Lee, Erika Folbe and Emily Jones
See all past recipients
2020 - Hayley Flores and Brianna Finley

2019-  Katelyn Scudder 

Merideth Freiheit 

2018 - Caroline Kremers,  Austin Hill

2017 - Jennifer Zybert, BSN

2016 - Krista Myers, BSN

2016 - Tracey Thiel, BSN

2015 - 

Alexandrea Garbus, BSN, graduate student, Nurse 

Midwifery Program

2014 - Jennifer Ragnoni & Amanda Wenger

2013 - Emily Diepenhorst, Tatiana Hortig & Jessica Schultz

2012 - Gina Greco & Jennifer Wood

2011 - Melissa Bulic, Anna Evola & Kristin E Kingma

2010 - Lyndsy Brenner, Andree Engles, Taylor Griglak & Ross Zoet

2009 - Bridget Fil & Renee Schoenborn

2008 - Jacqueline Dufek & Amanda Jones

2007 - Renee Havey & Sharon Warner

2006 - Megan Finn

2005 - Julie Wilner

2004 - Paula Graff

2004 - Lina Sirgedas

2004 - Angie Henderson

2003 - Elise Erickson

2003 - Cathy Fanone

2003 - Ewuravena (Robbie) Menyah

2003 - Kierste Mundinger

2003 - Elizabeth Van Hall
Drickamer Student Mentorship
2021 - Carri Polick, Kathy Sliwinski, and Vidya Thirumoorthi
2020 - Mitchell Keefer and Heather Kudalis
2019 - Breanna Keeney & Katie Burmester 

2018 - Amber Prong and Karina Becker

2017 - Hassan Abbas, BSN & Rylie Haupt, BSN

2016 - Madeline Dahl, BSN

2015 - Emily Rice, senior nursing student, BSN Program
Mentorship Award
2018 - Denise Saint Arnault, Ph.D., RN, FAAN
See all past recipients
2017 - Catherine M. Scott, BSN, RN

2010 - Mary A. Nies PhD , RN, FAAN, FAAHB

2007 - Barbara Nevins-Soong, MSN, BSN, RN

2006 - Iracema Crawford, BSN, RN, CCRN; Lisa Falzetta, MS, RN & Beatrice Kalisch, PhD, RN, FAAN

2005 - Cynthia S. Darling-Fisher, PhD, APRN, BC

2004 - Ann Kaiser, BSN, RN
Friend of Nursing Award
Geoffrey Hoffman, PhD, MPH 
 See all past recipients
2016 - Patricia Coleman-Burns, PhD, MA

2013 - Deborah Lauseng, BS, AMLS

2009 - Ruth Barnard, PhD, RN & Marge Van Meter, MS, RN 

2008 - Cecilia Sauter, MS, RD, CDE

2006 - Edward Goldman, JD

2004 - FRIENDS of the U-M Hospitals
Ketefian Scholarship Award
2013 - Luiz M.P. Sanches, Yu-Mei Sun & Zhiwen Wang
Recognition Awards
1983 - Judy Judd, MSN, RN

1981 - Mary Ann Swain, PhD; Mary Owens, MSN, RN; Norma Marshall, MS, RN; Mary Lohr, EdD, RN
Excellence in Nursing Awards
1989 - Lois Gage, PhD, RN, FAAN & Mary Lindquist, MS, RN1988 - Rhetaugh G. Dumas, PhD, RN, FAAN
1987 - Linda Lee Daniel, MN, RN; Elizabeth Nolan, MS, RN & Linda Vader, MS, RN
See all past recipients
1986 - Ruth D. Carey, MS, RN; Mayble E. Craig, MS, RN; Mary L. Hunter, MS, RN; M. Irene Clark Woodman, MS, RN
1985 - Barbara A. Donaho, MS, RN; Jenny R. James, MS, RN; Helen L. Keezer, MS, RN; Phyllis M. Patterson, MS, RN
1984 - Beatrice J. Kalisch, EdD, RN, FAAN; Susan J. Miller, MSN, RN &  Cecilia J. Trudeau, MS, RN
1983 - Ingrid Deininger, MS, RN &Joanne Disch, MS, RN
1982 - Linda K. Strodtman, MS, RN
1981 - Carolyne K. Davis, PhD, RN, FAAN
1980 - Helen Berg; Helen Erickson, MS, RN
1979 - Lillian G. Ostrand, MPH, RN
1978 - Susan B. Steckel, PhD, RN
1977 - Marjorie M. Jackson, MS, RN
1976 - Mary Reynolds, MS, RN