Virtual Education for Veterans Health
Supported by a $72,000 grant from the Michigan Department of Health and Human Services, Clinical Professor Michelle Aebersold, Ph.D., RN, CHSE, FAAN, Clinical Assistant Professor Deb Lee, Ph.D., FNP, ACNP-BC and retired Brigadier General Carol Ann Fausone (BSN '75) are using immersive technology to enhance nursing education and improve health care for military veterans.
The University of Michigan is only one of two institutions in the state to receive the Community Nursing Clinical Education Partnership Grant, which focuses on the use of 360-degree video to address health inequities and give nursing students the tools to engage in culturally competent clinical practice.
"If a nurse takes the extra time to find out what branch you were in, what you did and where you were stationed, it makes a difference."
— Dale Throneberry (B.A. '73, M.A. '75)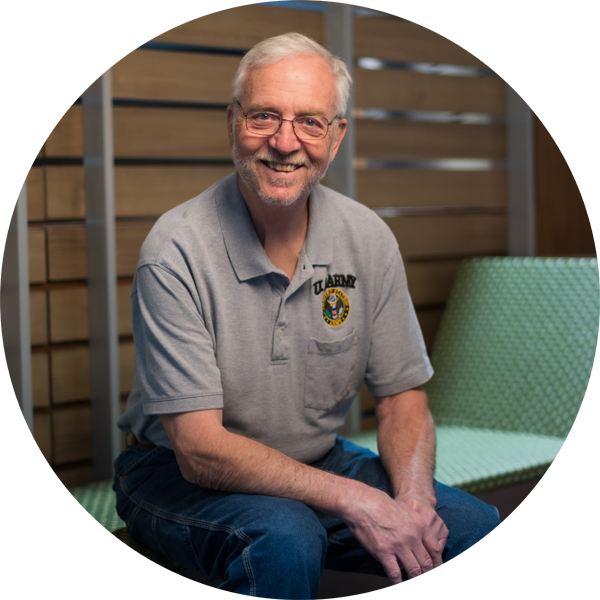 Understanding our Veterans
Other than an occasional mention, caring for military veterans is not part of a traditional nursing curriculum. Many veterans, however, receive health care in local settings and have unique needs — including serious mental health considerations — as a result of their experiences from a variety of wartime eras and locations. This creates a need for providers to understand each veteran's unique background, culture, values and traditions to provide quality care. Aebersold, Lee and Fausone began by connecting with focus groups composed of veterans and nurse practitioners who are regularly engaged in veterans care. Fausone served for 36 years in the U.S.  Air Force and Michigan Air National Guard and now advocates at the law firm Legal Help for Veterans, PLLC  with her husband, Jim.
Like many patient-provider relationships, trust is critical, but establishing trust carries added significance for veterans.
"Veterans often struggle to find the same trust in civilian life that they experienced within their military unit. If they're going to get medical services, whether it's for post-traumatic stress, a brain injury or some other disability, it's important for that veteran to have a trusted advocate," Fausone explained.
Oftentimes, the foundation of that trust is formed in the first moments of a patient interview and assessment.
"This is a population that can be very guarded," said Lee. "We've focused on how to interview these patients in a way that's comforting. How can we develop a relationship that allows them to discuss their issues and lets us help them?"
Reassessing nursing education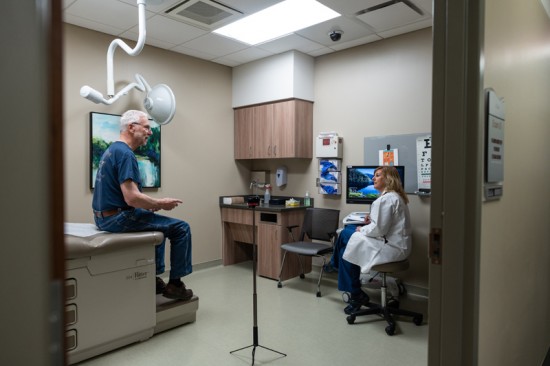 The team's work comes to life through 360-degree video, a virtual reality format that allows a viewer to observe content in multiple directions from a fixed point.
Aebersold is a leader in simulation learning innovation and has been developing virtual reality approaches to health care education since 2008. For many, the advantages of these methods became clearer during the COVID-19 pandemic.
"I think the pandemic took educators who would have never entertained using this technology and turned them into early adopters,'" she said. "These aren't your standard videos. They are virtual reality experiences that students can actively engage in."
Filming throughout the spring and summer, the team created immersive videos that place viewers at the center of 10 distinct scenarios specific to veterans care, covering topics such as depression, hospice, PTSD, suicide and reintegration.
The videos are now freely available to nursing schools
across the state at nixr.nursing.umich.edu, and discussions are underway on how to integrate them in the U-M School of Nursing's undergraduate curriculum.
"I am the nurse I am today because of how I was taught in my undergraduate education," Fausone said. "I think this is an opportunity to give students new tools to ask new questions and form a different perspective."
Expansive opportunities
With the variability of veterans care across health systems, these innovative videos can address gaps in knowledge and training for a range of students and providers.
"Even though this is targeted at undergraduate students, it's beneficial for nurses at every level who've never had the opportunity to care for veterans," Aebersold said. "I think this resource can be utilized across disciplines and throughout the country to have a profound effect on patient care."
As Fausone explained, improving care for veterans can reshape quality of life for individuals and families.
"If a veteran can get the care they need when they come back, it gives their children an opportunity to see their dad or mom as they knew them before they went into service," she said. "They stepped forward to serve our country, and their families sacrificed too. I think we owe this to them."
Make a gift to support research endeavors at the U-M School of Nursing.