Ruth E. Zielinski, PhD, CNM, FACNM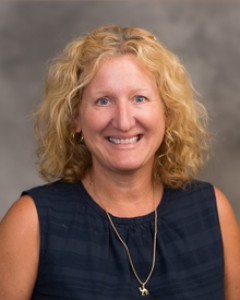 Clinical Associate Professor
Department of Health Behavior and Biological Sciences
Room 3186 400NIB
University of Michigan School of Nursing
400 North Ingalls Building
Ann Arbor, MI 48109-5482
Telephone: (734) 647-0324
Fax: (734) 763-0681
Ruth Zielinski is accepting new PhD students.
Interests:
Women's body image
Birth, pelvic floor
Out of hospital birth
Centering Pregnancy
International women's health
Dr. Zielinski has been a certified nurse midwife since 1995 and has worked in full scope midwifery practice since. Her current midwifery practice is with the University of Michigan Nurse-Midwifery service as well as Borgess Women's Health in Kalamazoo, Michigan. She completed her doctoral studies in 2009 in nursing and also received a certification in women's studies. Her current research focuses on women's health issues including body image, sexual health, pregnancy and birth outcomes as well as international women's health issues. Dr. Zielinski spent her childhood in Pakistan and the United Arab Emirates at a mission hospital and has returned to the UAE to present continuing education seminars. In 2013 she traveled to South Sudan to train traditional birth attendants. She is the President of the Michigan Affiliate of the American College of Nurse Midwives and serves the ACNM nationally in the Division of Standards and Practice Committee.
Current Research Grants and Programs:
Evaluating Maternal Recovery from Labor and Delivery (EMRLD) from the Office for Research on Women's Health Specialized Center of Research on Sex and Gender Factors Affecting Women's Health, National Institutes of Health (NIH), and the National Institute on Child Health and Human Development (NICHD)
Implementation and Evaluation of Home-Based Life-Saving Skills - Faculty Seed Grant from U-M Institute for Research on Women and Gender
Teaching
Dr. Zielinski has taught in the classroom and clinical areas for both undergraduate and graduate student nurses. Currently her primary area of teaching is in the graduate nurse-midwifery program, where she also serves as program lead. She has been preceptor to a number of nurse-midwifery students. Dr. Zielinski has served as the research advisor for undergraduate honors students as well as graduate students. She has been a speaker at many national and international conferences related to women's health topics such as midwifery, sexual health and pelvic floor disorders.
Affiliations / Service
American College of Nurse Midwives – Member 1993 to present (several service roles)
American Congress of Obstetricians & Gynecologists - Educational Affiliate – Member 2012 to present
International Continence Society – Member 2009 to present
American Urogynecologic Society – Member 2008 to present
Midwest Nursing Research Society – Member 2006 to present
Sigma Theta Tau – Rho Chapter – Member 1995 to present
Notable Awards / Honors
Medical Activist Award – Women's Health Foundation; June 2011
Proquest Distinguished Dissertation Award – Rackham Graduate School, University of Michigan; April 2010
National Health Service Scholar – 1993-1995
Education
PhD in Nursing and Certificate in Women's Studies, University of Michigan, Ann Arbor MI 2009
MS, Nurse Midwifery, University of Michigan, Ann Arbor MI 1995
BSN, University of Michigan, Ann Arbor, MI 1992
ASN, Kalamazoo Valley Community College, Kalamazoo, MI 1988
Publication Highlights
Zielinski, R., Searing, K., Deibel, M. (2015) Gastrointestinal distress in pregnancy: Prevalence, assessment and treatment of 5 common minor discomforts. Journal of Perinatal and Neonatal Nursing 29(1) 23-31

Low, L.K., Zielinski, R., Tao, Y., Galecki, A., Brandon, C.J., & Miller, J.M. (2014) Predicting Birth-Related Levator Ani Tear Severity in Primiparous Women: Evaluating Maternal Recovery from Labor and Delivery (EMRLD Study). Open Journal of Obstetrics and Gynecology, 4, 266-278

Ackerson, K., Zielinski, R. & Patel, H. (2014). Comparisons among United States college students who do and do not obtain routine Papanicolau smears. JAANP epub ahead of print.

Bernhard, C., Zielinski, R., Ackerson, A. & English, J. (2014). Home birth after hospital birth: Women's choices and reflections. Journal of Midwifery and Women's Health. 59(2) 160-166

Kothari, C., Zielinski, R., Charoth, R., James., A., & Sweezy, C. (2014) Improved birth weight for Black Infants: Outcomes of a Healthy Start Program. American Journal of Public Health. Supplement 1, 2014, Vol 104, No. S1

Ashton-Miller, J.A., Zielinski, R., Miller, J.M., & DeLancey, J.O.L. (2014). Validity and reliability of an instrumented speculum designed to minimize the effect of intra-abdominal pressure on the measurement of pelvic floor muscle strength. Clinical Biomechanics. Epub ahead of print.

Zielinski, R., Stork, L., Deibel, M., Kothari, C. & Searing, K. (2014). Improving infant and maternal health through Centering Pregnancy: A comparison of maternal health indicators and infant outcomes between women receiving group versus traditional prenatal care. Open Journal of Obstetrics and Gynecology: 4; 497-505.

Tenfelde, S., Zielinski, R., & Heidarisafa, R. (2013). Why do women stop breastfeeding? Analysis of maternal characteristics and time to cessation in a sample of women receiving special supplemental nutrition program for women, infants and children (WIC) services. ICAN: Infant, Child, & Adolescent Nutrition 5(4) 207-214

Zielinski, R. (2013). Assessment of women's sexual health using a holistic, patient-centered approach. Journal of Midwifery and Women's Health 58:321–327

Zielinski, R., Miller, J.M., Kane-Low, L., Sampselle, C. & DeLancey, J. (2012). The relationship between pelvic organ prolapse, genital body image, and sexual health. Neurourology and Urodynamics 31: 1145-1147 DOI: 10.1002/nau.22205

Zielinski, R., Kane-Low, L., Miller, J.M. & Sampselle, C. (2012). Validity and reliability of a scale to measure genital body image. Journal of Sex & Marital Therapy 38: 309-324

Miller J, Brandon C, Jacobson J, Kane-Low L, Zielinski R, Ashton-Miler J, DeLancey J. (2010) MRI Findings in Patients at High Risk for Pelvic Floor Injury: Studies Serially Post-Vaginal Birth. American Journal of Roentgenology 195:786–791