Karen Harden, DNP, MS, RN, AOCNS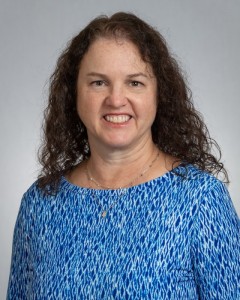 Clinical Assistant Professor
Undergraduate Coordinator for Medical Surgical Nursing Education
Department of Systems, Populations and Leadership
4108 SNB
University of Michigan School of Nursing
400 North Ingalls Building
Ann Arbor, MI 48109
Telephone: (734) 674-7157
Fax: (734) 936-5525
Interests
Bone marrow transplant
Oncology
Discharge education
Palliative Care
Gerontology
Ms. Harden has focused her nursing career on advancing clinical practice, quality and patient and staff education in the areas of hematology, oncology and bone marrow transplant. In the role of clinical nurse specialist she has worked with nurses on clinical initiatives including falls, sleep disturbances, cardiac monitoring and early palliative care for bone marrow transplant patients.
Ms. Harden served on the Quality Management Team for Adult Bone Marrow Transplant and participated in the accreditation process by the Foundation for the Accreditation of Cellular Therapy (FACT) specializing in nursing quality initiatives and standardization across inpatient, outpatient, pediatrics and adult BMT areas.
Ms. Harden developed the Discharge Essentials program which is a major initiative to provide discharge education for patients and families after bone marrow transplant. The program included development of educational videos, facilitation of ongoing discharge teaching and the inclusion of a discharge question and answer session during weekly support groups.
Current Research Grants and Programs
Palliative Care Education for 8A
Palliative Care Education Initiative for Michigan Medicine
Community Education Program for Palliative Care
Teaching
Ms. Harden has had a rich and varied teaching experience that includes teaching modalities such as lecture, discussion, skill demonstration, simulation lab, on-line modules and development of patient education videos using the GetWell Network. In addition, her teaching experiences have included direct clinical precepting, and project work with a variety of student nurse levels, from ADN to DNP.
Ms. Harden has been involved with the facilitation and teaching of the Oncology Core course and teaching in the Chemotherapy Course and Central Nurse Orientation. In addition, she has had the opportunity to lecture in a variety of conference settings (Oncology Nursing Society, American Cancer Society, U of M Evidence Based Practice conference), including an all-day seminar about Hematologic Malignancies for Michigan Case Management Nurses through Michigan State University.
Over time, Ms. Harden has implemented many unit-based educational initiatives through competency-based learning for her staff in an effort to comply with hospital initiatives and clinical improvements.
Affiliations / Service
Teaching Academy Task Force - School of Nursing - 2018-present
President Elect - Oncology Nursing Society - Jan 2018 - Dec 2019
Member, University of Michigan Blood Bank Transfusion Committee 2012 - 2014
Member, Evidence Based Practice Conference Committee 2005 - 2014
Member, Oncology Nursing Society 1989 – present
Notable Awards / Honors
Advanced Oncology Clinical Nurse Specialist (AOCNS) – (2005 – present) Oncology Nursing Certification Corporation
Blood and Marrow Transplant Certified Nurse (BMTCN) – (April 2014 – present) Oncology Nursing Certification Corporation
Education
DNP, Duke University, Durham, NC, 2017
MS, University of Michigan, Ann Arbor, MI 1991
BSN, Hope College, Holland, MI 1988
Publication Highlights
Harden, K. L., Price, D., Duffy, E., Galunas, L., Rodgers, C. (2017) Improving nurses knowledge, attitudes and behaviors in palliative care. Clinical Journal of Oncology Nursing, (21)5, E232-E238.

Harden, K. L. & Schembri, J. A. (2016). Early intervention with transplantation recipients to improve access to and knowledge of palliative care. Clinical Journal of Oncology Nursing, 20(4), E88-E92, doi: 10.1188/16.cjon.e88-e92.

Boonstra, L., Harden, K., Jarvis, S., Palmer, S., Kavanaugh-Carveth, P., Barnett, J., Friese, C.. (2011). Sleep disturbance in hospitalized recipients of stem cell transplantation, Clin J Oncol Nurs. Jun15(3):271-6.
Download CV