Dana Tschannen, PhD, RN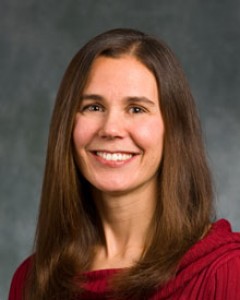 Clinical Associate Professor
Department of Systems, Populations and Leadership
Room 4152 400NIB
University of Michigan School of Nursing
400 North Ingalls Building
Ann Arbor, MI 48109-5482
Telephone: (734) 764-0201
Fax: (734) 647-2416
Dana Tschannen is accepting new PhD students.
Interests:
Healthcare informatics
Technology
Virtual simulation (Second Life) use in education and clinical practice
Collaboration/communication
Patient outcomes and work characteristics (e.g. nurse staffing)
Dr. Tschannen ardently embraces her interest in identifying and implementing the organizational processes, information, and collaboration/communication necessary to achieve high-quality patient outcomes. She examines the technology enabled care planning processes that are necessary to support effective nurse-nurse communication and safety, while also investigating the efficient implementation of those technology-backed processes. She addresses the various methods for data collection as well as training required to support the processes. In her current appointment, Dr. Tschannen works collaboratively with Nursing Administration at Michigan Medicine. She has worked closely with nurses at various levels in the promotion of evidence-based practice and improvement in processes related to the delivery of care at the bedside. She is committed to advancing the role of systems in health care; linking technology, simulation, evidence-based practice, skilled health care professionals and robust processes to deliver world-class care to patients in the 21st century.
Current Research Grants and Programs:
"Increasing Clinical Competencies for Nursing Students using Simulated Virtual Experiences in Second Life" (Tschannen, D. Aebersold, M.) To create an 8 bed virtual hospital unit in Second Life. The virtual unit will be used to facilitate simulated virtual experiences to nursing students in two senior level courses. Grant funded by the University of Michigan's Center for Research on Learning and Technology, 2008.
2010-Grant "Increasing Student Engagement through the Use of a Virtual Classroom" (Tschannen, D., Aebersold, M.) The purpose of this grant is to evaluate the integration of Second Life as an educational platform for learning among undergraduate and graduate students. The grant is funded by the Center for Research on Learning and Technology and will begin in the Fall of 2010.
Teaching
Dr. Tschannen teaches in the Department of Systems, Populations and Leadership. With instructional roles in both the graduate and undergraduate levels, she focuses on leadership and management skills required of nurses in the clinical setting. Using a variety of teaching strategies, she covers concepts of team building, delegation, motivation, negotiation and problem solving; all within an organizational content. At the undergraduate level, she teaches senior nursing students ready to embark on the move from classroom/student nursing to professional practice the transitional skills necessary to become highly successful nurses in their professional nursing practice upon graduation. At the graduate level she teaches Human Resources and Nursing Informatics. Dr. Tschannen helps students refine their skills in clinical judgment, priority setting, time management, interdisciplinary collaboration and communication. Further, utilizing the virtual simulation technology available via the Second Life platform, she is working to enhance student learning and to provide opportunities for application of topics learned in the classroom. With a faculty colleague, Dr. Tschannen is investigating the educational possibilities with a virtual School of Nursing in hopes of facilitating distance learning and social networking.
Affiliations / Service
Member, Michigan Organization of Nurse Executives (MONE)
Member, Sigma Theta Tau International
Member, American Medical Informatics Association (AMIA) (Secretary for the Clinical Information Systems Working Group (CISWG) of AMIA)
Notable Awards / Honors
Poster honorable mention, Midwest Nursing Research Society, 2010
Business Intelligence Data into Action Award (honorable mention), University of Michigan, April 2009
Sharon Coleman Memorial Scholarship Award - "Most Influential to the Field" (Top Paper) SINI, University of Maryland, July 2006
Macy Scholarship Award Winner (First), University of Michigan, School of Nursing, 2001-2005
Education
PhD, University of Michigan, Ann Arbor, MI, 2005
MS, University of Michigan, Ann Arbor, MI, 2002
BSN, University of Michigan, Ann Arbor, MI, 1997
Publication Highlights
Aebersold, M., Villarruel, A., Tschannen, D., Valladares, A., Yaksich, J., Yeagley, E., Hawes, A. (under review) Using a virtual environment to deliver evidence based interventions: The facilitators experience.

Tschannen, D., Anderson, C., Strobbe, S., Bay, E., Bigelow, A, Hwa, C., et al (2015). Scholarly Productivity for Nursing Clinical Track Faculty. Nursing Outlook, 62(6), 475-481.

Tschannen, D., McClish, D., Aebersold, M., & Rohde, J. (2015). Improving nurse and physician communication through a nursing crew resource management (NCRM) intervention. Journal of Nursing Care Quality, 30(1), 7-11.

Tschannen, D., Aebersold, M. Kocan, M, Lundy, F., Potempa, K. (2015). Improving patient care patient care through student leadership in team quality improvement projects. Journal of Nursing Care Quality, 30(2), 181-186.

Kalisch, B., Aebersold, M., McLaughlin, P., Tschannen, D., & Lane, S. (2015). Using virtual simulation to improve nursing teamwork: A feasibility study. Western Journal of Nursing, 37(2), 164-179.

Wood, W., Tschannen, D., Trotsky, A., Gruanwalt, J., Adams, D., Chang, R., Kendziora, S., & Diccion-MacDonald, S. (2014). Implementing a mobility program on an in-patient medicine unit. American Journal of Nursing, 114(10), 34-40.

Valladares, A., Aebersold, M., Tschannen, D., & Villarruel, A. (2014). Preparing facilitators from community-based organizations for evidence-based intervention training in Second Life. Journal of Medical Internet Research, 16(9), 1-17.

Dickinson, S., Tschannen, D.; & Shever, L. (2013). Can the use of an early mobility program reduce the incidence of pressure ulcers in a surgical critical care unit? Critical Care Nursing Quarterly, 36(1), 127-140.

Tschannen, D., Schoville, R., Schmidt, P., Buehler, K., Borst, S., & Flaherty-Robb, M. (2013) Communication practices among nurses in the acute care setting. Journal of Communication in Health Care, 6(3), 171-179.

Tschannen, D., Aebersold, M., Sauter, C. & Funnell, M.M. (2013). Improving nurses' perceptions of competency in diabetes self-management education through the use of simulation and problem-based learning. The Journal of Continuing Education in Nursing, 44(6), 257-263.

Aebersold, M. & Tschannen, D. (2013. The impact of simulation on patient care. The Online Journal of Issues in Nursing, 18(2): 1. doi:10.3912/OJIN.Vol18No02Man06

Aebersold, M. Tschannen, D. & Sculli, G. (2013). Improving nursing student's communication skills through utilization of crew resource management strategies, Journal of Nursing Education, 52(3),125-130.

Tschannen, D., and Lee, E. (2012). "The impact of nursing characteristics and the work environment on perceptions of communication". Nursing Research and Practice, 2012:401905. Epub 2012 Feb 22.

Tschannen, D., Aebersold, M., McLaughlin, E., Bowen, J., and Fairchild, J. (2012). Use of Virtual Simulations for Improving Knowledge Transfer among Baccalaureate Nursing Students. Journal of Nursing Education and Practice, 2(3), 15-24.

Tschannen, D., Bates, O., Talsma, A.N., and Guo, Y. (2012). "Patient and surgical characteristics in the development of pressure ulcers". American Journal of Critical Care, 21(2), 116-124.