Global Sexual Health Summer Institute
University of Michigan School of Nursing Summer Institute
Reproductive Coercion and Human Trafficking
May 9-17, 2019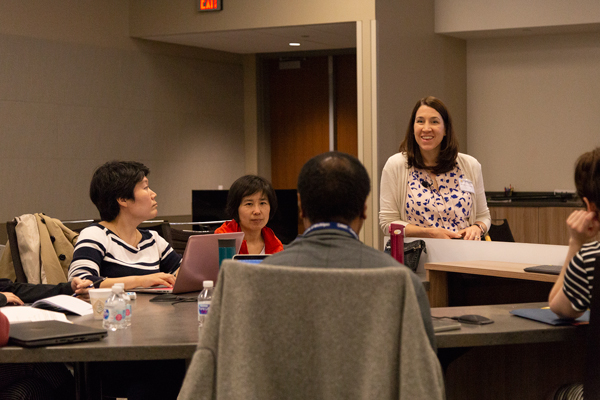 This short, intensive course will allow participants to gain the skills and knowledge to advance their inquiry through state-of-the-science lectures, discussion, case studies, and small group work.
Geared towards researchers focused on global sexual and reproductive health, the Summer Institute provides participants with the opportunity to learn about substantive issues and develop methodological experience from a wide range of experts in global reproductive and sexual health.
Event details, including speakers, will be announced soon.
2018 Summer Institute
Learn about our 2018 Summer Institute on Global Reproductive and Sexual Health.
Attendees will have the opportunity to network with leading scholars in global health and learn:
How to develop or expand your research in global settings.
Contemporary issues in global reproductive and sexual health.
How to identify and calculate commonly used indicators for reproductive and sexual health.
Strategies for on-going monitoring and evaluation of global research
How to use nationally representative data to calculate key programmatic indicators.
How data quality impacts findings and strategies to improve quality.
How to analyze and evaluate policy issues
How to conduct research with vulnerable populations
Nursing contact hours will be awarded.
Who should attend
Students
Nurses
Social workers
Midwives
Physicians
Public health professionals
Researchers
Health care administrators
Anyone interested in working globally
Location
University of Michigan School of Nursing, 426 N. Ingalls Street, Ann Arbor, MI 48109
Dates
May 9-17, 2019
May 9-11 Conference: Reproductive Coercion and Human Trafficking
May 13-17 Workshop: Designing and evaluating culturally appropriate interventions to improve reproductive and sexual health
Contact
For questions and more information, please email UMSN-GlobalOutreach@med.umich.edu
Nursing Contact Hours
Details on contact hours forthcoming.
Visitor Information
Visitor Information
Summer Institute participants are responsible for their own travel arrangements and room and board. Below are helpful links as you make your plans. Ann Arbor is a vibrant small city with a lot of activity. The Summer Institute will be held at the School of Nursing, located at 426 N. Ingalls Street, Ann Arbor, MI 48109.
Air travel
The closest airport to Ann Arbor is Detroit-Metro Airport.
Ground transportation
Greyhound bus service and Amtrak train service are available from U.S. and Canadian cities. Parking on campus is limited and we cannot offer on-site parking.
Lodging
Below are a number of area hotels.
3265 Boardwalk Drive
(734) 997-7623
Towne Place Suites-Marriott (extended stay hotel)
1301 Briarwood Circle
(734) 327-5900
Ann Arbor Bed & Breakfast
921 East Huron
(734) 994-9100
The Bell Tower Hotel
300 South Thayer
(734) 769-3010, (800) 562-3559
Inn at the League
911 North University Ave
(734) 764-3177
Located on fourth floor of historic Michigan League.
Library Bed and Breakfast
808 Mary St.
(734) 668-6815
Note that the Summer Institute cannot vouch for anyone using this service.
Visas
For those who require a visa, please check the requirements at your local Embassy or Consulate and the University's of Michigan's International Center. Contact us at UMSN-GlobalOutreach@med.umich.edu with any questions.