Record number of participants attend 2022 U-M School of Nursing Global Health Summer Institute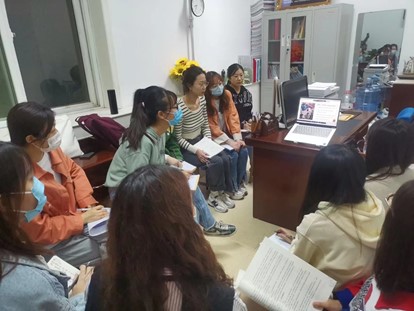 Women's health has always been an important topic in health care, but specifics regarding care differ vastly on a global scale based on geographic, social and economic elements. Learning from researchers and experts gave participants of the 2022 U-M School of Nursing Global Health Summer Institute a unique opportunity to obtain relevant knowledge and skills as well as network with practitioners and professionals.
Topics covered throughout the May 10-12 conference included HIV, mental health, obesity, diabetes and cardiovascular conditions. Started in 2017, by the U-M School of Nursing, the Global Health Summer Institute is an opportunity for attendees from around the world to come together and learn from others in the field. This year's institute attracted a record 430 registrants with over 300 participants attending each day from 31 countries. The conference was hosted exclusively on Zoom, allowing attendees to login remotely from across the globe. Many sessions were available in Spanish with English interpretations or in English with Spanish interpretations to reach an even broader audience.
Dean Yang Hui from the Nursing College at Shanxi Medical University in China explained the impact of his students attending the conference.
"My students gained a lot, especially in the area of global burden of disease statistics and have expressed a strong interest in further hands-on learning," Hui said. "My Ph.D. students were inspired by the fact that mental health care in developing countries needs to be further developed and disseminated, especially in terms of developing country-specific toolkits."
Attendees received up to 9.25 CNE credits and a U-M School of Nursing Certificate of Attendance.
This year, the institute welcomed 24 global presenters covering 18 topics and concluded with a WHO Collaborating Center Panel: Nurses Leadership in Addressing Chronic Disease in Women's Health led by professors from the University of Michigan, University of Chile and the University of Alabama at Birmingham. Visit the Global Health Summer Institute web page to learn more about the presenters and topics. 
For the first time, students and global scholars had the opportunity to present a snapshot of their current global health projects through two Flash Presentation sessions. Eighteen individuals representing U-M School of Nursing DNP students, as well as a global scholar, gave three minute flash presentations on topics such as disaster preparedness, menstrual hygiene and management and gender-based violence.
"I appreciate the support and help from the School of Nursing and am especially grateful for the platform you have built for us so that we can broaden our horizons enough and think globally and act locally," said Hui.  
For more information and to receive details regarding next year's global institute, contact the Office of Global Affairs.